Hammock Revamp for Summer! How I revitalized our 25-year-old rusting hammock stand & refreshed weathered outdoor pillows with outdoor fabric spray paint.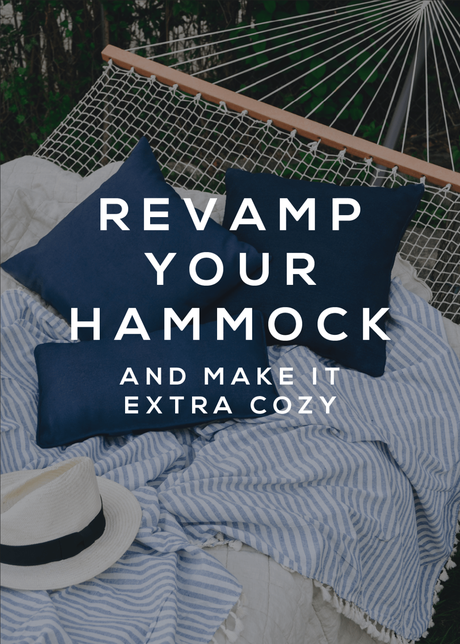 For many of us in the North, the moment the weather even begins to flirt with above-freezing temps, we're pulling out the backyard furniture for when Spring days finally do arrive. At our house, it's hanging up the hammock under our flowering trees I look forward to most.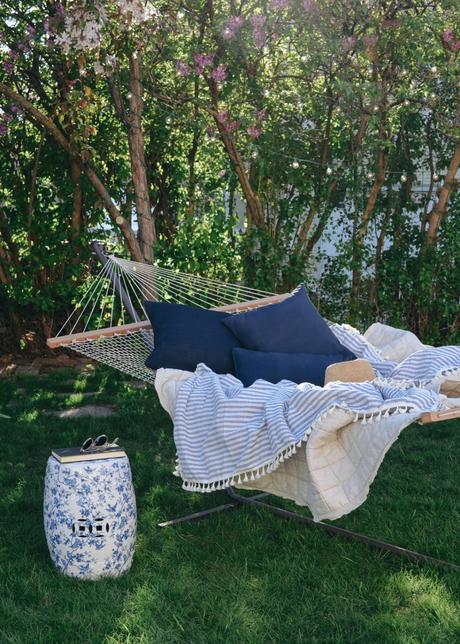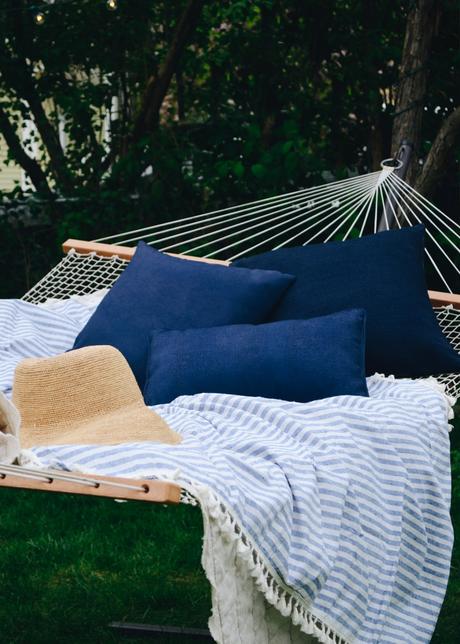 Our hammock first belonged to my parents for nearly 20 years before they passed it down to Ken and me when we bought our place. I have rosy memories as a kid swaying under the hundred year maple in our Northern Minnesotan backyard.
Since having the hammock here with us in Minneapolis, we've logged A LOT of hours reading and hanging out with the kids over the 5 summers we've been here, and as you might imagine, after two and a half decades, the hammock is showing its age. The paint on the stand is flaking and the metal is rusting. But though it looks rough, it's still quite functional, and I love this hammock too much to trade "up" for a new one.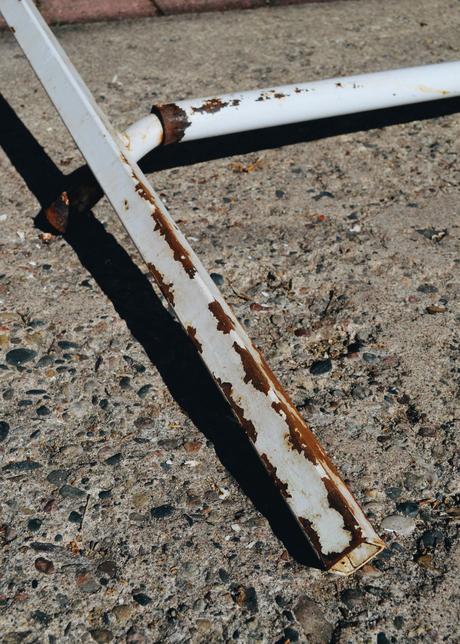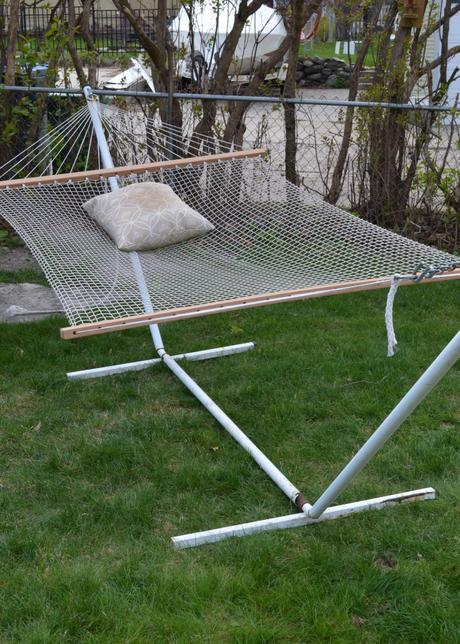 So often we're swooned by the shiny and new, but there's a lot of value in seeing potential in the old. Working with what you've got is gentler on the Earth and more cost effective too! There's a Depression Era quote that says, "Use it up, wear it out, make it do, or do without." This idea of being more resourceful is something I'm trying to be more intentional about.
All to say, our hammock is getting some TLC with the help of Rust-Oleum! I'm revamping the rusting metal stand with Rust-Oleum's Rusty Metal Primer + Stops Rust Spray Paint and refreshing some old, outdoor throw pillows with Rust-Oleum's Outdoor Fabric Paint.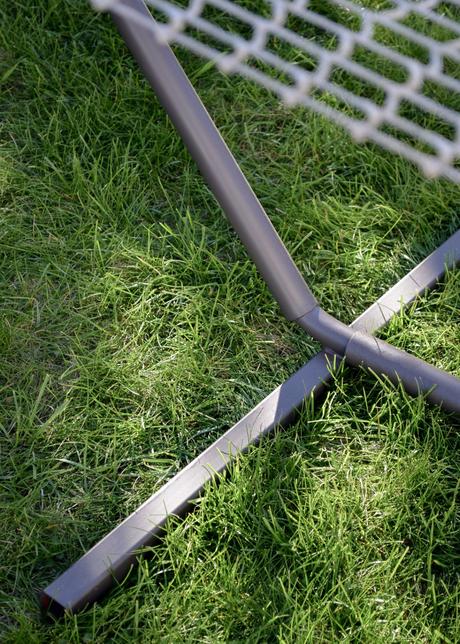 Revamping the Rusting Hammock Stand
Materials: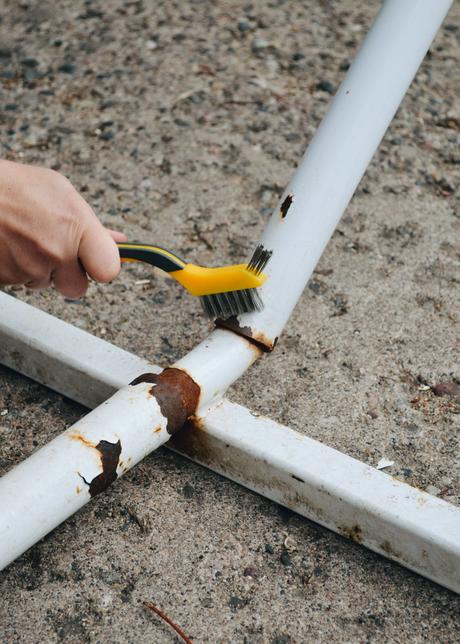 Prep:
First, I laid out a drop cloth, and cleaned up the hammock stand. I used a combination of a paint scraper and wire brush to remove loose paint and rust. Then I wiped down the entire stand with a damp cloth, followed by a dry cloth.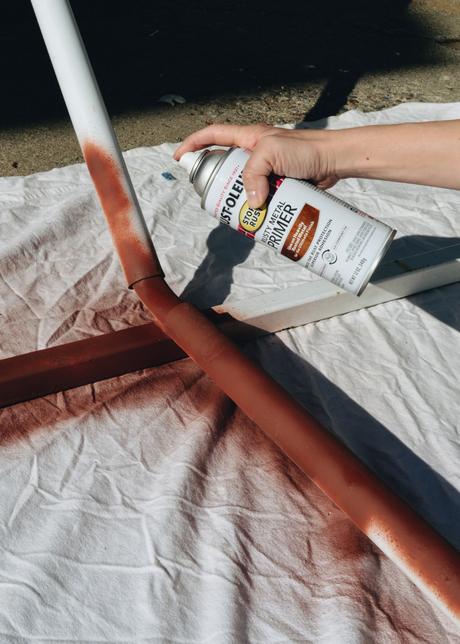 Prime:
Before painting the stand my topcoat color, I needed to treat the rusting areas with a rust-specific primer. Rust-Oleum's Rusty Metal Primer bonds tightly to rust to form a surface the paint finish will seamlessly adhere to.
When applying the primer, I made sure to keep the paint can in-motion to avoid hot spots and paint drips. Then I gave the stand about 1 hour to dry completely.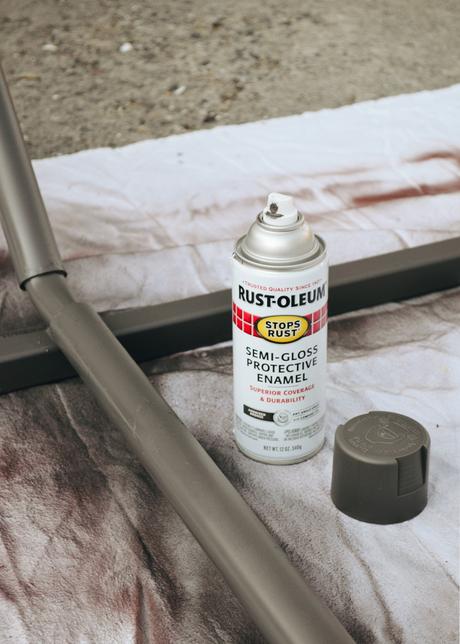 Paint:
Next, I moved on to the top coat! I used Rust-Oleum Stops Rust Spray Paint as it'll protect the stand against future rusting and has a tough semi-gloss finish.
Since I used the Rusty Metal Primer, I only needed one coat. If you find that you need a 2 nd coat, let the paint set for about 30 minutes before applying the next coat.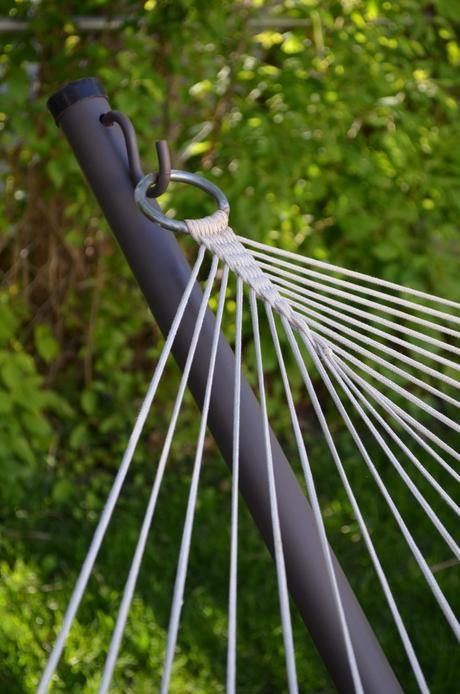 The color I chose was Anodized Bronze, which is a rich gunmetal color. My goal was to encourage the hammock stand to blend into its surroundings better than the original 1990's white high gloss paint. The darker color is so much more luxe-looking too!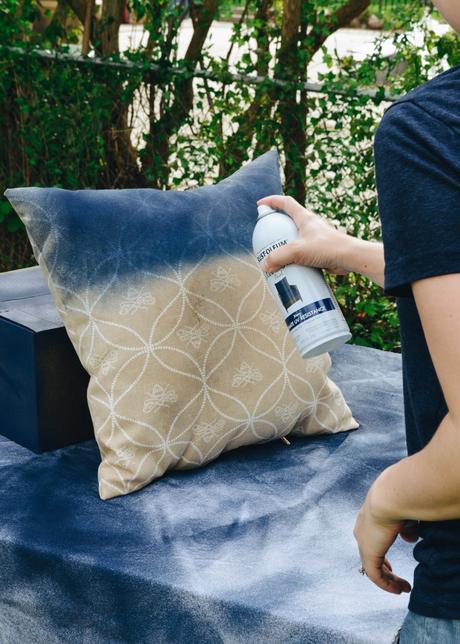 Spray Painting Outdoor Pillows
Let's be honest, hammocks are most comfortable with head pillows, so I also refreshed some old, outdoor ones with Rust-Oleum's Outdoor Fabric Paint to use with the hammock. It's UV resistant, soft to the touch, and the painted pillows are even machine washable! It's permanent which means it won't transfer to clothing or skin even when it's hot and sweaty or around the pool. The spray gives a smooth finish, and I found it easier to apply than a brush application.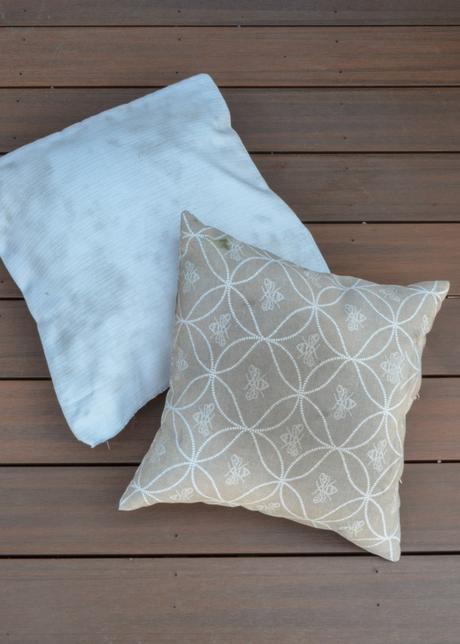 Materials:
Weathered Outdoor Throw Pillows. This type of paint works best on outdoor-rated polyester fabric that's been worn/weathered by the elements.
Rust-Oleum Outdoor Fabric Paint, Color: Navy
Dish soap/Water
Dropcloth or Old Sheet
Cardboard Box (to prop up pillows while spray painting)
Prep:
First, I cleaned the pillows with dish soap/water and allowed them to dry completely. Then I laid out a drop cloth and propped the first pillow up with a cardboard box. The paint sprays best and most evenly when the can is held upright.
Paint:
I lightly applied the first coat of paint, keeping the can in motion as I moved from side-to-side. It was useful to spray the face/front of the pillow, followed by the sides, all as one "coat". Then I waited 30 minutes before applying the next coat. In total, each pillow about 3 coats.
For tighter areas near piping, etc., I bent back/manipulated the edges to allow paint to reach those areas.
Fabric Spray Painting Tips:
Keep paint can upright while spraying.
Try to maintain a uniform distance from your cushion for even coverage.
Less is more! Applying multiple light coats is better than a few heavy handed coat. However, depending on fabric content and pattern, more coats may be needed.
This paint is not meant to be used with stencils or designs.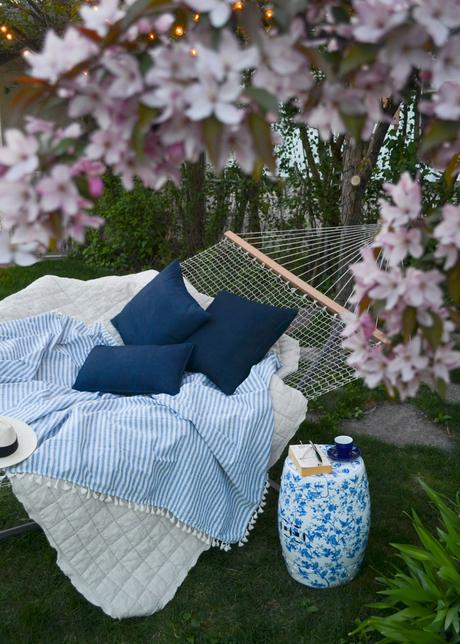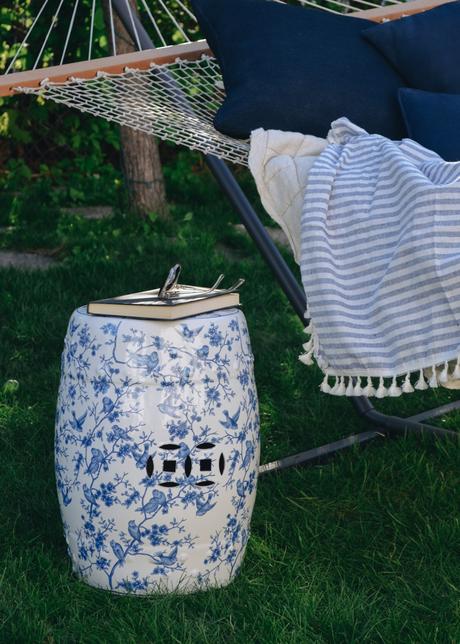 Cozy Hammock Nook Checklist
And finally, let's talk about how to carve out an extra cozy spot for your backyard hammock. The key is bringing the comforts of indoors, out to your hammock.
If, like me, you don't have a mature pair of trees to hang your hammock, set up your hammock stand in an area near a single tree or even a row of hedges, as I've done here. Trees provide shade and help ground your lounge space.
Don't forget textiles. Hammocks are most comfortable with head pillows, and for extra coziness, bring out a blanket or throw too!
Hang café lights or lanterns for a little sparkle as the sun sets.
Add an outdoor side table such as a garden stool, which serves as a useful perch for your book, sunglasses or drink.
This post is sponsored by Rust-Oleum and contains affiliate links. Thank you for supporting brands I truly love and personally use!
More Backyard Projects