Have you ever tried making savoury muffins? This is a recipe that I make that can easily be adapted to include other ingredients which I will suggest throughout.  These are great to make as a snack or to have for breakfast on the go or to pack in your kids lunch boxes.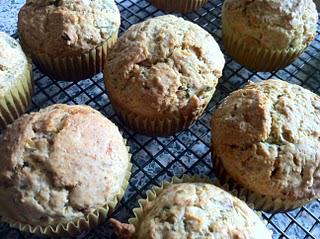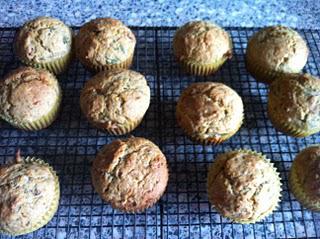 You can add grated carrot like I have, or you can experiment by adding things like grated courgette or a chopped tomato (or combine), which is a great way to get some veg into your kids without them even realising!  
Why not make these with your kids, by getting them involved is a sure way that they are more likely to try them out.  
I have tried to make this more of a healthier recipe by doing several things, please check the stars by the list of ingredients to see how to do this:
You could swap the white flour* for wholemeal flour. I have replaced 1/2 of white flour with 1/2 of rye flour, but you could try 1/2 wholemeal flour with 1/2 half white flour as an in between option.
I swapped butter** for a light olive spread (which the brand I used has only 11grams of sat fats per 100g compared to 40grams or so of sat fats in one of the butters that I looked at in the supermarket).  
I have used an extra mature cheddar cheese***, allowing me to use less but still have the flavour needed.  You could equally use a half fat cheese to save on some fat intake. 
I used prosciutto ham**** as when looking at the ingredients list it had the highest percentage of meat content (98% pork).  If you look at the ingredients list on the back of the ham packets you will soon see that many are only between 60-70% pork and also contain a whole list of other ingredients, including things like wheat and sugars; therefore making them more processed. 
You can also save on fat intake by which milk***** you opt for.  Try using one of the reduced fat milks, instead of whole milk.  
I added a small amount of rock salt, as I try where possible not to add extra salt when cooking as we get enough salt in other things we generally eat that already have salt added to it. Remember the ham and cheese are quite salty in flavour anyway.
You could also add seeds such as sesame, poppy, flax, sunflower, pumpkin etc...
Makes: 12 muffins
Oven Temp: Gas mark 5, 180C 
Prep Time:15 mins
Cooking time: 25-30 mins  
What you will need...
2 cups of sifted white flour*
1 tbs baking powder
1/3 cup of melted butter**
1/3 cup of grated cheese***
40 gms of chopped prosciutto ham****
A handful of fresh chopped chives (use could use dry)
1/2 red onion chopped (could use spring onion)
1/2 carrot finely grated (or add other grated veg or a chopped tomato)
2 eggs
200mls milk*****
1 tsp wholegrain mustard
Seasoning
What you will need to do...
Measure out and sieve the flour and baking powder into a bowl (bowl 1) and put to one side
Use a chopping board to chop and prepare the onions and chives (you could use a chopper for this part)
Measure and grate the cheese and carrots and add to the chopping board along with the onions and chives
In a separate bowl (bowl 2) to the flour, whisk your 2 eggs, add the melted butter, mustard, milk, seasoning, ham, chives, onion, cheese and carrot
Mix you wet and dry ingredients (bowls 1 and 2) together using a folding action with a wooden spoon.  A folding action will help maintain the air into the mixture
Measure out into muffin cases in a bun tin and place in oven, check after 20 mins or so to see if need rotating (also fan ovens may cook quicker).