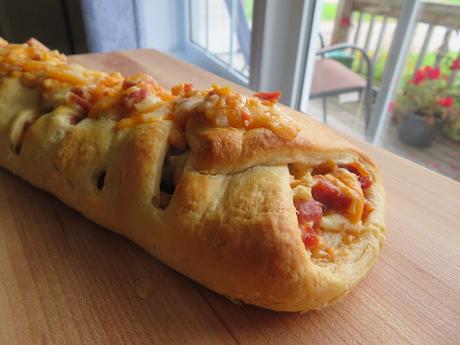 Ham and Cheese Braid. I am in love.  Not only is this sandwich bread/ braid use only four ingredients, but it is also incredibly delicious! 
Yes, you heard that correctly. ONLY FOUR INGREDIENTS.  Four ingredients and about half an hour of your time, and you and your family can be enjoying this tasty hot sandwich too! 
 I had some leftover ham that needed using up and I had also bought some refrigerated crescent dough, which needed using.  
I don't know why I do it, but, every time they put that stuff on offer at the grocery store, I end up bringing home one or two cans!  Its inevitable.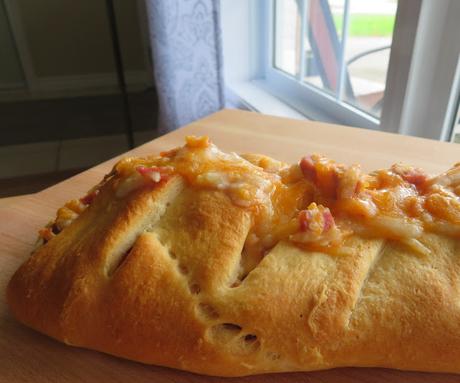 I can't remember the last time I actually rolled it into crescent rolls.  I most always use it for something else. It is actually a pretty handy store cupboard refrigerated ingredient to have on hand!
I use it for all sorts. I have filled them with just about everything under the sun. My
Pumpkin Pie Rollups
are really popular around here this time of year. So are my
Reuben Roll Ups
.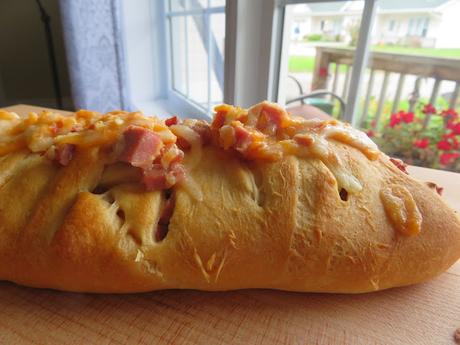 To be honest you can fill refrigerated crescent rolls with just about anything and come up trumps!  Seriously! 
These
Cherry Croissants
are a real favorite of mine. Cherry Pie filling stuffed into a crescent roll, baked in a muffin cup and then drizzled with an almond drizzle frosting.
I mean, what's not to LOVE about that!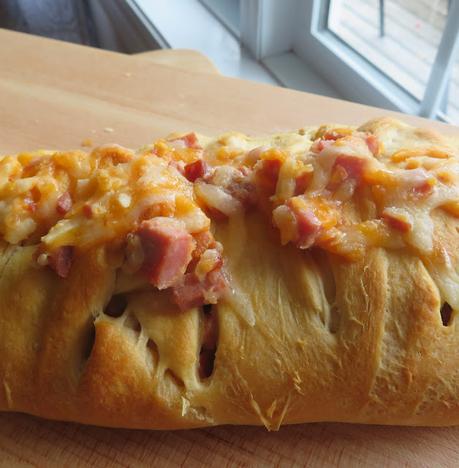 Today I had a quantity of leftover cooked ham to use up. I went searching online and found this delicious recipe on
Plain Chicken.
Not only did it look quick and easy to make, but it included a lot of my favorite things.  Ham.  Cheese. Honey Mustard.  A triune of amazing flavors that go together really well. 
I also just happened to have everything I needed in my refrigerator. So it was a go from the start!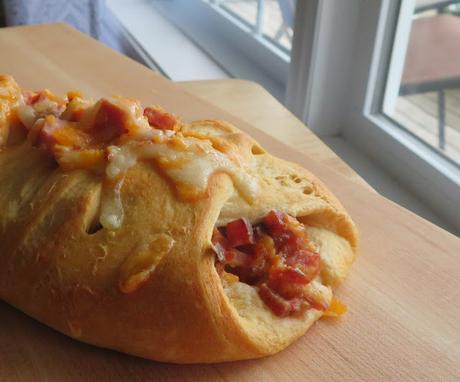 WHAT DO YOU NEED TO MAKE HAM & CHEESE BRAID
Not a lot really.
Refrigerated Crescent Roll Dough
Cooked baked ham
Grated cheese
Honey mustard
Its simple really.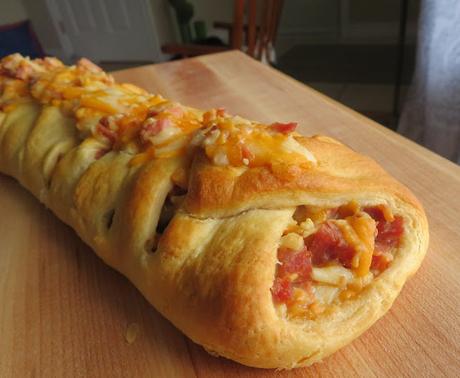 There are other things you could use rather than the crescent roll dough as well.  Ready rolled all butter puff pastry would work very well as would your favorite baking powder biscuit recipe.
You can
find mine here
.  It would work beautifully.  Just roll it out into a rectangle and proceed as per the recipe states. It is the same with the puff pastry. 
Its my mom's baking powder biscuit recipe, which does make rather a lot, so if you decide to use that, shape and cook half of the recipe as biscuits (which you can freeze to enjoy another time) and half as this tasty braid.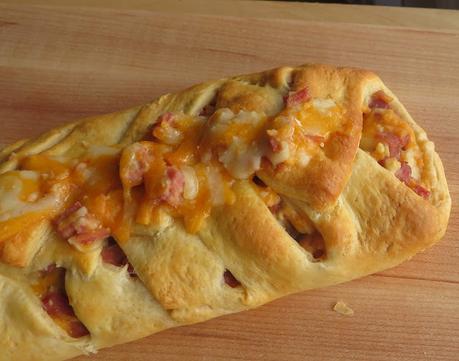 HOW DO YOU MAKE HAM & CHEESE BRAID
Its really simple to make these. As simple as one two three.  I like to start by making the filling.
You begin with already cooked ham. You can either use leftovers from a ham dinner, or you can start with cooked ham you have bought in the shops.  You need to cut it into small cubes or pieces. 
If you are using leftover cooked ham, cut the ham into slices about 1/3 of an inch thick.  Stack the slices and then cut through the stack into strips. Then cut the stacked strips into smaller pieces crosswise. (I hope that made sense.)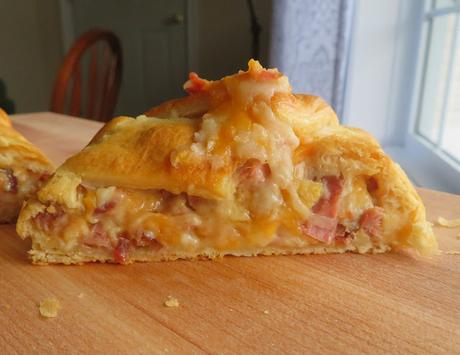 Pop this into a bowl and add the grated cheese and honey mustard, mixing it all together well. Start preheating your oven now.
Now you need to unroll your croissant dough.  I do this right on a piece of baking paper on a baking sheet. You will note that there are already cut separations and perforations in the dough.  
Press these closed with your finger tips until you have a solid sheet. (They may fall apart a bit anyways when baking, but not to the detriment of the bake.)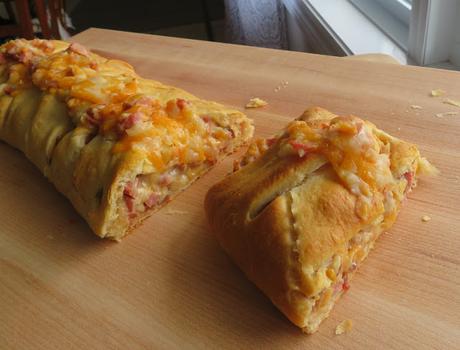 Eyeball the rectangle of dough and visually divide it into thirds lengthwise.  Spoon the ham filling down the center third of the dough. It will look like a lot.  
Personally I took the cue from Plain Chicken and reserved a bit of it to spoon on the top at the end. As you can see from the photos, it looks really scrumptious that way.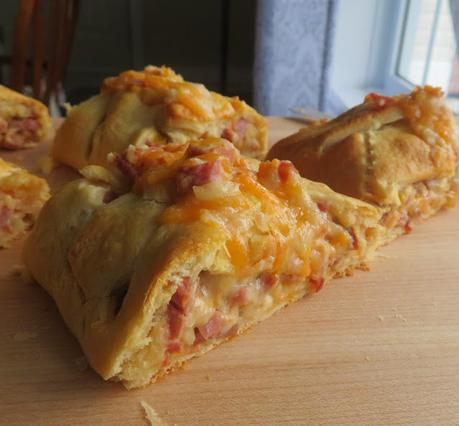 The other two thirds of the pastry rectangle is what will be used to braid over top of the filling.  Snip the dough almost all the way to the filling on either side of it.  
Make about ten strips on each side, ending about 1/2 inch away from the actual filling. You want each strip to be at least 1 inch in width.  The next part is the fiddly part, but even that is fairly easy.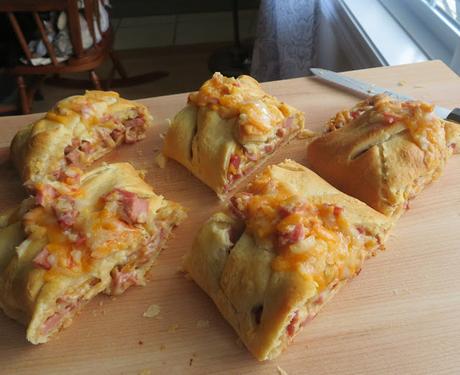 I say fiddly, but it really isn't and there is no right or wrong way to do it. Gently pull the strips up and over the filling to cover it, one at a time and criss crossing them with the strips on the other side. 
Just as if you were doing a braid, or plait as it is called in the UK. Don't tug on them too hard as you don't want them to tear.  The important thing is that you reasonably cover the filling so that it doesn't ooze out all over the place.
 That's it.  You have shaped it and now it is time to bake it.  (Don't worry if you have reserved some for topping, you don't add that until just before the bake is finished.)
Bake for 20 to 25 minutes in the oven, adding the additional ham cheese mixture (if using) for the last five minutes of the bake.
Its done when the cheese has melted, the filling is hot and the pastry is flaky golden brown.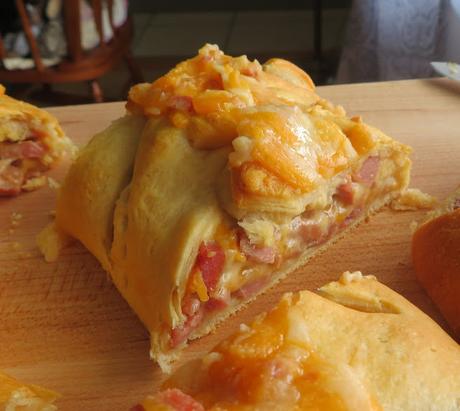 Oh my but this was some tasty.  It would make a fabulous lunch served with hot cups of soup, or as a snack on game nights.
You could also add a bit bits to it if you were really keen, like chopped spring onions.  But I can promise you it is pretty tasty just as it is.
I really hope that you will want to make this tasty bake.  I can already see all sorts of applications for this idea.  Tuna melt. Hot chicken salad. Roast beef and cheese, etc. As you can see my wheels are turning in overtime!
Delicious!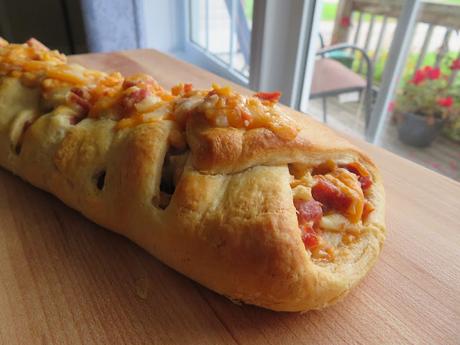 Ham & Cheese Braid
Author:
Marie Rayner
Prep time: 10 Min
Cook time: 25 Min
Total time: 35 Min
Quick, easy to make and using only 4 ingredients. This is a great way to use up leftover ham. Its delicious!
Ingredients
1 can of refrigerated crescent rolls
1 1/2 cups (225g) cooked ham, chopped
2/3 cup (80g) shredded medium cheddar cheese
1/4 cup (60g) honey mustard
Instructions
Preheat your oven to 375*F/190*C/gas mark 5. Have ready a baking sheet which you have lined with baking paper.
Stir the ham, cheese and honey mustard together in a bowl. Set aside.
Open your can of crescent rolls. Unroll the rolls lengthwise on the baking sheet. Do not separate into individual rolls. Leave whole.
Press together any seams or perforations so that you have one solid sheet. 
Spoon the ham/cheese/mustard mixture down the center of the sheet of dough. (reserve some to spoon on the top if desired)
Cut the sheet into strips down each side of the dough, leaving about 1/2 inch clear next to the filling.
Pull each strip up and over the filling alternately to cover, creating a braided pattern. 
Bake for 20 to 25 minutes.  If you reserved some filling to spoon on top, remove from the oven at 20 minutes, spoon the filling over top and return to the oven for a further 5 minutes.
It is done when the cheese has melted, everything is heated through and the pastry is golden brown.
Notes:
If you don't have crescent roll dough a sheet of all butter puff pastry works well. Also in the UK you can use Ready Rol refrigerated Croissant dough. Alternately you can use your favorite recipe for baking powder biscuits. Use one that makes 8 to 10 biscuits.
Did you make this recipe?
Tag @marierayner5530 on instagram and hashtag it #TheEnglishKitchen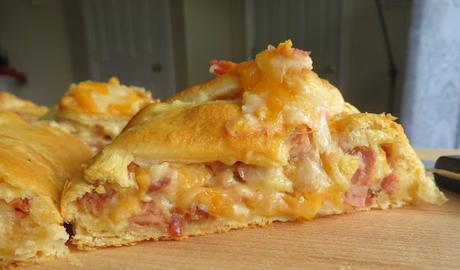 This content (written and photography) is the sole property of The English Kitchen. Any reposting or misuse is not permitted. If you are reading this elsewhere, please know that it is stolen content and you may report it to me at mariealicejoan at aol dot com. 
Follow me on Bloglovin