With Thanksgiving coming up, this recipe would be a good way to use up leftover ham and/or turkey. (I'm thinking this would be a great breakfast for the morning after Thanksgiving, before everyone goes out shopping!) I got this idea from my best friend Johanna, who lives in Finland. She was telling me about this fabulous ham and cheese pie she was making for her husband Joni, so I took her idea and made my own version. This was a lot of fun to make, and could be made for breakfast, lunch or dinner- it seems like a lot of work but it was so fast to put together, and a nice change from making an omelet or frittata. This is basically an egg dish inside a pie crust; I call it ham and cheese pie since that's what I used, but you could use any ingredients you'd use in an omelet. This could be a great vegetarian dish, just fill with spinach and mushrooms, or whatever vegetables you prefer.
What You'll Need:
For the crust:
1 cup, plus 4 tbsp whole wheat flour (I prefer whole wheat flour in this recipe for the texture)
1/2 tsp salt
2/3 cup cold butter, cut into small pieces
1/2 cup shredded cheese (I used a mix of mozzerella & provolone, use whatever melts well)
4 tbsp ice cold water
For the filling:
2/3 cup milk
2 eggs
1 cup shredded cheese (I used same mixture as in the crust, feel free to mix it up if you wish)
6 oz ham (I used the pre-cooked, cubed ham since it's what I had on hand in the fridge)
2 green onions, chopped
1/4 tsp salt
1/4 tsp pepper
1/4 tsp oregano
What to Do:
For the crust:
In a food processor, blitz together the flour, salt, cheese and butter until just mixed, then add the water slowly, until just combined. This will be crumbly, it will not form into an actual dough, more like wet breadcrumbs. Separate the crust mixture into two separate parts; you'll need about 3/4 of the mixture for the bottom portion of the crust. Press 3/4 of the mixture into a buttered pie pan; the easiest way is to get in there with your hands and spread the mixture evenly throughout the pan and up the sides. (By the way, these photos didn't turn out the greatest, but even though the quality isn't great, I wanted to give you some idea of what this will look like!)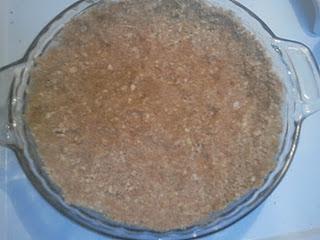 Next, in a large bowl whisk together all of the ingredients for the filling, and then pour onto the crust. Take the remaining 1/4 of the crust mixture, and crumble over the filling.
Place the pie on the top rack of a pre heated 375 degree oven, and cook for approximately 45 minutes until it's golden brown on top. Let cool for about 15 minutes and then enjoy!