For this month's
Home Baker's Challenge
, our host of the month Nalini Suresh @
Nalini's Kitchen
 chose 5 spooky & yummy
Halloween
treats. When I saw the challenge the beginning of the month I felt like I should make all of them. But of course time slipped through my hands and in the end I was scrambling to find time to make at least 1 of the treats. After much deliberation, I ended up making these Halloween Whoopie Pies.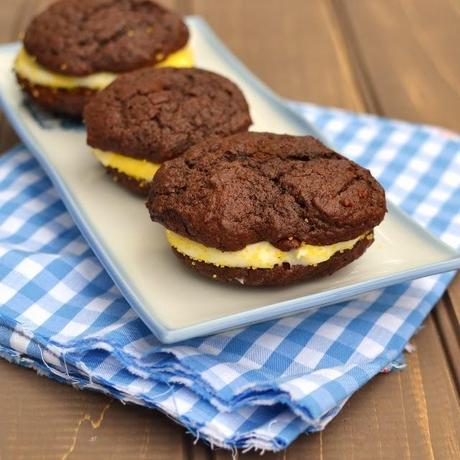 I've never made whoopie pies and this challenge gave me a chance to make these cakey cookies. I didn't have orange nonpareil, so used yellow glittering sugar which doesn't make the whoopie pies look too Halloween(y). In any case whoopie pies turned out great and we all loved them.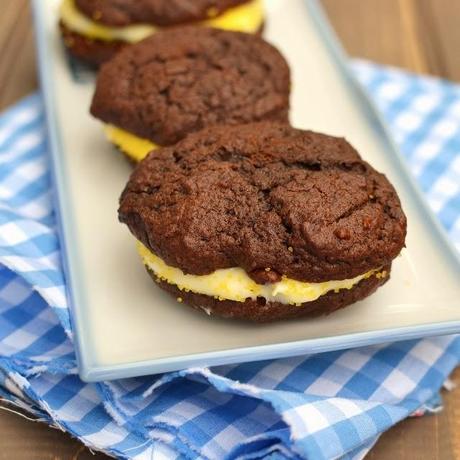 Original recipe makes 12 Whoopie pies and used 1 egg. I halved the recipe and made it eggless by using egg replacer powder.  The pies still turned out moist, soft and fluffy. For 1 egg use 1tbsp egg-replacer mixed in 3tbsp water. To halve the recipe, use 1½tsp egg-replacer mixed with 1½tbsp water.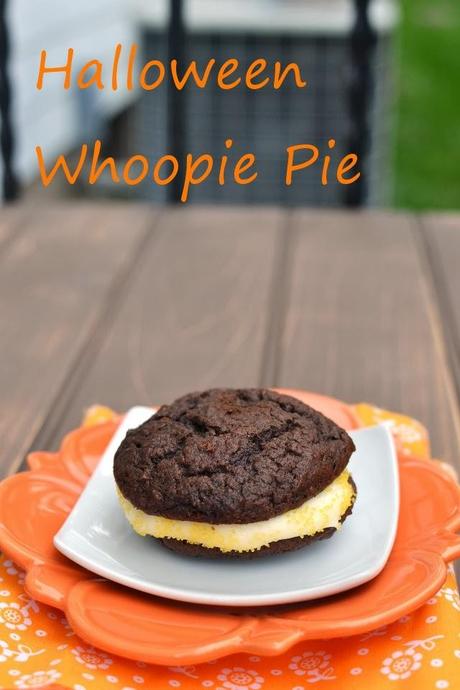 Recipe courtesy
Martha Stewart
.
Ingredients
:
All-purpose Flour - 1½cup
Unsweetened Cocoa - ½cup
Baking Powder - 1tsp
Baking Soda - 1tsp
Salt - 1tsp
Unsalted Butter - 1 stick (½cup), at room temperature
Light Brown Sugar - 1cup, packed
Egg - 1 (or equivalent egg replacer)
Applesauce - 1cup
Vanilla extract - ½tsp
For the Frosting
:
Butter - 1 stick (½cup), at room temperature
Confectioner's Sugar - 1cup
Orange Nonpareils or sanding Sugar - for decoration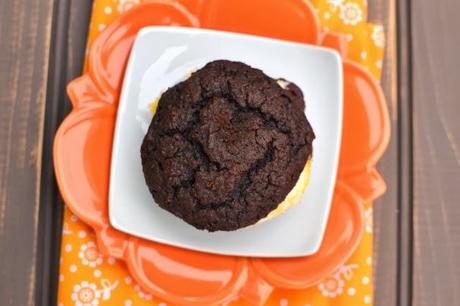 Method
:
Preheat oven to 375°F.
In a mixing bowl, combine flour, cocoa powder, baking powder, baking soda and salt.
In another mixing bowl, cream butter and sugar until light and fluffy. Add the egg (or replacer) and beat until combined.
Add the dry ingredients and applesauce alternately to the butter mixture starting and ending with flour. Mix just until combined, do not over mix.
Drop the dough by heaping tablespoons, 2" apart on a baking sheet. Bake for 10-14 minutes or until a toothpick inserted into the center of the cookie comes out clean.
Remove the pan from the oven and immediately using a thin spatula remove the cookies onto a wire rack. Cool completely.
In the meantime, make the frosting by creaming softened butter, powdered/ confectioner's sugar and vanilla extract until light and fluffy.
Once the cookies are completely cooled, spread some frosting on the cookie and sandwich with another cookie. Press lightly and then roll in the nonpareil. Set aside for 15 minutes to dry. Enjoy!!