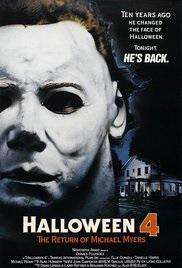 Director: Dwight H Little
Writer: Alan B McElroy (Screenplay) Dhani Lipsius, Larry Rattner, Benjamin Ruffner, Alan B McElroy (Story)
Starring: Donald Pleasence, Ellie Cornell, Danielle Harris, George P Wilbur, Michael Pataki, Beau Starr, Kathleen Kinmont
Plot: Ten years after his original massacre, the invalid Michael Myers awakens and returns to Haddonfield to kill his seven-year-old niece on Halloween. Can Dr. Loomis stop him?
There may be spoilers the rest of the review
Verdict: Simple Slasher
Story: Halloween 4: The Return of Michael Myers starts as all Halloween films seem to start as Michael Myers (Wilbur) is being transferred and awakes yet again after hearing he has a niece Jamie (Harris). Jamie is a young girl leaving with a foster family after the death of her family with her foster sister Rachel (Cornell) having to babysit her often.
With Michael on the lose Dr Loomis (Pleasence) returns to Haddonfield to stop Michael on the night of Halloween before he can continue his body count. What follows is your usual Halloween film where Michael is chasing down the innocent victims killing anyone who gets in his way.
Halloween 4: The Return of Michael Myers brings us back to Haddonfield after the random witch's film. This helps because it brings the iconic killer back into the mix which is need for any slasher film. On the negatives we do lose elements of the true slasher side of the film with Michael playing a lot of peek-a-boo like scares throughout and the lack of any true reason why Michael was moved on Halloween night. The saving grace of this film is the shocking ending which for the time was something we never really saw coming.
Actor Review
Donald Pleasence: Dr Sam Loomis is still showing the effects of his battles with Michael Myers and is still determined to treat him over killing him but when he finds out he has been transferred he has to race to stop Michael once again. Donald does a good job as one of his most famous roles of his career.
Ellie Cornell: Rachel is the foster sister of Jamie who gets assigned to babysit her on Halloween, she is your typical teenage girl with guys on the mind but will do what she can to make sure Jamie is safe. Ellie fills into the leading teenage character role well.
Danielle Harris: Jamie Lloyd is the niece of Michael but orphaned after her parents are killed. Living with a foster family he becomes the targeted by the Michael as he continues to kill the members of his family. Danielle is good in this role which is one of her first roles of her career.
Support Cast: Halloween 4: The Return of Michael Myers has the supporting cast you have come to known in these films, we get the friends who are there to be picked off, the sheriff who will put up a fight and of course the killer himself Michael.
Director Review: Dwight H Little – Dwight gives us a solid sequel that does lack the tension previously created but works as a slasher well enough.
Horror: Halloween 4: The Return of Michael Myers is one of those slasher movies that is easy to watch and follow throughout without hitting any of those scare filled moments.
Settings: Halloween 4: The Return of Michael Myers brings the action back to Haddonfield which is the iconic setting for the series which works without being too original.
Special Effects: Halloween 4: The Return of Michael Myers has what you would call the basic special effects for an 80s slasher film.
Suggestion: Halloween 4: The Return of Michael Myers is one for all the slasher fans to watch, they will enjoy however easy it is to follow. (Slasher Fans Watch)
Best Part: Very easy to watch slasher.
Worst Part: Michael being very inconstant with his kills.
Kill Of The Film: Head popping.
Believability: No
Chances of Tears: No
Chances of Sequel: Yes
Post Credits Scene: No
Oscar Chances: No
Box Office: $17.7 Million
Budget: $5 Million
Runtime: 1 Hour 28 Minutes
Tagline: It's gonna be one hell of a family reunion!
Overall: Solid sequel that checks all the basic slasher marks.
Rating