This post may contain affiliate links. Please read my disclosure.
Fall is just around the corner, and these Halloween Monster Cookies are the perfect way to add some spooky flavor to your life. They are creepy but adorable, all at the same time!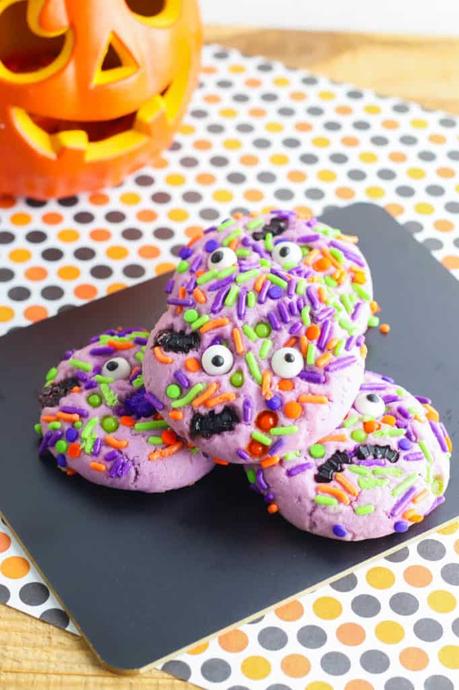 Sometimes I get in the mood for a festive and fun treat. These cute Halloween monster cookies are just delicious! They are fun and bring a smile to pretty much everyone's faces. Even if you aren't a huge Halloween fan, they are a sweet treat that is a blast to make and eat.
These Halloween sugar cookies aren't just yummy! They are a great way to introduce your kids to the kitchen and baking. Children love to learn new things, especially when it involves food. I can assure you that there is going to be a lot of giggles, smiles, and laughter when the kids help you make these cookies.
Tools and Equipment You'll Need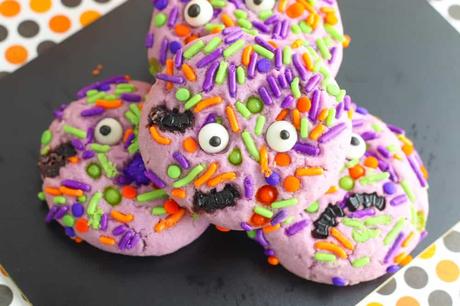 Recipe Ingredients and Notes
Flour: I used whole wheat pastry flour for some added whole grains. If you want a gluten free option, you can try gluten free flour or Bob's Red Mill 1:1 Gluten Free Baking Flour
Butter: For a vegan option, use vegan butter or coconut oil
Sugar: I used 3/4 of a cup of coconut sugar for a lower glycemic option, but if you want a sweeter cookie you can go all the way up to 1.25 cups of sugar in this recipe
Halloween Sprinkles: Make sure to use these Natural Rainbow Sprinkles to avoid artificial food dyes
Purple Food Coloring: I used this Natural Food Coloring to avoid artificial colors & flavors
Step by Step Instructions
Step 1: Preheat oven to 350 degrees and line a baking sheet with parchment paper. In a large bowl, mix together the flour, baking soda, salt, and baking powder. Set aside.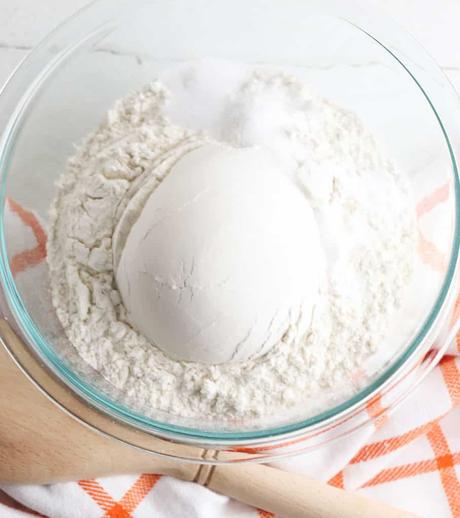 Step 2: In a separate bowl, beat together the butter, cream cheese, and sugar until light and fluffy.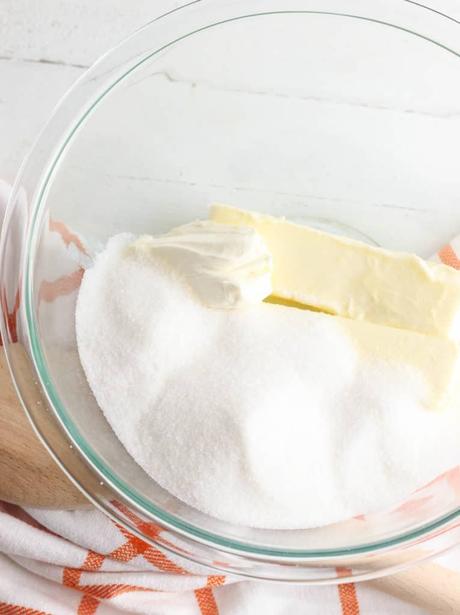 Step 3: Add the vanilla, egg, and two to three drops of purple gel food coloring. Beat until well combined.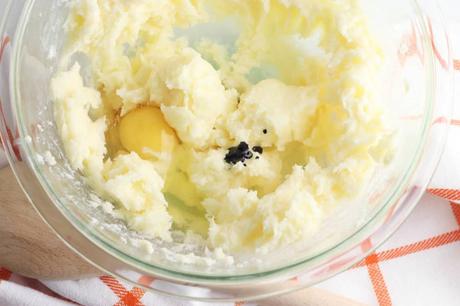 Step 4: Slowly add the dry ingredients and mix until well combined. A spoon may be needed to mix in the last of the flour if the dough is too thick for a mixer.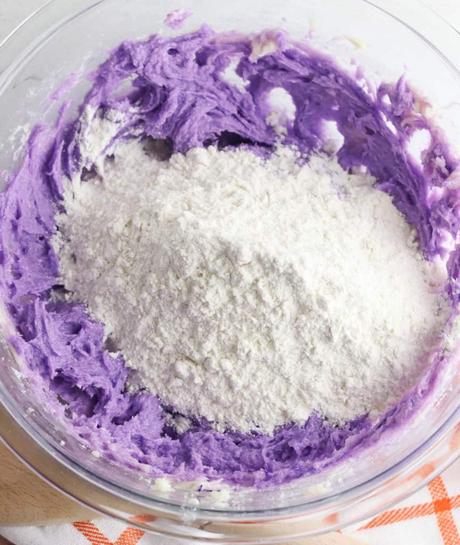 Step 5: Scoop heaping tablespoons of dough from the bowl and roll into a ball. Dip the balls into the Halloween sprinkles, leaving the bottom free of sprinkles.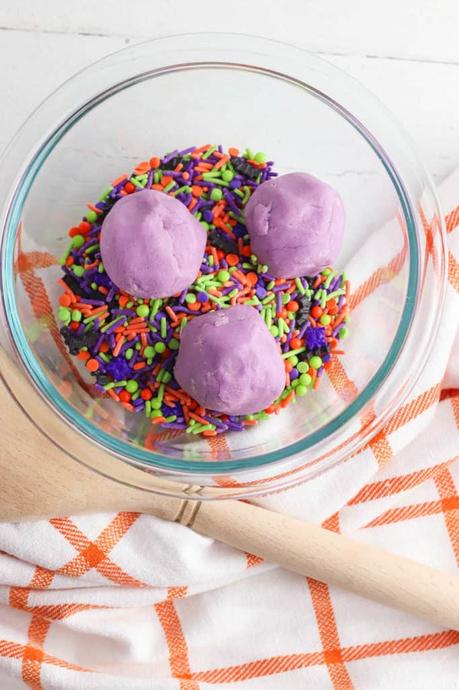 Step 6: Place each rolled cookie on the prepared baking sheet and press the balls down slightly with the bottom of a cup. Press candy eyes into the tops of the cookies.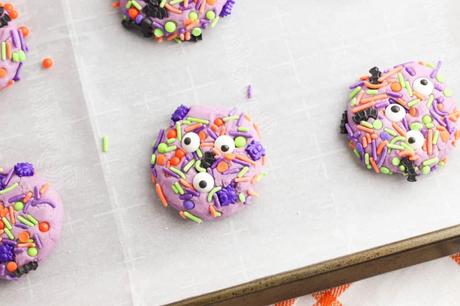 Step 7: Bake in the preheated oven for 10 to 12 minutes, until the bottom of the cookies are beginning to brown. Remove from oven and allow to cool on the baking sheet for five minutes, then transfer to a wire cooling rack to cool completely before serving.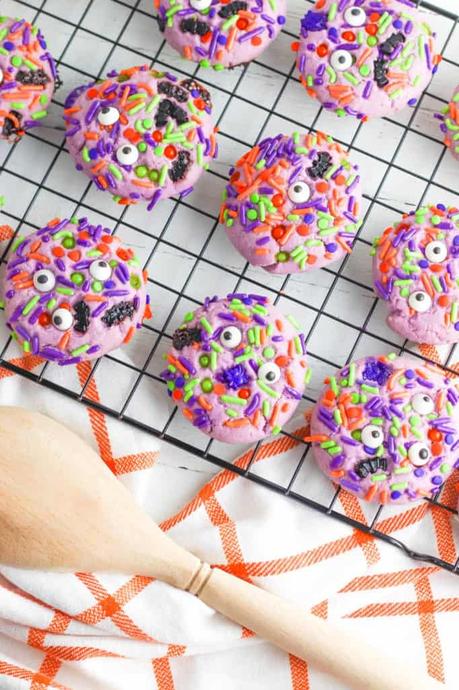 Kid-Friendly Halloween Sugar Cookies
Cookies in general are always kid friendly, but kids and adults of all ages will go wild for these adorable Monster Cookies! Not only are they the cutest cookies ever, but they are also really tasty too. Perfect for Halloween parties, gifts for neighbors, or even kids get-togethers. Kids won't be able to resist the purple-colored cookies and the sprinkles.
Recipe FAQs
Can I Make These Cookies A Different Theme?
Yes, absolutely! You can swap out different sprinkles and food coloring to fit the theme you are looking for. Whether you are wanting to make sugar cookies for a birthday party, Christmas, Valentine's day or even an anniversary dinner, you can adjust this recipe. So have fun with this recipe and make some adjustments to them to fit your needs. You could go with pink, red, and white for Valentine's Day or purple, teal, and blue for some adorable mermaid cookies. The list goes on and on!
How Do I Make The Cookies Soft?
The most important thing to do when baking these Halloween Monster Cookies to ensure they turn out soft is to not overbake them and not overmix the batter. Both of these issues can cause dense and hard cookies.
Let's start with the batter: When combining the ingredients before to only mix them long enough that everything is just incorporated. If you mix them more than that, then air bubbles will develop, and as they bake, they will pop and lead to a dry, dense cookie.
When it comes to baking, it's a good idea to test your oven temperature every once in a while. Sometimes it can get off, and you would need to make adjustments to make sure you don't cook your cookies in a too-hot-oven. I typically bake a batch of these Halloween sugar cookies for 10-12 minutes and not a minute longer. Once the cookie has begun to set around the edges and they barely turn golden brown, you can take them out of the oven. They will finish cooking on the baking sheet, and you'll end up with soft, chewy cookies.
How Long Do Homemade Sugar Cookies Last?
After the cookies have cooled, keep them in an airtight storage container. They will last at least 1 week and maybe even a little longer. They can be stored at room temperature or can even be frozen if you can't get them all eaten that quickly.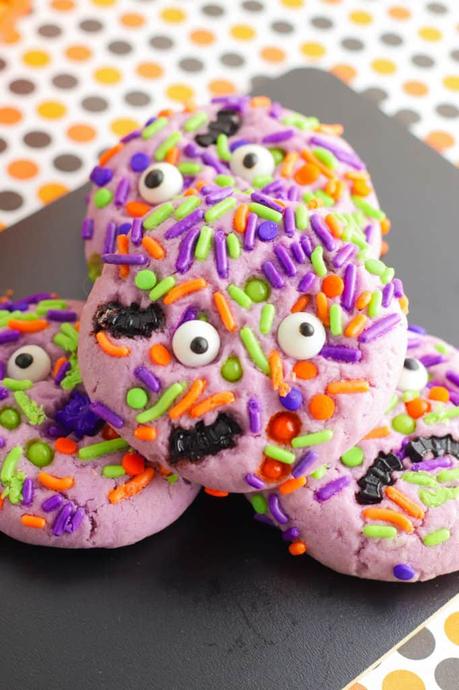 Top Tips For Making Halloween Monster Cookies
Make sure to preheat the oven before adding the cookies to it. If you don't, the cookies will start baking as the oven warms up, but not at the correct rate. They will end up dried out and dense.
Never overbake the cookies, or they won't taste as good.
Try to get all the cookies to be the same size, so they bake evenly. Also, lightly press the dough balls down right before baking.
Room temperature butter, cream cheese, and eggs are essential so that they are mixed evenly into the dough
For a chewier cookie, switch out about 2 tablespoons of the coconut or granulated sugar for brown sugar. Brown sugar has molasses which helps make cookies moist and even softer.
Make sure to spoon and level your flour into your measuring cup, versus using your measuring cup to scoop out the flour.
To make these gluten-free, use oat flour or Bob's Red Mill Gluten Free 1:1 Baking Flour
Check Out These Other Tasty Dessert Recipes!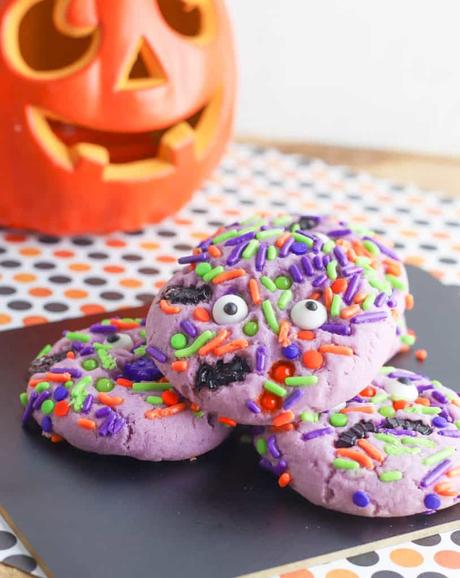 If you have tried this Halloween Sugar Cookies or any other recipe on my blog, then please rate it and let me know how it turned out in the comments below! You can also FOLLOW ME on
FACEBOOK
,
TWITTER
, INSTAGRAM, and
PINTEREST
to see more delicious, healthy, family friendly food!
Halloween Monster Cookies