Although the original
Halloween
challenge was to watch a scary movie a night, I have found myself drawn to television shows as much as movies this month. Thanks to switching from conventional digital cable to Apple TV and subscriptions with Hulu and Netflix I am, interestingly, seeing a lot more of the new fall television season than I have in the past. One of my favorite new shows is
Sleepy Hollow
, a spooky drama (very) loosely based on Washington Irving's 1820 short story, "The Legend of Sleepy Hollow." Apart from the Headless Horseman,
Sleepy Hollow
the series bears little to no resemblance to Tim Burton's more miss than hit 1999 film of the same name. I can't be the only one enjoying the show, as it has already been renewed for a second season.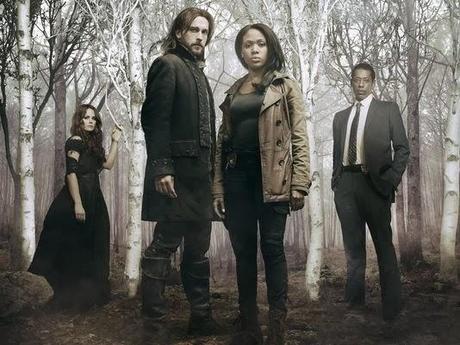 The good guys of Sleepy Hollow, L-R: Katia Winter, Tom Mison, Nicole Beharie, Orlando Jones
The show starts off with a bang when Ichabod Crane (Tom Mison), a Revolutionary War soldier and special agent for General George Washington rises from the grave, waking up in the current Sleepy Hollow. But Ichabod is not alone — the Headless Horseman (and according to the show's mythology, one of the Four Horsemen of the Apocalypse — Death) is also in town, and wastes no time, killing the town sheriff August Corbin (Clancy Brown). Corbin's protege, Lt. (pronounced the British way by Ichabod, "lef-tenant") Abbie Mills (Nicole Beharie), finds herself not only trying to solve her mentor's murder, but having to team up with Crane, a man from another time, to try and prevent the forces from evil from taking over Sleepy Hollow and the rest of the world.
The show has a nice balance of chills and humor, and the two leads have good chemistry. They also look great, as do the various sets and locations (the show is filmed in North Carolina).
Sleepy Hollow
can also laugh at itself. There has been a bit of internet chatter on why Ichabod is still sporting the same duds so many episodes into the season — can't Abbie or someone get the guy to a Gap? But that question was addressed finally in episode five, "John Doe," with Ichabod explaining that he felt more comfortable in his "old" clothes.
Apart from the two leads, some familiar faces are also on hand. Clancy Brown (
Highlander, Carnivàle
) may have lost his head in the first episode, but that doesn't rule out his returning to Sleepy Hollow at some point. John Cho (
Star Trek Into Darkness, Harold & Kumar
films), who is on Team Bad, has managed to hang around and cause trouble after his grisly end. Orlando Jones plays it mostly serious as Abbie's new boss, police chief Captain Frank Irving. In a rare television twist, Abbie doesn't try to keep her boss in the dark — Irving is aware of Ichabod's time traveling journey and even enlists his help, when necessary, such providing translation for a lost boy who only speaks Middle English ("John Doe").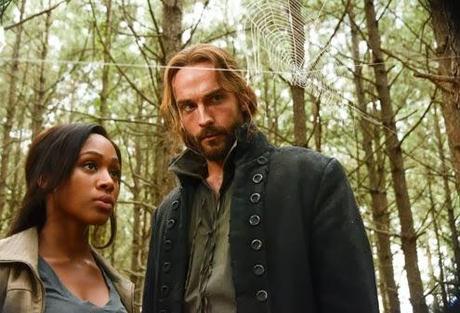 Abbie and Ichabod in the woods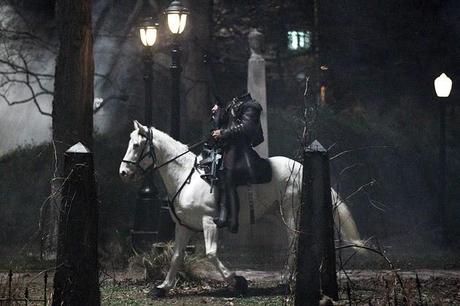 The Headless Horseman
The captain's endorsement allows Abbie and Ichabod to have some pretty free reign in their local investigations. Realistic? Not even a little bit.
Sleepy Hollow
, is at times, completely nuts. But entertaining? Absolutely. How else could they visit the original lost colony of Roanoke, or participate in an American Indian scorpion biting/mind bending ritual that allows the pair to enter the dream world of the Sandman (episode three, "For the Triumph of Evil")?
So far the only element of the show that isn't completely working for me is Ichabod's wife Katrina (Katia Winter), who, unbeknownst to him, was a witch, and helped pave the way for his resurrection. She can come to him in dreams, and at some point will undoubtedly show up in Sleepy Hollow. Potential love triangle? This show could go in many directions. But for now Ichabod and Abbie must concentrate on not letting the Four Horseman stage a reunion tour, and that's proving plenty of fun to watch.