This post may contain affiliate links. Please read my disclosure.
These Halloween Pumpkin Quesadillas are the cutest and most delicious dinner idea for fall. These Jack-O-Lantern quesadillas are sure to bring a smile to your face and are perfect for kids or festive get-togethers. Filled with cheesy goodness and pumpkin between whole wheat tortillas, they are irresistible!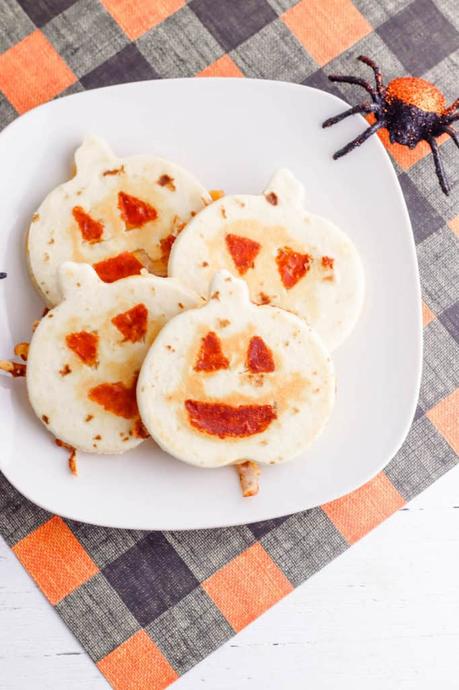 These pumpkin quesadillas are so adorable and are likely to become a tradition during the fall in many households. Who can resist eating something that not only tastes fabulous, but also is super cute too?
With Halloween only a couple of months away, I wanted something that would get the kids excited, was fun and delicious, and that they could help make too.
These Halloween Pumpkin Quesadillas were exactly that! The kids loved cutting out the pumpkin shapes and putting them on the griddle pan. With only 3 ingredients, they're the most simple, tasty quesadilla recipe you will find! Our whole family loved them. Even if you aren't a huge Halloween person, if you love pumpkin, these little beauties are just what you need.
Tools and Equipment You'll Need
Recipe Ingredients and Notes
This super easy quesadilla recipe uses just 3 ingredients!
Tortillas: Whole Wheat, Sprouted Wheat, Spelt, or White Whole Wheat Flour tortillas would all work well
Pumpkin Puree: Just a couple of tablespoons adds a bit of creaminess and sweetness to these quesadillas. Make sure you're getting 100% pumpkin puree and not pumpkin pie filling!
Cheese! Because what are quesadillas without cheese 🙂 We used Monterey Jack but you could use a Mexican shredded cheese blend or even just pure cheddar cheese would work great.
Step by Step Instructions
Step 1: Use the cookie cutter to cut out 8 pumpkin-shaped tortillas.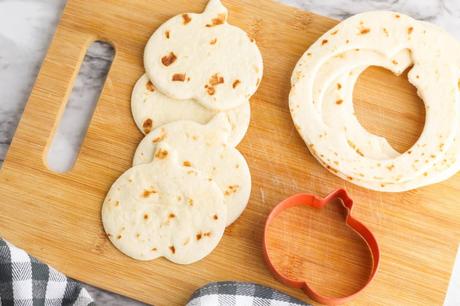 Step 2: Use a knife to cut jack o lantern faces into four of the pumpkin-shaped tortillas.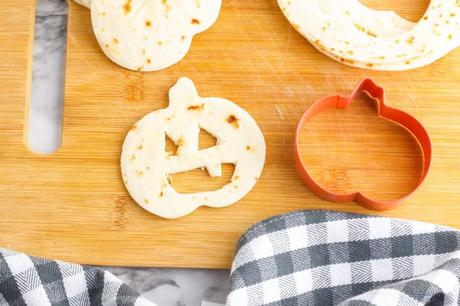 Step 3: Heat a skillet or griddle over medium-high heat. When the griddle is hot, place the remaining four pumpkin tortillas (without faces) on the griddle. Spread a little less than 1 tsp of pumpkin puree on each tortilla, top with shredded cheese.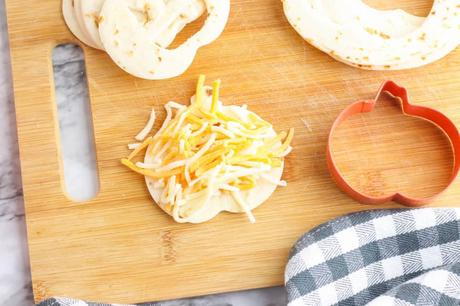 Step 4: Place the pumpkin tortillas with faces on top of the cheese.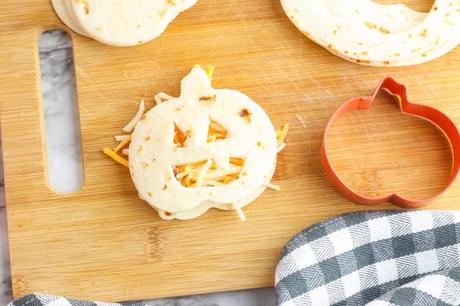 Step 5: Cook for five minutes, or until cheese is melted, then flip and cook an additional two to three minutes. Allow to cool slightly before serving.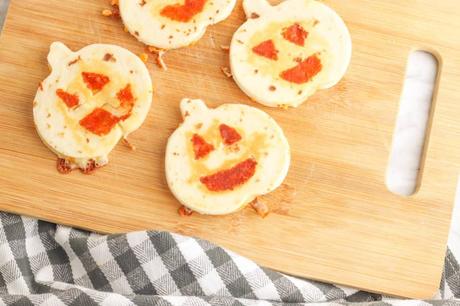 What Makes These Quesadillas Healthy?
Low Calorie: Each little jack-o-lantern quesadilla is only 100 calories! That makes it the perfect snack or part of a healthy dinner. You could eat 3-4 of them and still be only around 300-400 calories for your meal! It's also a perfect portion size for kids.
Beta Carotene: Most of us love the flavor of foods with pumpkin, but did you ever think about the nutrients they bring to the table? Pumpkin is loaded with Beta Carotene, which is so important for your diet and can help boost your immune system!
Vitamins and Minerals: Besides the fact that these pumpkin quesadillas are super cute, they are also good for you too. With each helping, you will get fiber, protein, vitamin A, riboflavin, potassium, manganese, folate, vitamin B6, iron, niacin, magnesium, vitamin C, vitamin E, and the list goes on!
Will Kids Enjoy These Halloween Quesadillas?
Yes, there is no way kids are going to resist these Jack o Lantern quesadillas! Pumpkin puree is naturally sweet, so that is something most kids love. Then combining the pumpkin with cheese, you just can't go wrong. Even if you serve these without cutting out the pumpkin shapes,, kids are very likely to devour every last crumb.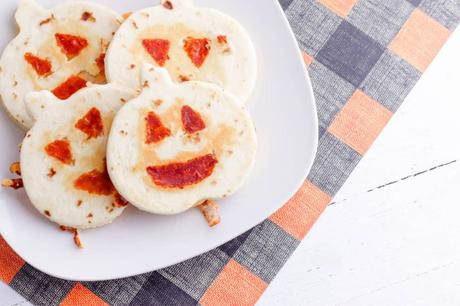 Recipe FAQs
How Do You Store Leftover Halloween Pumpkin Quesadillas?
To Refrigerate: I have found the best way to save them is by wrapping them up in a plastic wrap. Then put the pumpkin quesadilla in a plastic or glass food container. They typically last around 3 days in the fridge.
To Freeze: Do a flash freeze on the quesadillas, so when you store them in the freezer, they don't stick to each other. To do that, place them on a baking sheet and freeze for 2-3 hours. Then remove off the baking sheet and put it in a freezer-safe container. They last up to 2 months.
How Do You Reheat Quesadillas?
There are a few ways you can reheat the quesadillas. Let's take a look at the options for reheating:
Air Fryer: Did you know that Air Fryers are actually great for heating leftovers? Turn on the air fryer to 350 degrees and spray a little bit of olive oil on the quesadillas. Cook for 5 minutes, then flip and cook for another 2-3 minutes or until they are hot. You don't need to cook them a long time, you are just wanting to warm them up. This will give you crispy quesadillas every time.
Skillet: Add a little bit of cooking spray or olive oil to a skillet. Heat the quesadillas on medium-high heat until they are hot all the way through. Be sure to flip them to warm both sides.
Microwave: Place the pumpkin quesadilla on a microwave-safe plate and heat for 30 seconds - 1 minute. Once hot, they are ready to serve. If you opt for the microwave method, the quesadillas will not end up as crispy.
Pumpkin Quesadilla Variations
Add a few black beans to give yourself a boost of protein and nutrients. Plus, the beans taste really good with the cheese and pumpkin. You could do whole black beans or refried black or pinto beans.
Adjust the variety of cheese you use. We most often use Monterrey Jack, but you could also go with mozzarella, a Mexican cheese blend, cheddar, or even Pepper Jack if you want some spice added to yours.
If you are feeling a little extra festive and want some spice, add in some chopped jalapeños or green chiles. They both are tasty!
Toss some fresh herbs on the quesadillas. Cilantro, oregano, or parsley would all taste great and add some color too.
For more veggies, feel free to chop up some yellow bell peppers or poblano peppers, tomatoes, and baby spinach and add them into the quesadillas.
Top Tips For Making Homemade Halloween Quesadillas
It's very important not to overstuff the quesadillas with ingredients. If you do, you will have a mess, and they will likely spill out as you are cooking them.
It's best to divide up the filling, so you make evenly stuffed quesadillas. They will cook better when you have the correct amount of filling too!
Keep your skillet on medium low heat so that the cheese melts evenly and you get that nice crispy outside without burning your tortillas.
If you have kids, get them involved in the kitchen! There are lots of easy steps to this recipe that kids as young as 3 years old can participate in - they'll have a blast making and then eating these quesadillas!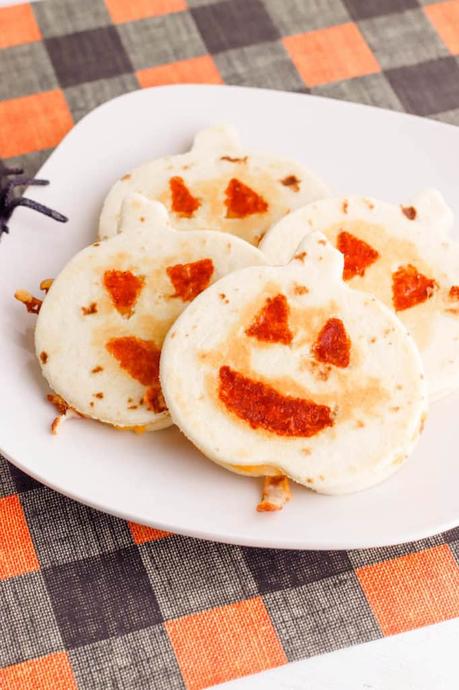 If you have tried these Pumpkin Quesadillas or any other recipe on my blog, then please rate it and let me know how it turned out in the comments below! You can also FOLLOW ME on
FACEBOOK
,
TWITTER
, INSTAGRAM, and
PINTEREST
to see more delicious, healthy, family friendly food!
Check Out These Other Yummy Fall Recipes!
Halloween "Jack-O-Lantern" Pumpkin Quesadillas