I love Holidays that give us an excuse to create a dessert for the occasion and Halloween is one of those days..healthy delicious pumpkin is a seasonal ingredient and makes desserts delicious but also adds a 'good for you' ingredient... this one also has dark chocolate..fun to eat, good for you..great combination!
And if you are not trick or treating and find yourself in Italy for Halloween. you can visit one of these castles to have a 'ghostly' experience instead:
*Castello Di Bardi in the Province of Parma (You can experience some of the best Parmigiana-Reggiano here while in this region also)-said to be a haunted castle.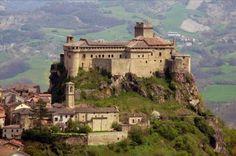 *Villa Palagonia in Sicily where it has been said that the ghost of Prince Ferdinando Francesco has been heard
*Cartiera Papale in Ascoli Piceno (not far from where a segment for the first episode of my upcoming PBS TV show was filmed) where spirits have been seen and heard.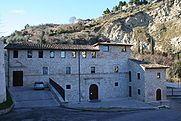 Halloween Pumpkin Chocolate Torta
1 cup all purpose flour
8 ounces cooked mashed pumpkin( or ½ a 16 ounce can pumpkin)
1/2 cup granulated sugar
4 tablespoons butter at room temperature for cake
1 tablespoon butter for icing
3 eggs
1/3 cup whole almonds
8 ounces dark baking chocolate
1 tsp baking soda
pinch of salt
Place almonds and 1 tablespoon of the sugar into a food processor and chop finely,set aside. Place butter in a bowl and add in remaining sugar, blend together with wooden spoon or spatula until creamy and well blended. Add in eggs, one at a time and blend with wire whisk after each addition. Add in mashed pumpkin, blend in with wire whisk. Add in finely chopped almonds, blend in with whisk. Sift in flour and baking soda with sifter. Blend in with wire whisk. Butter and flour a 10-12 inch cake pan. Place in batter. Bake for 40 minutes in an oven preheated to 350 degrees. Remove from oven to cool. Place chocolate in a double boiler with 1 tablespoon butter. Melt together and blend with wire whisk. When cake has cooled top with this chocolate icing. Serve.
See you on November 1st at TASTE! Philly at the Valley Forge Casino. Sample recipes from my books, get a signed copy of one of my books , join me and other celebrity chefs
See you on November 9th at the Bucks County BookFest at the Quakertown Library in Quakertown, Pa for a book signing. from 1-3 PM
October 19th- I will be doing a class/dinner of the Feast of the Seven Fishes at Bucks County Community College continuing Education Department in Newtown, Pa.
For more great recipes get your copy of The Basic Art of Italian Cooking: Holidays and Special Occasions-2nd edition