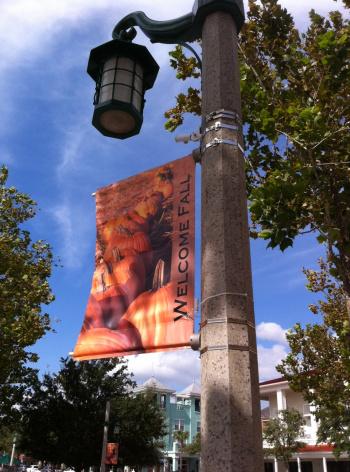 One of my most favorite times of year is fall…in Florida. The temperature finally dips into the chilly 70 degree sweater weather, the air conditioning only runs 75% of the day, and sitting outside eating a nice, cold ice cream cone can finally be done in comfort.
Fall also brings the Halloween seasonal festivities, and they happen to some of my favorite. Since we moved to Florida two years ago, we have yet to celebrate Halloween. This year we decided to put an end to that.
Growing up in the Northwest suburbs of Chicago, there were plenty of super stellar pumpkin farms to visit. When one grows up with Goebbert's pumpkin farm a stones throw from their house, it is hard to find something that compares. Quite simply, Central Florida cannot compete. We ship our pumpkins in from the midwest as they don't grow well here. We don't have pumpkin farms. (Trust me, I looked into it when I was convinced I was going to start a Koebbert's in Orlando.)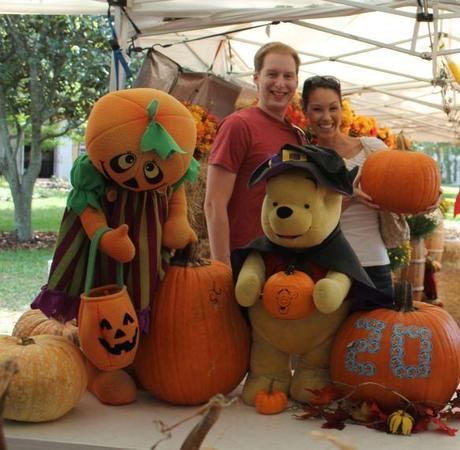 We decided to try something different this year. Celebration Florida has become a new favorite place for me. The carriage rides I help with are in Celebration so I have been there more frequently of late, but the town was also originally started by Walt Disney. We all know how much I adore all things Disney, imagine a town created with all the same principles. In short, it's my new heaven (when not at Disney World).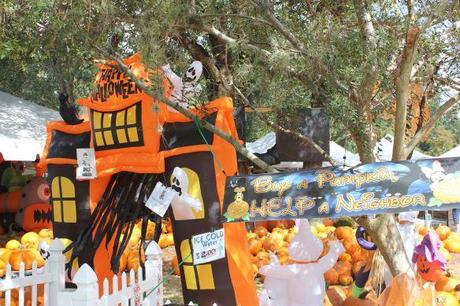 Celebration has its own pumpkin patch for the month of October, and they receive four shipments of pumpkins during this time to ensure that they are adequately stocked. 100% of their proceeds made from the sale of pumpkins goes to Help Now, a domestic violence and sexual assault center in Osceola County. Although it isn't Goebbert's, it's a lot nicer (and more fun) than picking a pumpkin out of a Publix bin, and the money spent goes to a good cause. The pumpkins were all in good shape, and we had a blast strolling through and selecting Spookie Pumpkin Konar. Growing up, we had a rule that you could only get a pumpkin as large as you could carry. I had no problem carrying the one we selected at all.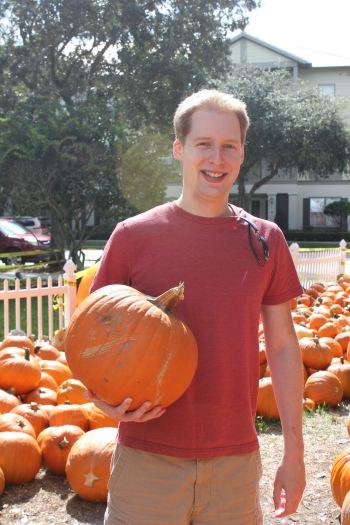 The pictures taken at the patch even come with free orbs around your head (see it above?). Makes them look spookier, like a ghost is riding your shoulder. Oh, and I was just kidding about not carrying my own pumpkin. I clearly had to hold it up to examine it, before passing it over to Brian.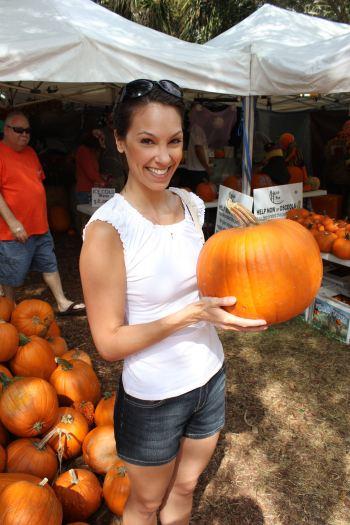 See. And who do you think is making the pumpkin spice cupcakes this week with Spookie Pumpkin Konar's insides? Exactly.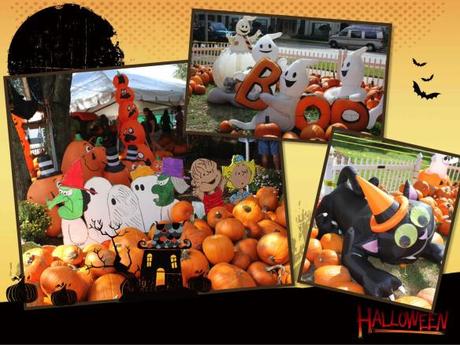 When you're done with the pumpkin patch (or before you go) you can also take a walk down the block to see the decked out haunted house (post coming soon) or head back a block in the other direction to Town Center for a bite to eat and maybe dessert at Kilwins (post coming soon). They have Apple Pie and Pumpkin Pie flavored ice creams right now, the perfect flavors to kick off another fall season!