The Witch, Wizard and Man O'War Golf Courses, labyrinths rambling through dense forest and lakes, are collectively the backbone of Myrtle Beach. If you're on a quest for exceptional courses in the number-one golf destination in the United States, this trio can take you on a mystical adventure.
Myrtle Beach, known for it's sixty miles of beautiful sandy stretch, comfortable temperatures and over one-hundred championship courses to choose from, hides these three secret gems (collectively known as MysticalGolf.com) on a stretch of road just off of Hwy 501 in the Carolina Forest, waiting to be discovered and tamed by players looking for a substantial challenge.
Playing these three Dan Maples golf courses in the order above is exactly the way in which they should be attacked: The Witch beckons you into her maze of macabre timber with patient alligators lining the path, The Wizard tempts the risk taker and, as for Man O' War – "do not let your guard down."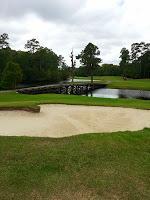 The Witch is enchanting from the moment you lay eyes on this course. The wetlands are frighteningly dense with old wooden trees hanging like hands waiting to grasp and, while driving your golf cart over creaky bridges, you cannot help but think you have entered the forest where Hansel and Gretel nearly met their fateful end. Thanks to Bruce Vittner, one of our playing partners and writer for Southern New England Golfer, as his knowledge of this course gave us our best chances for survival (and a solid score).
The
Witch Golf Club
in Conway, S.C. was rated a 4.5-star course by Golf Digest for its excellent condition and seaside configuration.
Escape from The Witch and enter into the lair of
The Wizard
, the second of the three sisters, and you will find a links-style golf course with elevation changes (oddly enough) and island greens. Not every shot requires a driver but every shot does require thought in ball placement as the second cut of rough was deep. Bent grass greens make this course different from the Bermuda grass on Witch. The Wizard was decorated with four stars by Golf Digest as a "Best Places to Play in America".
The Man O'War, in my opinion, had the biggest bite of the three mystical golf courses - it's a dangerous design that tricks you into believing you can attack when it is much better to play safe. Know your club distances before you enter and practice your putting as there is probably not one flat spot on any of the eighteen greens (which are in superb condition). The back-to-back island greens nearing the end of your journey are both makeable but don't get
too
confident - play smart and you may just come out with a reasonable score.