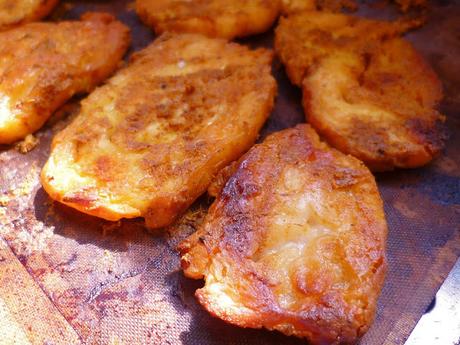 grilled halloumi tikka
This year's BBQ season was somewhat short-lived, which is a bit of shame as I didn't have many opportunities to roll out one of my BBQ favourites, halloumi tikka. Fortunately though, you don't have to wait until the temperature rises and the sun comes out. It works perfectly well under the grill or in a hot pan.
Halloumi tikka is essentially the famously squeaky cheese marinated in yogurt flavoured with Indian tandoori spices. Usually it would be made with paneer, a fresh Indian cheese. Using halloumi came out of a time when I had made the marinade but discovered I didn't have any paneer. I don't quite know what happened. Did I leave it behind in the supermarket? Or had the fridge eaten it again? (The fridge seems to swallow up a lot of things that I need whenever I want them. It is capricious like that!) I ran (well actually I ambled) across the road to the corner shop, where they had a few packets of halloumi. I was convinced the halloumi would work as well as paneer, and it did.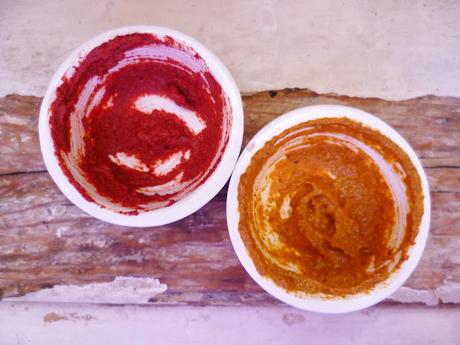 tandoori yogurt marinades - one with beetroot powder, the other with ground turmeric
The combination of halloumi with a spicy marinade is a good one. It tastes rich and indulgent, although it is very simple to make. The spices work beautifully with halloumi's sour-salty flavor.

Halloumi cheese has a high melting-point, which is why there is a fabulous moment when the cheese is crisp on the outside and just beginning to melt on the inside. Utterly heavenly to my mind.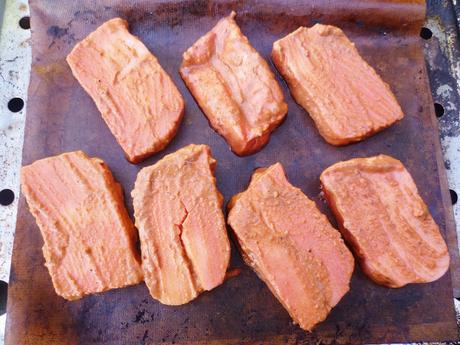 uncooked halloumi tikka in yogurt marinade with beetroot powder
I have made this marinade using either ground turmeric or beetroot powder. Sadly while the uncooked beetroot powder marinade is a beautiful retro 1950s pink (think of Elvis' classic pink Cadillac car or perhaps the Pink Ladies from the film, Grease), it turns to a golden brown while cooking. (Still tastes lovely though!)
Serve piping hot while still crisp on the outside and soft in the middle. If you leave it to cool it will be a little tough.
Serves 3-4 as a starter
Skill level: Easy
ingredients:
1 halloumi cheese (about 250g), cut into 10mm thick slices
2 tbsp plain yoghurt
2 tsp fresh ginger, grated
2 garlic cloves, finely chopped
1 tsp ground cumin
1 tsp paprika
¾ tsp ground coriander
½ tsp blended curry powder (garam masala or your favorite mix)
½ tsp ground turmeric or beetroot powder
1 tsp tomato paste
juice of 1 lemon
lemons or limes, quartered, to serve (optional)
directions:
Whizz the ginger and garlic together in a blender until a smooth paste. Add the yoghurt, spices and lemon juice. Blend to form a smooth marinade.

Tip the marinade into an airtight container. Add the halloumi slices and carefully toss to ensure well-covered with the marinade. Seal and refrigerate for about 1 hour.

Pre-heat the oven to 190C/Gas Mark 5.

Line a baking tray with a non-stick sheet or baking parchment.

Brush away any excess marinade from the halloumi slices. Lay the slices out on the baking tray, leaving a 2 centimeter space between them (as the halloumi will spread slightly while cooking).

Bake for 20 minutes, until the cheese has lightly browned and crisped on top.

Serve piping hot with a squeeze of extra lime or lemon juice (if serving).
tips:
Serve with quarters of lemons or limes, for squeezing over the cheese.

I don't add any salt to the marinade as I find the cheese is salty enough without adding more. You may think differently.