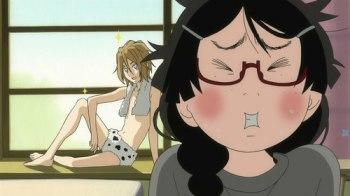 I'm trying really hard to think of something to say!!
Alright so this is where I introduce myself and tell you I'm awesome.  I guess I'll get to it if I have to. (Justin!)
My name is Sabrina or "realafterglow" as I tend to be known on a lot of forums.  I live in Seattle, WA and study psychology and Japanese (naturally.)  I like to torture myself by volunteering for conventions around the Seattle area and in my free time, I spend all my money at the comic book store I work at buying manga and comics.  What else? Let's see…Oh!  Knitting keeps me from stabbing people and I can't stand the English dub of Kuragehime. My dream is to move to Japan and work in mental health or, let's be honest, just spend more time in Japan. I prefer dogs to cats, tea to coffee and green tea mochi to everything else.  My favorite anime shows are Casshern Sins, Tsuritama, Usagi Drop and Cowboy Bebop – to name a select few.
You can find me here, posting anime reviews (and the occasional convention post) on this awesome site. If you insist on following my Twitter, thus requiring me to update it, you can find me @realafterglow.
Woo! I hope my glorious editor is happy now.