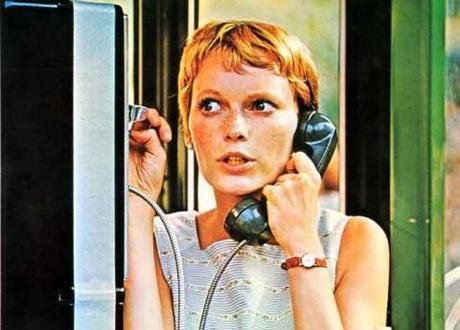 Mia Farrow's pixie haircut in Rosemary's Baby: Created by Vidal Sasson.
The background
Celebrity hairdresser Vidal Sassoon has died at his home in Los Angeles, at the age of 84, of natural causes – reportedly after a long battle with leukemia. He revolutionised hair styles – the "bob" was down to him -  in the 1960s, and had a successful line of products bearing his name.
Sassoon was born in London in 1928, to Jewish parents – his father was a carpet salesman. He was placed into an orphanage, as his mother couldn't afford to keep him. In 1948 he fought in the Arab-Israeli war; it was on his return to Birtain that he began working for a Mayfair salon. He was a fervent campaigner against anti-Semitism, and established Academies to teach his way, as well as being a philanthropist. He divorced three times, marrying his fourth wife in 1992, and had four children. Tributes are pouring in to a man who changed the face of women's hairstyling.
"Women were going to work and assuming their own power. They didn't have time to sit under the dryer," said Sassoon, quoted on the BBC.
Women's liberation
Sassoon helped to "dress a cultural revolution," said Alastair Leithead on the BBC. His salon gave "geometry" and "architectural shapes" to women's hair, freeing them from the beehive styles. His haircuts also "fitted in with the emerging feminist movement."
Could have been a footballer
His "shaped cuts" were a vital part of Mary Quant's "look", said The Telegraph. He styled for designers and film stars, including Mia Farrow's "pixie cut" in the film Rosemary's Baby. After he returned from the Arab-Israeli war, his mother decided he should be a hairdresser. "I thought I'd be a soccer player but my mother said I should be a hairdresser, and, as often happens, the mother got her way," he said in 2007.
Constantly innovative
His other clients, reported Louise Boyle on The Daily Mail, included Ava Gardner, Rita Hayworth, Elizabeth Taylor and the model Jean Shrimpton. He was constantly innovative, making the "famous geometric five point bob cut." He was called a rock star, an artist and a craftsman.
And commercially briliant
He also managed, said Olivia Barker on USA Today, to combine craft with commerce. With his "matinee-idol" looks and suavity, the jingle he uttered for his products was almost as "iconic" as his styles. "If you don't look good, we don't look good."
Vidal Sassoon, anti-Fascist hero, "harder than the painted nails of his clients": bit.ly/IKPMbE #RIP #Vidal

— Left Foot Forward (@leftfootfwd) May 10, 2012