This one-game scouting report is from game-3 of the Russia/Canada Challenge Tournament. Russia won the game 6-3.
Charles Hudon was the Montreal Canadiens fifth round pick in the 2012 NHL Entry draft. The 5'10", 171 lbs left-handed winger scored 25 goals and added 41 assists in 59 QMJHL games in 2011-12. The Chicoutimi Sagueneens veteran also posted a traditional plus/minus rating of plus-28. Hudon continues to turn heads during this event. He has the ability to change direction quickly, while also maintaining puck-possession. He has a short-stride, but does show good speed over short distances. He also uses a long stick for his size.
He played only one substantial penalty-killing shift during the game, but was a huge part of the powerplay, with 6 powerplay appearances.
OVERALL GRADE
Hudon produced his third-straight above-average overall grade (74) during the tournament. He had a solid powerplay risk/reward rating of 2.72, and an equally solid PP ratio of 2.88 successful plays for every 1 unsuccessful play. He scored 1 goal, and added 1 assist, while getting 3 shots on net. He did not engage in any short-handed events, and 64% of his even-strength events took place in the offensive-zone.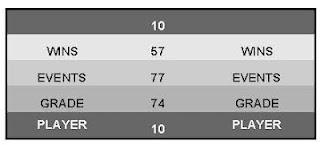 EVEN-STRENGTH RISK/REWARD RATING AND RATIO
Hudon earned a solid even-strength risk/reward rating of 1.09, and an ES ratio of 1.93 successful plays for every 1 unsuccessful play. He engaged in 3.43 even-strength events per-minute played; his lowest involvement through the first 3 games.
*the average ES risk/reward among forwards is 1.10
*the average ES ratio among forwards is 1.87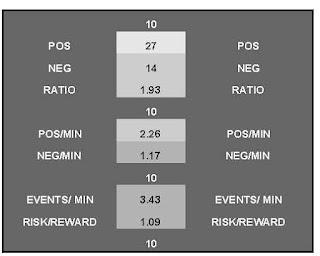 OFFENSIVE-ZONE RISK/REWARD RATING AND RATIO
Hudon produced another above-average offensive-zone risk/reward rating (0.67). He also earned a solid offensive-zone ratio of 1.89. He recovered 6 loose-pucks, but failed to recover one other. He completed an impressive 7 of 9 o-zone pass-attempts, but only 2 of 6 attempts to beat opposing players 1on1 (deke). He failed to get either of his 2 shot-attempts through to the net, and engaged in 2.18 offensive-zone events per-minute played.
*the average offensive-zone risk/reward among forwards is 0.39
*the average offensive-zone ratio among forwards is 1.62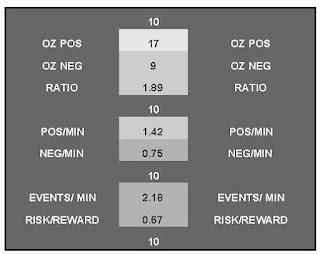 DEFENSIVE-ZONE RISK/REWARD RATING AND RATIO
Hudon had a defensive-zone rating of 0.25, and a d-zone ratio of 2.5 successful plays for every 1 unsuccessful play. He continued to fight the urge to fly the zone early, and was aware enough to collapse-in on the weak-side when necessary. He was successful with 1 of his 2 attempts to remove puck-possession from the opposition, and failed to recover 1 loose-puck. He completed both of his d-zone pass-attempts, and engaged in 0.59 defensive-zone events per-minute played.
*the average defensive-zone risk/reward among forwards is 0.38
*the average defensive-zone ratio among forwards is 1.95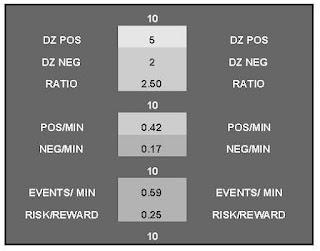 NEUTRAL-ZONE RISK/REWARD RATING AND RATIO
Hudon earned a neutral-zone rating of 0.20 and a neutral-zone ratio of 1.67 successful plays for every 1 unsuccessful play. He recovered 1 loose-puck, competed his only pass-attempts, and was successful with both his attempts to dump the puck deep into the offensive-zone. He failed with his only attempt to beat an opposing player 1on1 (deke), and engaged in 0.80 neutral-zone events per-minute played.
*the average neutral-zone risk/reward among forwards is 0.30
*the average neutral-zone ratio among forwards is 2.14