Successful poweplays start with solid puck-possession. Powerplay poison is any play that involves the loss of puck-possession without a shot on net.
One way to gauge how specific players contribute to the powerplay is to track their success-rates for plays that involve maintaining puck-possession. Plays within this category include passes, dekes, dump-ins, and shots on net. The calculation is made by dividing successful plays within these events by the total amount of plays within these events.
The numbers included here are specific to plays occurring while the Canadiens are on the powerplay.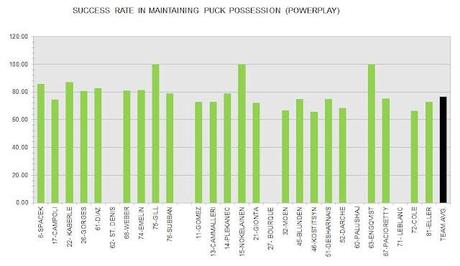 Success-rates for Gill, Nokelainen, and Engqvist should be excluded due to a limited amount of events.
Tomas Kaberle has the best success-rate for those players with substantial PP ice-time. Other defensemen with substantial PP time, and success-rates above 80% include Yannick Weber, Raphael Diaz and PK Subban. Among this group, Subban has the lowest success-rate.
Among forwards with substantial ice-time, Tomas Plekanec has the top success-rate for plays that involve maintaining puck-possession. Other players with success-rates above 75% include Desharnais and Pacioretty. Plekanec's rating is the product of a solid powerplay passing success-rate, while Desharnais also has a solid PP passing success-rate. Pacioretty's success-rate is the product of his puck-battle success-rate and an impressive amount of loose-puck recoveries.
Another way to measure players impact on the powerplay is to measure the ratio of successful plays to mistakes or lost puck-battles. Events within this category include only those taking place while the Habs are on the powerplay.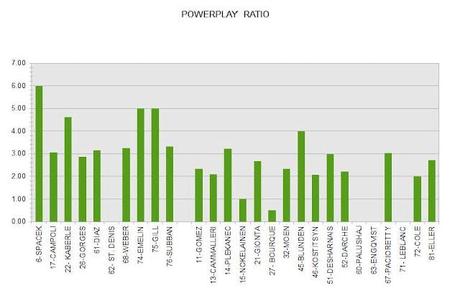 Kaberle has far-and-away the top powerplay ratio. Other PP regulars with solid ratios include Plekanec, Pacioretty and Desharnais.