Alex Galchenyuk was the Montreal Canadiens first pick (third overall) in the 2012 NHL entry draft. Galchenyuk is a 6'0", 200 lbs left-handed center. Due to a serious knee injury, he played only 2 regular season, and 6 playoff games during the 2011-12 season.
This one-game scouting report is from a 2012 US world-junior development camp tournament game between the US (team blue) and Finland. The US won the game 5-4. Galchenyuk was not his usual puck-possession machine during the game. He actually had more success removing puck-possession from the opposition in the offensive-zone than he did maintaining possession.
He had 5 offensive-zone starts at even-strength, as well as 5 defensive-zone starts at even-strength. He won 7 of his 9 faceoffs, and had 1 powerplay, as well as 1 penalty-killing shift.
OVERALL GRADE
Galchenyuk had an average overall grade of 69. He engaged in 4.06 events per-minute, and 34% of his events took place in the offensive-zone. His overall grade was helped by his 4 shots on goal, and  he scored 1 goal.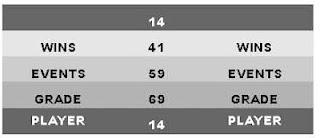 EVEN-STENGTH RISK/REWARD RATING AND RATIO
Galchenyuk produced a slightly below-average even-strength risk/reward rating of 1.03, and an ES ratio of 1.63 successful plays for every 1 unsuccessful play. His best work was produced in the offensive-zone, and he engaged in 4.3 even-strength events per-minute played.
*the average ES risk/reward among forwards is 1.10
*the average ES ratio among forwards is 1.87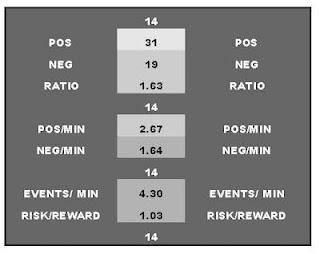 OFFENSIVE-ZONE RISK/REWARD RATING AND RATIO
Galchenyuk had an offensive-zone risk/reward rating of 0.43, and an o-zone ratio of 1.83 successful plays for every 1 unsuccessful play. He recovered 1 loose-puck, but failed to recover 2 others. He completed his only offensive-zone pass, but was successful with only 2 of his 5 attempts to beat opposing players 1on1 (deke). He was able to get 4 of his 5 attempted shots through to the net, and engaged in  1.46 offensive-zone events per-minute played.
*the average offensive-zone risk/reward among forwards is 0.39
*the average offensive-zone ratio among forwards is 1.62


DEFENSIVE-ZONE RISK/REWARD RATING AND RATIO
Galchenyuk had a defensive-zone risk/reward rating of 0.26, and a d-zone ratio of 1.33 successful plays for every 1 unsuccessful play. He was successful with 3 of his 6 attempts to remove puck-possession from the opposition in the defensive-zone, and recovered 5 loose-pucks. He completed 1 of his 2 pass-attempts, and engaged in 1.81 defensive-zone events per-minute played.
*the average defensive-zone risk/reward among forwards is 0.38
*the average defensive-zone ratio among forwards is 1.95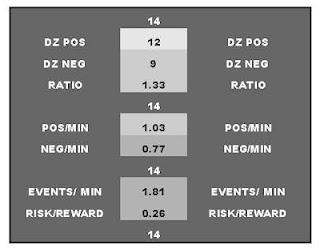 NEUTRAL-ZONE RISK/REWARD RATING AND RATIO
 Galchenyuk had a neutral-zone risk/reward rating of 0.29, and a neutral-zone ratio of 2 successful plays for every 1 unsuccessful play. He was successful with his only attempt to remove puck-possession from the opposition, and recovered 3 loose-pucks. He completed 3 of his 4 n-zone passes, failed with his only attempt to dump the puck deep into the offensive-zone, and engaged in 0.86 neutral-zone events per-minute played.
*the average neutral-zone risk/reward among forwards is 0.30
*the average neutral-zone ratio among forwards is 2.14