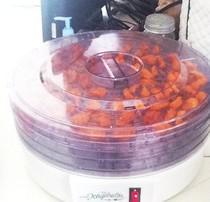 This time of year the whole house smells like chilies. Each Spring we plant Habaneros and one other variety of very hot chilies. In previous years we have grown Cayenne, Jalapeño, and Serrano. This year it was a small upward reaching chili called, I
think
, an Aleppo. It's very small, and I decided to plant it because it's usually dried and ground up, which is what The Manly Spouse does each year.
Fast forward to now. Lousy crop of habaneros. Little Aleppos are not ripening in large enough quantities to dry properly. I think maybe we need a
real
garden, but that's a subject for another post.
Frustrated, I went to the farmers market and bought a few very expensive Ghost Peppers...which are supposed to be even hotter than Habaneros, and saved some seeds for next year. Ever the optimist.
Our first batch of dried peppers consisted of our own meager crop, the three Ghost peppers, and a handful of the tiny little peppers. The Manly Spouse was not overly impressed with the heat factor until he bit down on a Ghost seed. I can't remember his exact words; something along the lines of "wowie zowie!", but more scatological.
My wonderful husband is a native Nebraskan, and a bit more practical than I. Last week he went to a grocery store that caters to a mostly Hispanic population, and bought 6 lbs. of habaneros from the Produce section. Here are some waiting to be prepared for the dehydrator.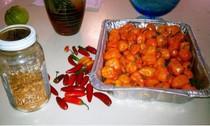 On the left is a small batch of dried peppers after they've been ground up in the old Osterizer. In the middle are some Serrano from a neighbor's crop, and on the right are the habaneros.
It takes about 18 hours or so to fully dehydrate 3 or 4 trays of peppers. I have taken to turning the appliance to "off" before I go to bed because the smell of hot peppers actually interrupts my sleep!
Today I did a small side project. Sliced a couple of Habaneros, and green and red Serrano, and made simple pickled peppers by pouring hot vinegar over them in sterilized glass jars.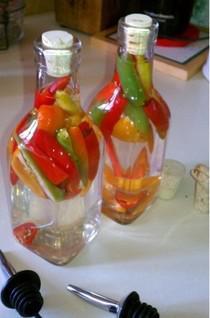 I don't know if they're truly preserved, so I'll refrigerate 'til Yule as gifts for my two sons. They have a similar philosophy of flavor as The Manly Spouse, the hotter, the better.
- Posted using BlogPress from my iPad