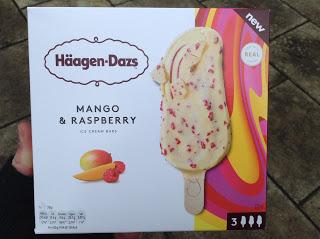 Haagen Dazs have recently launched a new range of Ice Cream sticks into multi-packs, including Salted Caramel Milk, Vanilla Caramel Almond, White Chocolate & Almond, and this variety - Mango & Raspberry which is only exclusive to Tesco stores. As much as I want to try the whole range they're a little pricey so I went for just this one. No doubt I'll try the others in the future, although I've already reviewed the Vanilla Almonds Stick last year, which seems a tad different to the new Caramel variety.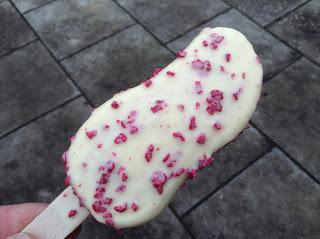 These cost £3.50 per three pack and are described as "Mango ice cream with raspberry swirl and Belgian white chocolate with sweetened raspberry pieces". They don't state if they're suitable for vegetarians unfortunately, however they contain no gluten ingredients.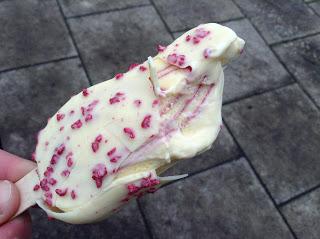 The sticks have a nice curved shape, but did look a tad on the small side. Although all ice cream sticks are shrinking now so I suppose these are pretty similar in size to a Magnum.
I bit in; the white chocolate cracked easily since these had been out of the freezer for a while. To be honest I didn't notice the ice cream was mango flavoured initially, I assumed it was just vanilla. The predominant flavor is of raspberry, thanks to the swirls of sauce running through the ice cream and the pieces in the chocolate shell. This is a nice ice cream, but I don't feel it really delivered the promised flavor of mango as well as raspberry. I was a bit disappointed to be honest because I was super excited to try this! The white chocolate was good quality, and I didn't hesitate in eating a second bar...but still!
Overall, it's nice to see an edition of these exclusive to Tesco, but if only they'd got the flavours on point. More mango please, Haagen Dazs! I really want to try the Almond and White Chocolate and Salted Caramel varieties next, hopefully they will be a lot better...
Nutrition Information (per bar): 237 Calories, 15.6g Fat, 20.8g Carbohydrates, 20.7g Sugars, 2.7g Protein. 
7 out of 10.