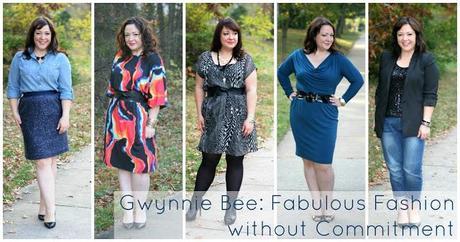 Gwynnie Bee
is like Netflix for fashion sizes 10 and up. For a monthly fee, you can borrow clothing as often as you wish. Be it work blazers or cocktail dresses, leather jackets or sequined tank tops, Gwynnie Bee has you covered with fabulous, fun, and well-crafted fashion from some of the hottest plus size brands. I have been
working with Gwynnie Bee for half a year now
, and I just love it more and more. Their selection of clothing has improved, shipping has sped up, and their customer service hasn't been sacrificed in any manner with their growth. Last week I had the fabulous opportunity to chat with Christine Hunsicker, CEO of
Gwynnie Bee
, to chat about how the business came to be and it's direction for 2013.
How Gwynnie Bee Started
Christine grew up in rural Pennsylvania where there were, "more cows than people." Her aunt lived across the road and was a seamstress by trade. Every Monday, Christine would receive a box of clothes from her aunt that would dress her for a week. Crazy prints, fun silhouettes, and everything fit perfectly no matter her size. Christine and her cousin would swap garments for variety and when they tired of the clothes, they would consign them and use the funds to purchase more fabric. This childhood gave Christine the ability to experiment with fashion without having to commit. Things changed when Christine wanted to wear the same popular trends as her classmates. She recalled when she went to the mall to get her first pair of denim shorts and soon realized she was at the higher end of the size spectrum. She tried on a pair and felt that something was wrong with her since they didn't fit her figure. That realization hit hard and she had a massive breakdown in the fitting room Fast forward to college and her 20s, where Christine wore a uniform of jeans, tee shirts, and boring black staples because fashion just didn't feel fun anymore.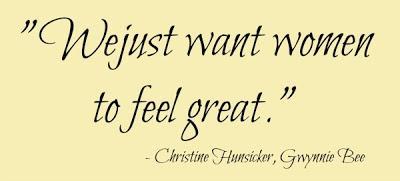 A couple years ago, Christine sold her start-up business and was looking to do a new project – something big, long-lasting and would be of service to people and make a major impact in their daily lives. She thought about the stress and frustration of shopping, and how she knew of friends and family who dealt with the same issue and from that decided to start Gwynnie Bee.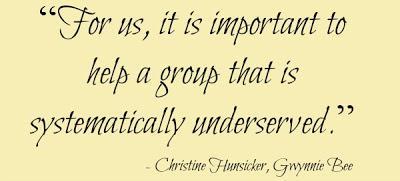 Gwynnie Bee
's business culture is all about giving the customer and amazing experience and provide stellar service. Hunsicker believes that if you treat your customer well and with respect, it makes a huge difference on how people view the business. While on the phone with Christine, I mentioned my sister is a member and she immediately knew not just her name but clothes she had borrowed from Gwynnie Bee and feedback she had provided. She also knew of a friend I mentioned who also is a member of Gwynnie Bee. This was not prepared, our phone conversation was only scheduled about an hour ahead of time. It's just proof of how this company truly sees each member as an individual person.
Gwynnie Bee in 2013 - What to Expec
t
Christine mentioned how drastically different the collection is now from how it was a year ago and she says that's completely because of member feedback.
Gwynnie Bee
carries more statement pieces, more pieces that are a celebration and make fashion fun. Thanks to member feedback
(which they constantly encourage – even brutal honest criticism)
, the Gwynnie Bee collection has more statement pieces, more colorful, fun, and flattering pieces. They hope to offer styles that women may not necessarily buy or even consider in a store but find they like when they try it on. The collection will continue to improve in 2013, and you can expect to see more indie designers, the introduction of jeans and pants, accessories, and a true wardrobe feel.
The site will also be getting some upgrades this year, and one feature I am most excited about is prioritization. I have had many of you readers tell me you find it frustrating that you can't put your "closet" items in priority order. Gwynnie Bee heard your feedback, has a prioritization pilot program in place, and will be building this feature into the site this year. They will also be trying to make the site more informative with more editorial, suggestions on how to style pieces from the collection, and guest blog posts.
Shipping will be even faster this year as
Gwynnie Bee
moves to distribution warehouses. This change will shave an entire day off your garment deliveries!
The reason these improvements are happening is because of member feedback. Be it on the little cards you mail back with your garments, your reviews on the sites, comments on Facebook and Twitter or emails directly to the team, Gwynnie Bee acts on every bit of feedback they receive.
Gwynnie Bee
strives on having a public and wide open business, accepting the good and the bad feedback. They encourage all of you to let them know what you like and what you find could be improved so you can help make the company better for your fellow women.

I've received some
Gwynnie Bee
new releases over the past couple of weeks and see a drastic difference from the more traditional cuts and colors from when I started with them at the end of the summer. Hot brands like
ASOS
,
Michael Kors
,
DKNY
, and
Eloquii
. Leather,
galaxy prints
,
sequins
,
peplums
, and all the other hot trends along with workday classics and elegant party frocks. More customer reviews with each piece so you can get a better feel as to whether it's a good choice for you. And more selection, be it styles or sizes. It's exciting to see a company grow and improve before your very eyes, and I am proud to be a spokesperson for them.
Awesome Gwynnie Bee Promotion!
If you haven't yet checked out
Gwynnie Bee
, now is the time! 
Gwynnie Bee
is currently offering a promotion where you can get a 30-day free trial of their program.  You won't be charged unless you continue with the service and you can cancel online at anytime.  Well Gwynnie Bee is also offering all Wardrobe Oxygen readers a
free one-garment upgrade
on their new subscription!  Just be sure to
use the link in this post
and
mention Wardrobe Oxygen
to receive it.  Offer is valid for those choosing the one, two, or three garment plan. 
This deal
won't last forever, it expires Sunday, January 27th, 2013 at midnight. Existing members, let your friends know about the 30-day trial
(using your name)
and you earn a free month!
Note: I do receive a commission on each new Gwynnie Bee membership if my or my blog name is mentioned at sign-up. However, all thoughts in this and any Gwynnie Bee posts are mine and they have no editorial control. I wanted to know more about Christine and the company and asked to do this phone interview; I am not being compensated for publishing this post. I just think Gwynnie Bee is rad.
Follow Me | Twitter | Facebook