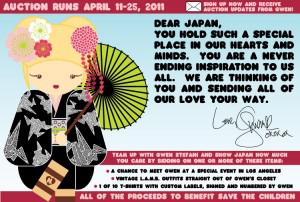 From April 11 to April 25, Gwen Stefani is holding a special Charity Auction auctioning off a huge number of personal items, from a chance to meet her for tea at a special event in LA, to L.A.M.B. outfits from her closet, to T-shirts she personally signed.
All proceeds from this auction will benefit Save The Children's work in continuing to help Japan recover from the catastrophic earthquake and tsunami.
If you're a fan, this is a once-in-a-lifetime chance to win a one-of-a-kind piece of memorabilia, while supporting an important cause.