I've been saying all along that the pro-gun side is based on science fiction (literally). "An armed society is a polite society" comes from Robert Heinlein's "Beyond This Horizon". If you are unaware, this is a novel where duels may easily occur when someone feels that they have been wronged or insulted that is attributed as a custom that keeps order and politeness.
We have seen where the other arguments are based on misquotations and fake history.  I've long wanted to rip apart the revisionist history of the Second Amendment, but I now know that someone else will do that for me using the material I have provided.
I won't even bother with John Lott and the serious overestimate of DGUs.  Where  are the heroes with guns when the daily mass shootings happen?
People carrying weapons in public is not a right (Presser v. Illinois, 116 U.S. 252 (1886), Robertson v. Baldwin,165 U.S. 275 (1897) at 282 [1], and DC V Heller, 554 U.S. 570, (2008)[2]). Heller mentions
Rawle
, which says:
This right ought not, however, in any government, to be abused to the disturbance of the public peace.
An assemblage of persons with arms, for an unlawful purpose, is an indictable offence, and even the carrying of arms abroad by a single individual, attended with circumstances giving just reason to fear that he purposes to make an unlawful use of them, would be sufficient cause to require him to give surety of the peace. If he refused he would be liable to imprisonment.
The ultimate argument against open carry and guns everywhere are the Colorado Springs 911 calls relating to the mass shooting.Open carry comment at 2:49 of first call.
https://soundcloud.com/allison-sylte/sets/911-calls-for-colorado-springs-shooting-that-killed-3
"Oh, it's OK if he isn't shooting....yet."
Do you know how bizarre your gun free zone arguments sound when a 911 operator gives a mass shooter a pass because he had a right to walk around with a gun?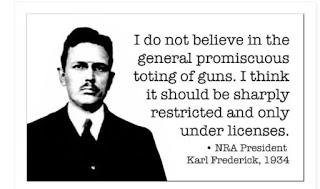 The funny thing is you people don't realize how stupid you sound with your silly arguments that are so obviously false if someone takes the time to fact check them. Anyway,  It's time that the debate began to be based on facts, not rubbish. 
Congress needs to repeal the research ban on gun violence (come on, people, can't you admit that your nonsense doesn't survive scrutiny?). [3]
Additionally, it's time the Supreme Court owned up that the Second Amendment has fallen victim to desuetude. It would be a truly conservative act to make that admission.  Here is Justice Robert Bork
(The Tempting of America
(1990)) on this issue:
"There is a problem with laws (which are not enforced). They are kept in the code books as precatory statements, affirmations of moral principle. It is quite arguable that this is an improper use of law, most particularly of criminal law, that statutes should not be on the books if no one intends to enforce them. It has been suggested that if anyone tried to enforce a law that had moldered in disuse for many years, the statute should be declared void by reason of desuetude or that the defendant should go free because the law had not provided fair warning."
The Second Amendment was obsolete when it was written. Joseph Story pointed that out in 1833:
And yet, though this truth would seem so clear, and the importance of a well regulated militia would seem so undeniable, it cannot be disguised, that among the American people there is a growing indifference to any system of militia discipline, and a strong disposition, from a sense of its burthens, to be rid of all regulations. How it is practicable to keep the people duly armed without some organization, it is difficult to see. There is certainly no small danger, that indifference may lead to disgust, and disgust to contempt; and thus gradually undermine all the protection intended by this clause of our national bill of rights.[4]
The problem is that the protection intended is no longer needed.
And trying to somehow "modernise" it has met with resounding failure.
This is not something which is Liberal or Conservative.  After all, Jim Brady of the Brady Campaign was Ronald Reagan's Press Secretary.  This is a matter of public safety, not something that should be a subject for political machinations, which is the real perversion of the Second Amendment.
This is an obscure passage in the US Constitution that needs to be repealed since it is too prone to being misunderstood at the detriment of the principles the Constitution is supposed to promote.
footnotes:
[1]  "the right of the people to keep and bear arms (Art. II) is not infringed by laws prohibiting the carrying of concealed weapons"–Robertson v. Baldwin,165 U.S. 275 (1897) at 282
 
[2] Heller:
Like most rights, the right secured by the Second Amendment is not unlimited. From Blackstone through the 19th-century cases, commentators and courts routinely explained that the right was not a right to keep and carry any weapon whatsoever in any manner whatsoever and for whatever purpose. See, e.g., Sheldon, in 5 Blume 346; Rawle 123; Pomeroy 152–153; Abbott 333. For example, the majority of the 19th-century courts to consider the question held that prohibitions on carrying concealed weapons were lawful under the Second Amendment or state analogues. See, e.g., State v. Chandler, 5 La. Ann., at 489–490; Nunn v. State, 1 Ga., at 251; see generally 2 Kent *340, n. 2; The American Students' Blackstone 84, n. 11 (G. Chase ed. 1884). Although we do not undertake an exhaustive historical analysis today of the full scope of the Second Amendment, nothing in our opinion should be taken to cast doubt on longstanding prohibitions on the possession of firearms by felons and the mentally ill, or laws forbidding the carrying of firearms in sensitive places such as schools and government buildings, or laws imposing conditions and qualifications on the commercial sale of arms.
Which has as a footnote (26):
We identify these presumptively lawful regulatory measures only as examples; our list does not purport to be exhaustive.
[3]  yeah. yeah.  I know you want to barrage me with your silly comments, but that's all asked and answered.  Besides, I'm not out to persuade you of anything–I already know you are someone who doesn't think. If you really want to have a response from me, go read this.  It's generic, but it makes the point.
[4] Joseph Story, Commentaries on the Constitution 3:§1890 (1833). See also, Adam Smith, Wealth of Nations, Book V, Chapter I, Of the Expences of the Sovereign or Commonwealth, PART I Of the Expence of Defence particularly v.1.26-7.