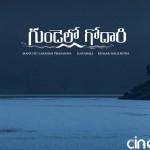 Story:
Gundello Godari is the story of Malli (Adi) and Chithra (Manchu Lakshmi Prasanna) who get married to each other during the floods in Godavari region. During their post marriage rituals they start to have doubts over each other which the two discuss when they feel they are about to die.
What is the past they reveal to each other and what happens to the newly married couple in the end is the overall story of the film.
Performances:
Adi Pinisetty is clearly the best performer of the enterprise. He has done similar kind of roles in the past and this enables him to pitch the character perfectly. His emotions and vulnerabilities are genuinely felt.
Sundeep Kishan is good in parts. At times it looks like he is trying too hard to be in the character and give a memorable performance.
Tapsee has a limited role and all through out the role she over acts her part.
And finally we have Manchu Lakshmi Prasanna. She is the biggest weakling in the film. She tries really hard to stay in the character and this hard work shows through out the film in a not so flattering way. Her accent especially, is really poor and ruins almost all the scenes she is present in.