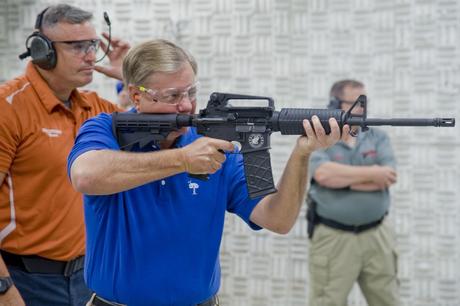 Sen. Lindsey O. Graham (S.C.) fires his AR-15 with the Army insignia at Sharpshooters Gun Club & Range in Greenville, S.C., on Aug. 16, 2013. (Courtesy of Sen. Lindsey O. Graham)
Washington Post
There are 15 noteworthy contenders for the Republican Party's presidential nomination. Together, they own at least 40 guns.
Some of them have been building their collections since childhood. Sen. Lindsey O. Graham (S.C.) is up to 12 now, including an AR-15 assault weapon that he has talked about using if law and order ever breaks down in his neighborhood. Former Texas governor Rick Perry is so well-armed, he has a gun for jogging.
Others were city kids who didn't own guns until later in life. Sen. Marco Rubio (Fla.) bought a .357 magnum revolver in 2010, the year he ran for Senate, saying the gun was for protection.
Two other city-bred presidential hopefuls — former Florida governor Jeb Bush and New Jersey Gov. Chris Christie — don't own a gun at all.
The stories behind how the GOP presidential contenders got their guns — or, in some cases, why they didn't — are as diverse as the field itself.
Nevertheless, their political views on guns are almost all the same.
Nearly every GOP contender is broadly opposed to new limits on the purchase or use of guns. 
In fact, with the exception of Christie — the field's one true outlier — those who have been rated by the National Rifle Association range from A-plus all the way down to . . . A-minus. Eleven of them are scheduled to appear next month at the NRA's annual conference.