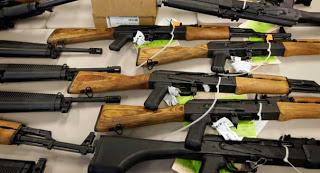 Politico reports
More Americans prioritize gun control above Second Amendment rights by the widest margin since President Barack Obama took office, according to a new poll released Thursday in wake of the Sandy Hook Elementary School shootings.
Forty-nine percent of those polled said it's more important to control gun ownership, compared to 42 percent who say it's more important to protect Americans' rights to own guns, according to a Pew Research Center Poll.
Well, it certainly wouldn't be right to disparage telephone surveys which produce pro-gun results and then place credence in this one.  However,
unlike some of them
, this one makes sense.
What's your opinion? Please leave a comment.