Gulab jamun recipe - It is a delicious melt in mouth sweet dish made up of khoya (mawa), all-purpose flour and sugar syrup. Very easy to make and takes about 30 minutes to get ready.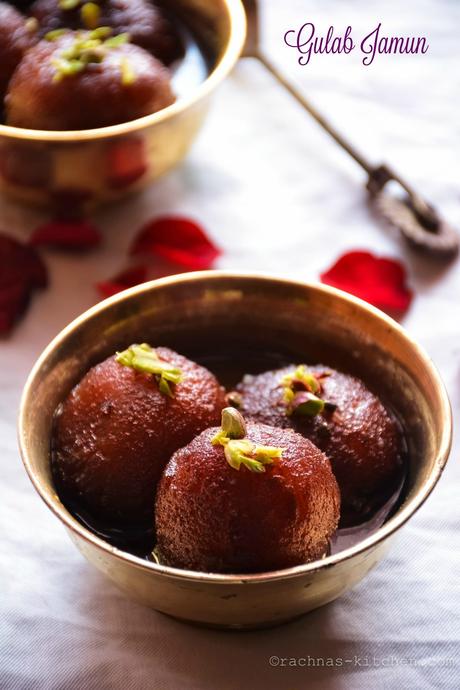 Gulab jamun is the popular Indian sweet which I often prepare at home. To be honest I like only home-made gulab jamun. Not just because of the taste but also for several other reasons like ingredients quality, hygiene and ofcourse they are less expensive.
I have tried this gulab jamun recipe several times and yes I can say that this recipe is full proof. I have pointed out all tips to get this gulab jamun recipe perfect. In this recipe I have used home made khoya to make gulab jamun but you can buy it from market if you wish.
I have already posted gulab jamun recipe with milk powder if you want to make it without khoya.
Let's see the recipe.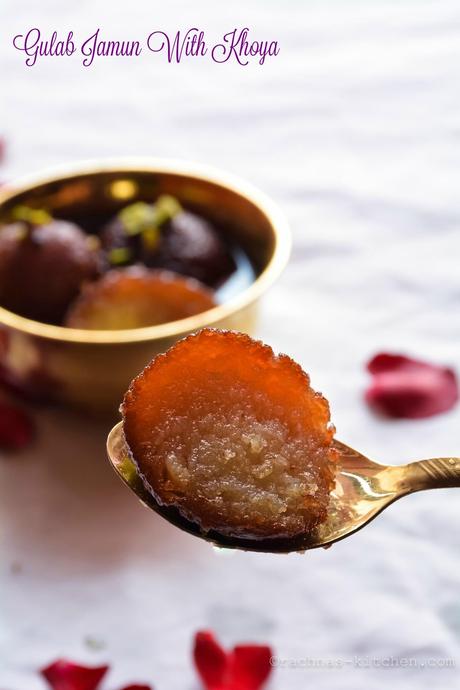 Ingredients
1 cup khoya at room temperature
3 tablespoons maida (all-purpose flour)
1/8 teaspoon baking soda
Water as required
Oil for deep fry
For sugar syrup
2 cups sugar
2 cups water
4 cardamom pods
A pinch of saffron
4 drops rose essence or kewra water
Step by step gulab jamun recipe with khoya
Step 1. Take khoya (at room temperature) in a large dish and crumble it. Measure it and mash it with fingers.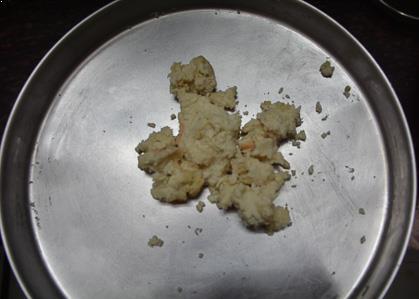 Step 2. Add maida and baking soda.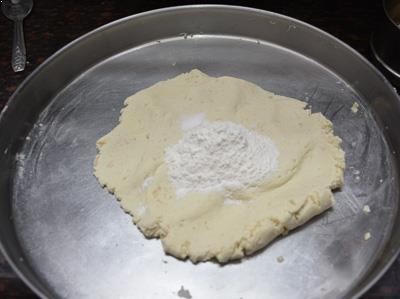 Step 3. Mix it well. It will form crumble like texture. Then add a teaspoon of water and mash it again. Add little by little water to get a smooth dough.
Note - Do not knead dough very fine, just try to gather the mixture and smooth it out.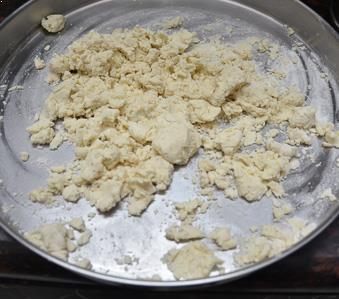 Step 4. It took 2 teaspoons of water for me to get this smooth dough. Quantity of water depends on the texture of khoya. The dough shouldn't be too sticky and should form a smooth ball. Let the dough rest for 10 minutes.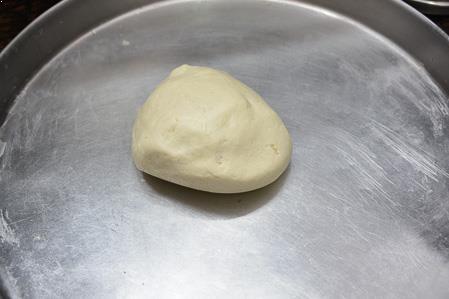 Let's make sugar syrup
Add sugar,water, saffron and cardamom in a sauce pan. Bring it a boil.
Let the sugar syrup simmer on low heat for 7 - 8 minutes. The sugar syrup consistency will be sticky but no thread is required.
Add rose essence and mix.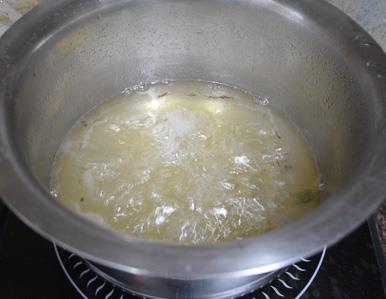 Step 7. Sugar syrup is ready. Keep it aside.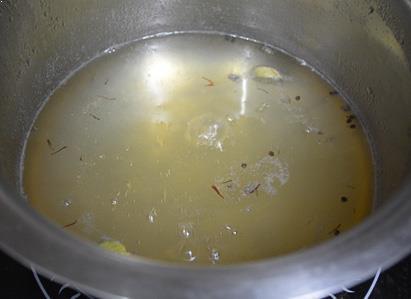 Step 8. Now take the dough and make small dough balls out of it. I made 14 balls in total.
Note - Never apply pressure while preparing dough balls. Just roll them to smooth balls.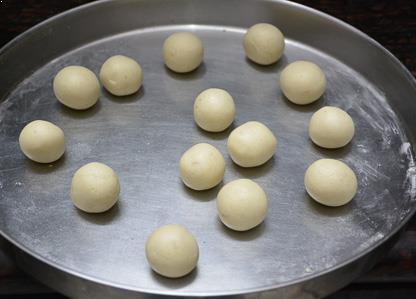 Step 9. Place a wok on medium heat and add oil or ghee. Let it heat up.
To check correct temperature I used thermometer. I fried gulab jamun at 140 degree celsius.
However if you don't have thermometer, don't worry, there is an old technique to check correct temperature. Take a pinch of dough ball and slide it into oil. If it comes to surface of oil slowly or after 2 -3 seconds late. It means this is right temperature.
At right temperature, slide 4-5 dough balls into the oil. Don't overcrowd the wok.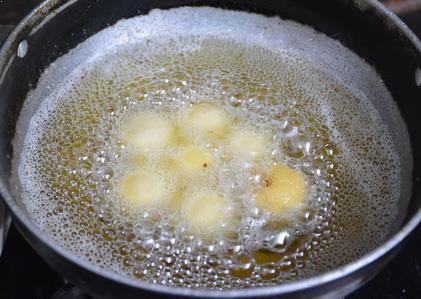 Step 10. Start frying using wooden spatula without poking the jamuns for 3- 4 minutes till they become golden in colour.
Note - To get even coloured gulab jamuns I use wok with handle and slowly shake in circular motion to make the gulab jamuns roll in oil.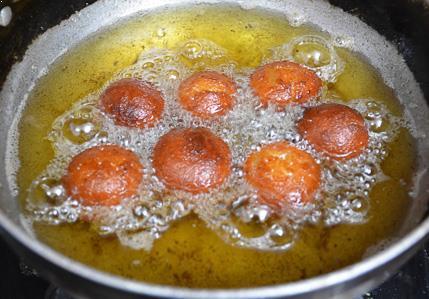 Step 11. Take the gulab jamun out and soak extra oil using paper napkins.
Now dip them in luke warm sugar syrup. Gulab jamun are ready to serve. Two hours soaking in syrup will give best result.
Note - Correct temperature of sugar syrup is important at the time you are soaking gulab jamuns in syrup. Dip a finger in syrup and if you can bear the heat it means it is right temperature.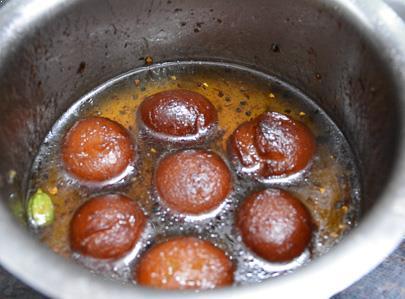 Recipe card - Gulab jamun recipe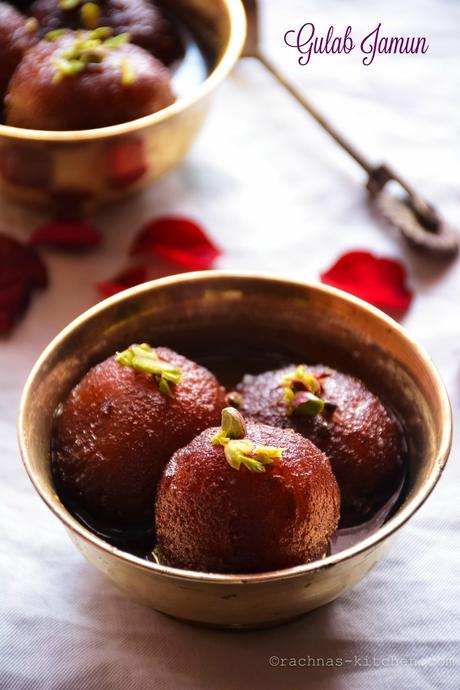 Some other sweets recipes available on blog.
1. Kaju katli recipe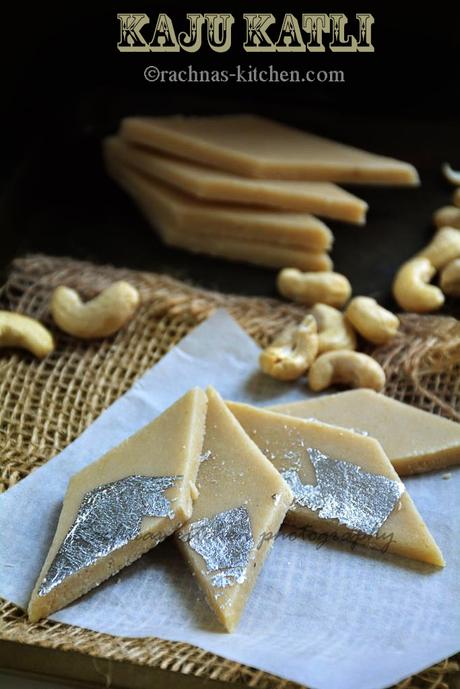 2. Gulab jamun recipe with milk powder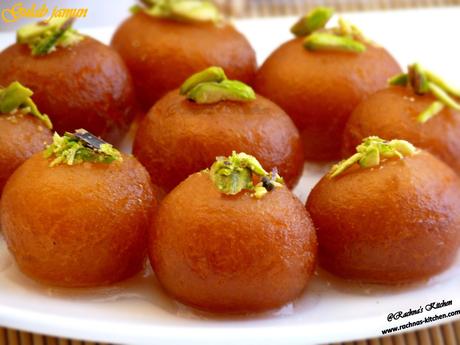 3. Ragulla recipe