This post may contain affiliate links. Please read my disclosure.
This healthy, seven layer dip is a party table's best friend! Lightened up from the traditional bean dip recipes, naturally gluten-free, but with all of the same great flavor, you'll love how this bean dip tastes with chips, veggies or even on its own. Ready in just 20 minutes and kid-friendly too!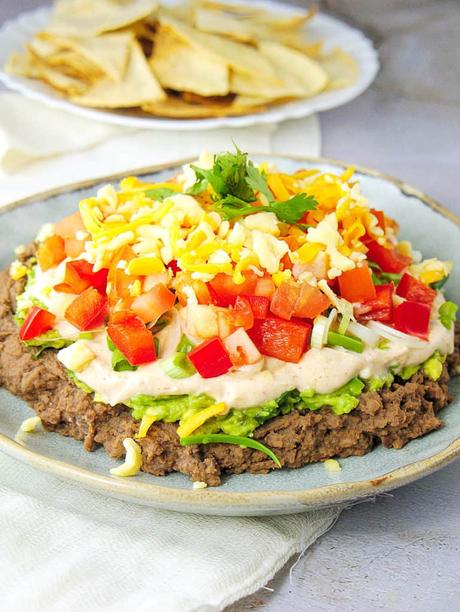 Can 7 Layer Dip actually be healthy? Absolutely! It's usually filled with fat, calories, and not much nutrition - but with a few easy swaps you'll get a dip that's still FULL of flavor, but healthy enough to be a one dish meal. Serve it with some baked tortilla chips on the side and you've got an awesome side dish or even a light and healthy dinner!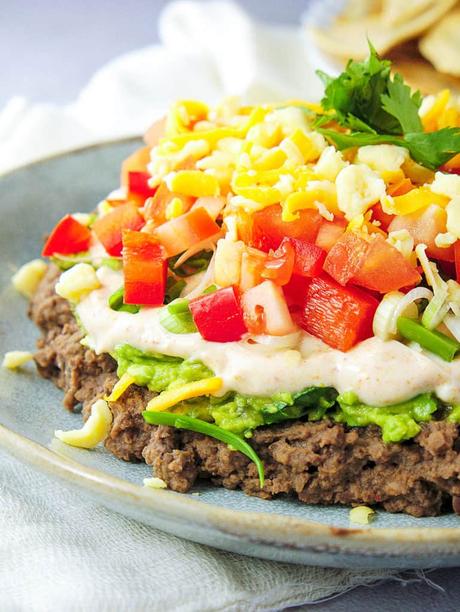 What ingredients do you need to make a healthy seven layer bean dip?
With just a few healthy swaps, you will go from an unhealthy dip to a delicious and nutritious dish that's perfect for all occasions! Here are the ingredients you need:
1 15 oz can of Refried black beans, made with all-natural ingredients (nothing processed or that you can't pronounce).
2 Mashed avocados (instead of avocado "dip"). Season them with 2 Tbsp lime Juice, 1/2 tsp salt, 1/2 tsp pepper and 1 tbsp chopped cilantro.
8oz of lowfat plain Greek Yogurt (I like the Wallaby brand) seasoned with Taco Seasoning (instead of full fat sour cream & mayo)
Tons of fresh veggies! I used 1 bunch of green onions, red bell peppers, 3-4 roma tomatoes, diced - but you can use any combo you like: diced red onions, olives, lettuce, spinach, etc. - the sky's the limit.
1/4 cup Mexican Cheese blend
I served the dip with homemade, baked tortilla chips: made using corn tortillas, olive oil spray, and salt - and broiled in the oven at 350 degrees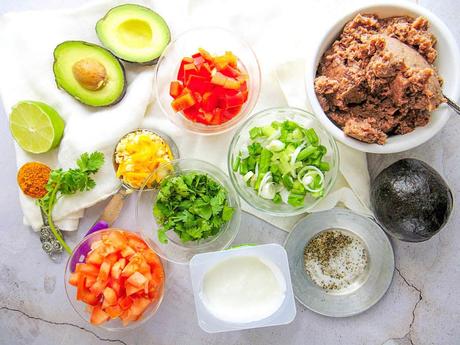 How to Make This Healthy Seven Layer Bean Dip, Step by Step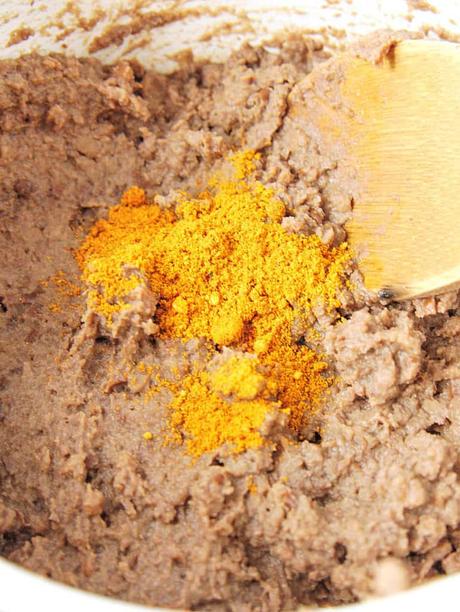 Step 1: Warm up refried beans in a small pot over medium heat. Add in taco seasoning to taste. Once all combined, set aside to cool.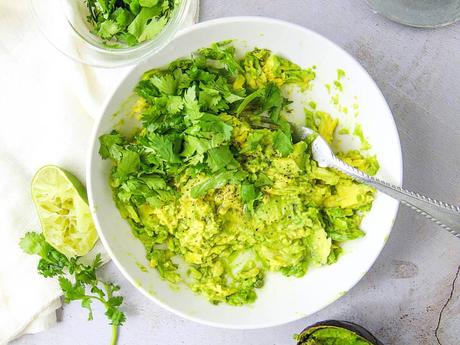 Step 2: Peel, pit, mash avocados in a small bowl - add lime juice, cilantro, salt, pepper and stir to combine.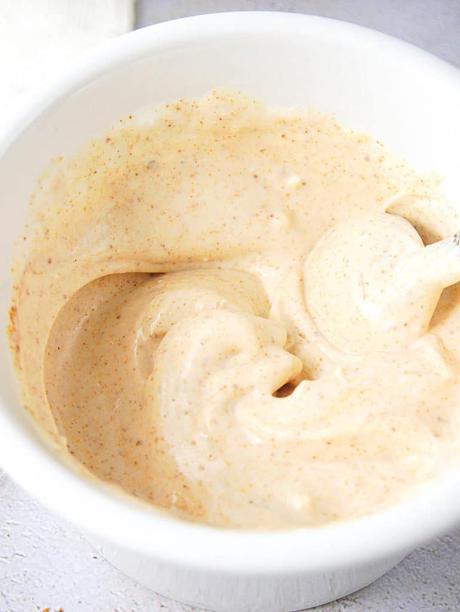 Step 3: Combine yogurt and taco seasoning mix in another bowl.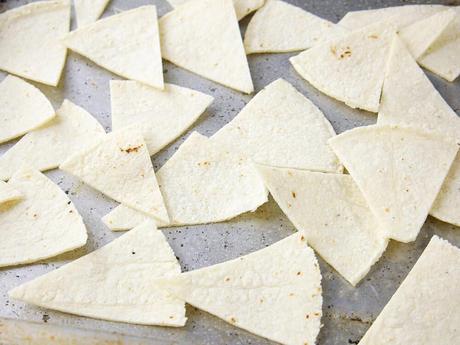 To assemble:
Spread refried beans on a large, shallow serving platter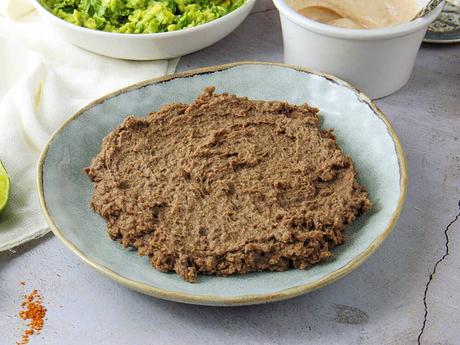 Spread avocado mixture over bean dip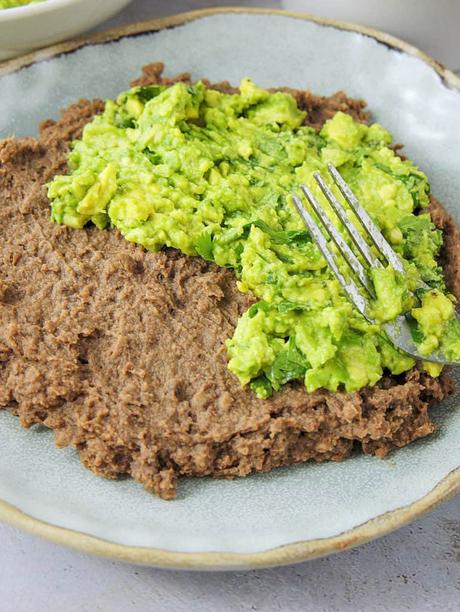 Spread yogurt mixture over bean dip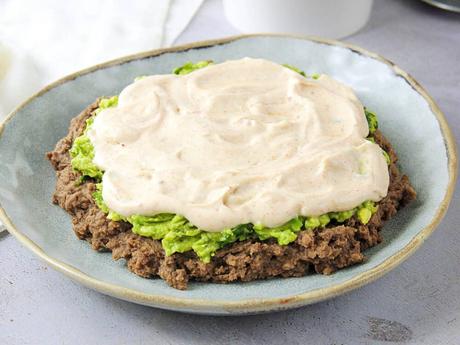 Sprinkle with veggies: green onions, bell peppers, and tomatoes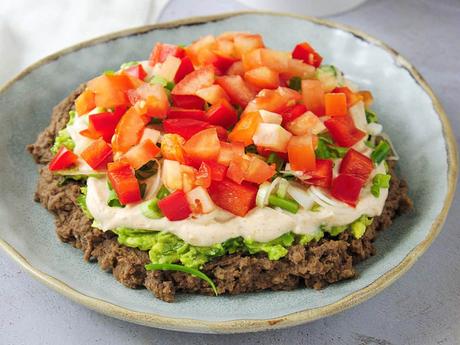 Cover with grated Mexican cheese and serve with homemade tortilla chips!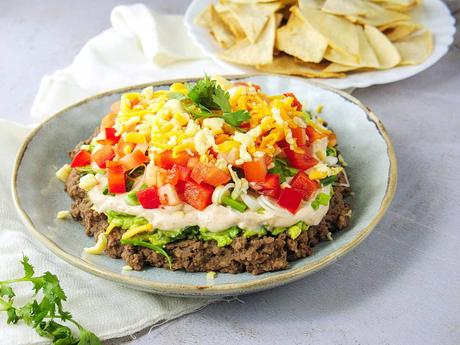 Note: When making this dish, I was inspired by this recipe from Fannetastic Food, and made a few modifications to Anne's recipe for my version. Thanks Anne for a great recipe!
Step 4: Cut corn tortillas into eighths, spread on a baking sheet that has been sprayed with olive oil cooking spray. Spray the tops of the tortillas with cooking spray, season with salt, and broil at 350 degrees on low until the tortillas are crispy & golden brown.
Can you make this healthy seven layer dip vegan?
Absolutely! Instead of the greek yogurt + cheese, make a cashew cheese (I love this recipe for cashew cheese), and add some quinoa to increase the protein and heartiness of the dish.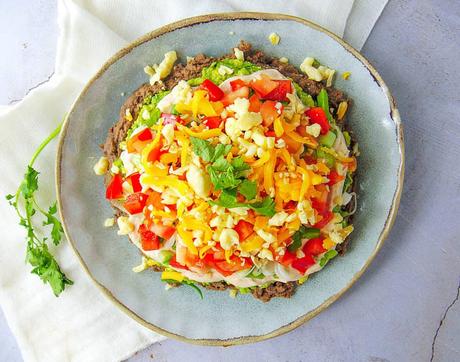 How long does homemade bean dip last?
To make this dip more spicy, add a pinch of cayenne pepper, siracha, hot sauce, diced jalapenos, or hot salsa as a topping or side. If you have kids, I recommend leaving the "hot spices" on the side and serve it separately for adults!
To change things up, substitute pureed white beans mixed with taco seasoning instead of the refried black beans. Sub the refried beans for pureed white beans to make a white bean dip recipe.
If you don't have taco seasoning, add a combination of 1/2 teaspoon of cumin, 1/4 tsp ground coriander, 1/2 tsp chili powder, 1/2 tsp paprika to the beans.
For a smokier dip, saute chopped onions and garlic with 1 tsp olive oil for 5-10 minutes, stirring until deeply caramelized. Add that to the beans before spreading on the plate.
This dip will keep for 5 days in the fridge in an airtight container! You don't have to do anything before serving since it's meant to be eaten cold.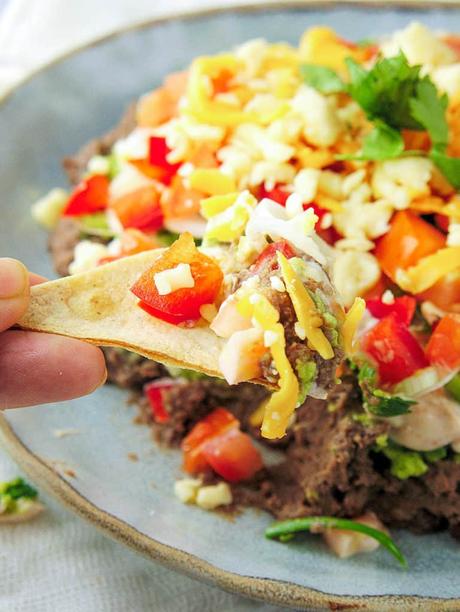 What can you serve with this bean dip?
Top tips for making this healthy seven layer bean dip
Be Sure to try these other healthy and delicious side dishes!
Guilt-Free, Healthy 7 Layer Bean Dip