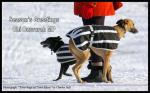 I blogged last month about how the Guido Fawkes website is full of vile racist comments from readers on completely unmoderated threads. A story on the site I saw today once again underlines how even the slightest mention of a 'foreign-sounding' name brings out the cloven hoof.
The item in question was the Christmas card sent out by Newcastle Central Labour MP Chi Onwurah.
It elicited the following responses:
Chriselee says: I can't spell these ethnic names

Dan Saffend says: They all look the same to me.

Alasdair Campbell Murderer says: Is Chi Onwurah a real name?

god says: The way things are going in the UK, all the "honourable" members will soon have names like that!!!

Mehdi Hasan says: Disgusting. I hope she knows that Muslims find dogs as filthy as pigs.

Col. Nut says: My dog finds pigs as filthy as Muslims.

Young Mr Grace says: What kind of name is "Chi"? I can't even read the surname
As I mentioned in my previous blog post – about comments directed at Lee Jasper and Chuka Umunna – the Guido Fawkes site feeds off leaks and tip-offs from the mainstream yet the nature of its' threads is far from mainstream.
As long as the site allows such racism to fill its' threads every time they should be shunned by every politician and official in Britain.
As long as they keep getting material from people working in institutions and authorities it is clear that the mainstream are turning a blind-eye to what is effectively far-right content that wouldn't be out of place on a Stormfront or Combat 18 chatroom.
By Lester Holloway @brolezholloway