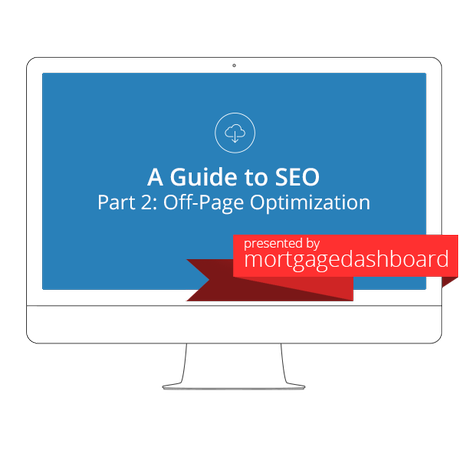 You Have a Great Website, Now What?
If you missed part 1: on-page optimization, you can read it here.
To answer this question, let's imagine the internet is a map and your website is a small house in middle-class suburbia.
Your humble abode is decently attractive (obviously because you followed our guidelines). Or, at bare minimum, the HOA stopped emailing you about leaving the trash can out. With the paint still drying on your white picket fence, it's time to invite over the neighbors.
Or, in your case, potential borrowers.
With over 649 million websites, the internet grows by nearly 31 million pages every month. Those numbers shouldn't surprise us; more people become web-savvy everyday. In the midst of this superabundance, however, how are you supposed to distract people long enough to visit your site?
A large part of the answer is, with authoritative backlinks.
Part 2: Off-Page Optimization
Off-page optimization is "the area of search engine optimization that applies to building backlinks (otherwise called link building)". It is the process of persuading other, external sites to link to your content. In this section, we will examine the purpose of backlinks and provide some creative strategies for building your link profile.
A Philosophy to Link Building
To continue our analogy: if your website is a house, links are the roads to it.
Let's imagine Trulia wrote an article about mobile applications and linked to MortgageDashboard's "Check My Loan Status" as a resource. Because Trulia is a high authority website with many visitors, a link from Trulia is worth a lot of clout to the search engines.
In other words, if a high authority website links to your content, the search engines will think you're a valuable resource for that topic. Consequently, your search rankings increase and decrease based on who's "recommending" you with their links. All other things the same, links are still used as signals because search engines cannot directly determine the quality of your content.
Backlinks are like votes in a rigged election. Everyone's hand is counted, but only the important voters matter.
This is why I've put an emphasis on "authoritative" backlinks. Google measures a webpage's authority by PageRank (PR). This algorithm ranks websites from 0 to 10 based on it's existing number & type of backlinks (see this infographic for a better explanation). Websites with a PR of 0 are generally considered spam while sites like the US Government are PR 10. Generally speaking, you want to avoid PR 0 backlinks. Too many can cause Google to classify your website as spam.
In contrast, high PR websites that link to you can increase the PR of your website. You can use tools like PR Checker to research yours and others.
Check Page Rank of your Web site pages instantly:
This page rank checking tool is powered by Page Rank Checker service
Anchor Text Distribution
Google uses the text that appears highlighted in a hyperlink to determine what the link represents. In most cases, the anchor text will be your company name (which is fine). However, SEO-friendly anchor text will use your keywords to help Google understand your link's relevancy. If authoritative links use your keywords in the anchor text, there is a great chance of ranking high for them. Here's an example:
<a href="http://www.example.com">Example Anchor Text</a>
You could see how this could be abused. Too many links to the same page with the same anchor text can trigger a penalty from Google.
As if it could not be repeated enough: the key to SEO is subtlety. No more than 16% of your backlinks should include your keyword and at least 17% should be generic terms like "click here" or "this blog". Use the chart on the right to see how you should try to distribute your anchor texts. You can track this data using software like OpenSiteExplorer.
Tip: People tend to link using the anchor text of your company name or the title of the page. This is another reason to include your keywords in your content titles.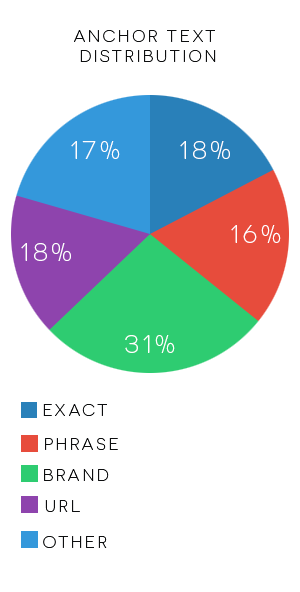 Strategies for Building Backlinks
A. Blogging
"If you blog it, they will come."
Well, that isn't true. Producing great content alone does not inherently guarantee the floodgates of backlinks will come pouring forth.
If done strategically, however, blogging can be a great strategy for producing backlinks.
Let's assume you are a knowledgebase in your community. I mean, you really have your finger on the pulse of issues in the mortgage industry. Have you made your website a resource for those hot topics? Have you responded to the new compliance rules? When you become a resource for other bloggers, they might just use your content and link back to you. It's not the most farfetched idea.
But it's not the most creative way to blog either. Here's how we do it:
Every month, our team at MortgageDashboard produces a new Featured Series video. In it, we find movers and shakers in our community and interview them. We film the speaker, produce the video and post the transcript on our blog. Often, the speaker will post the video and link to us on their blog, which provides a great backlink for us. It's a great strategy of give and take; we provide great content for them at no cost and they link to us.
As we mentioned in the first section, blogging is already an important factor in Google's algorithm. Backlinks are just another positive by-product of it.
B. Press Releases
I don't want to mislead you. Links from press releases aren't all they used to be.
If you're still using press release distribution sites, you're not getting the best return on your investment. Instead, spend some serious time combing the web for newspapers, bloggers, and other content-writers that might be interested in your content and create a spreadsheet with all of their contact information.
When you have written your press release, take the time to send each contact a quasi-personalized email. Use the template on the right as an example.
This may seem too time-consuming to be worth your time. Emailing 200 (or more) contacts can take up a pretty chunky section of your day.
Let's do the math:
If you only have a 10% return rate on the 200 contacts you email, then you still have guaranteed 20 powerful backlinks. The battle of the search result is won by quality of backlinks, not quantity. Even one quality backlink can be worth it's weight in gold.
One press release can do a lot of good.
"NAME,
I hope you are doing very well.  My name is NAME and I'm emailing you because I believe MY COMPANY may be a great fit for an article or interview on YOUR WEBSITE due to the relevance surrounding TOPIC.  I understand how busy you might be and I really appreciate your consideration.
(Summarize your press release in three sentences). To read the full press-release, please visit our website.
If you have any ideas of how this can be a better fit for WEBSITE, please feel free to call or email me. Again, I really appreciate your time and consideration. It would be an honor for us to be featured on your website.
Thank you so much,
YOUR NAME"
C. Guest Posting
"Okay. I'm calling it: if you're using guest blogging as a way to gain links in 2014, you should probably stop. Why? Because over time it's become a more and more spammy practice, and if you're doing a lot of guest blogging then you're hanging out with really bad company."
Pretty ery words from Google's Matt Cutts earlier this year.
When a trend becomes popular in search engine optimization, there is a tendency to leach on and abuse it. However, while it's clear that the rules have changed, guest blogging can still be a powerful tool for backlinks.
That is, if it's done right.
Recently, our team at MortgageDashboard wrote a lengthy article for a large mortgage-industry newspaper. Typically, we would use an article like that on our own blog. But, this newspaper has a much wider readership than our blog and a much higher PR.
Beyond SEO, our guest blog increased our exposure and branding. A strong backlink was just another great consequence.
Guest blogging is dead for spammy, low-authority sites. But for sites that are genuinely producing quality content it's as good as it ever was. The goal of Google a la Matt Cutts is to create useful resources, not content for SEO. The traffic from their site alone is worth the guest blog.
Like two sides of a coin, on and off-page optimization are the two necessary parts of a powerful inbound marketing strategy. They complement each other. As Michael King brilliant states, there are two solid ways to build links: Make News or Make Friends.