NEWS COPY
Walking in muddy shoes, being stuck to a smartphone and dropping cigarette butts outside the back door are the most socially awkward things a house guest can do, a new study has revealed.
​The study of 2,000 adults examined the differences in behavioural standards between guests and hosts in someone's home, from simply popping round for coffee to staying a whole weekend.
Amid the list of 'proper behaviour', over-using the bathroom was named as a big no-no, as well as bringing a dog without warning and asking for a specific brand of tea.
Amazingly, the poll found 68 per cent of adults said no one possesses real social etiquette any more.
 Airbnb, which commissioned the study, said, ''A social event at someone's home used to call for real sense of etiquette from everyone.
''But the vast array of annoyances yielded from the study shows that these days, that isn't always the case.
''Though it's easy for us to become distracted and forget our manners, it's important to value these small acts of politeness.
''Both when visiting someone's home and when entertaining guests, being courteous can count for a lot.''
The research also showed hosts to particularly hate when guests nose in other rooms or fail to flush the toilet.
When it came to staying overnight, taking calls afterhours was seen as rude – with leaving the bedroom messy and complaining about the mattress also revealed as offensive behavior from a guest.
And it seems 'make yourselves at home' doesn't apply in all instances – as three in ten of the adults said they'd be offended if a visiting couple had sex in their spare room.
The research also explored the biggest faux pas a host could commit when having visitors.
On the other side of the coin, the worst thing a host can do is offer a bed with unclean sheets, the respondents said, as well as having only wet or smelly towels
In a typically British fashion, half of the adults polled said not offering any tea would be shocking behavior from a host.
Four in ten believed running out of toilet roll to be unacceptable, whilst others said the host paying more attention to the TV than the conversation would be a reason not to visit again
And the threat of awkward small-talk was too much for three in ten, who said they would be put out if a host left them to chat with people they didn't know.
In-laws were seen as the most difficult guests, closely followed by extended family members, said the survey.
Whilst one in ten adults said the most awkward moments arise when entertaining their partner's friends.
A huge 68 per cent said that social etiquette is dwindling, with almost half who said being distracted by technology is the main cause of impoliteness during a visit.
And perhaps due to the social ineptness, half of adults said they've felt unwelcome in someone's home despite being invited in the first place.
James  also said, ''Much of the bad manners that occur between people visiting each other are due to distraction or a lack of courtesy.
''So making the effort to really listen to the other person and putting yourself in their shoes can make visiting, or having a visitor, a much more pleasant experience.''
WORST FAUX-PAS A HOST CAN MAKE
1.  Unclean sheets on bed (if staying over)
2.  Having smelly/wet towels
3.  Not offering tea
4.  Not having a place for you to sleep
5.  Running out of loo roll
6.  Putting more attention on the TV than you
7.  Refusing to put the heating on
8.  Making you sleep in the kid's room
9.  Not introducing you to other people in the house
10.  Making themselves a cup of tea, but not anyone else
11.  Playing bad music
12.  Leaving you with people you don't know
13.  Sitting on their laptop
14.  Letting their kids wake you up while they have a lie in
15.  Inviting other people to 'group together' catch-ups
16.  Having yappy dogs
17.  Not having a working shower
18.  Having lairy kids or a rude spouse
19.  If they're a couple, talking to each other more than to you
20.  Waking you up early rather than letting you sleep
WORST FAUX-PAS A GUEST CAN MAKE
1.  Walking in muddy shoes
2.  Being glued to their phone
3.  Bringing their dog without asking and letting it roam
4.  Not flushing the loo
5.  Outstaying their welcome
6.  Walking around in underwear when they've stayed over
7.  Leaving cigarette butts outside the front/back door
8.  Nosing in other rooms
9.  Taking phone calls in the middle of the night
10.  Criticizing your food/tea making skills
11.  Flirting with your spouse
12.  Staying up long after you've gone to bed
13.  Helping themselves to food out the cupboard without asking
14.  If they're a couple, having sex in the spare room
15.  Complaining about the comfort of the bed
16.  Leaving the bedroom messy
17.  Telling off your kids
18.  Announcing they're a vegetarian/vegan at the last minute
19.  Asking for a specific brand of coffee/tea
20.  Hogging the bathroom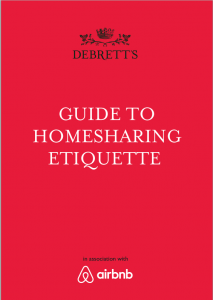 ENDS