Over the moon about today's guest blogger! Liz from Sequins & Stripes has a phenomenal sense of style — so much so, she launched a new styling biz! Lucky for us, this tastemaker has stopped by to give us a few tips from a true expert.
Hi there! It's Liz from the fashion and style blog, Sequins & Stripes, and I am thrilled to be here today sharing some styling tips with all of you fashion saavy Small Shop readers. I recently launched my personal styling business, Elizabeth Schneider Style, and I always try to keep in mind a few pieces of advice when working with my clients: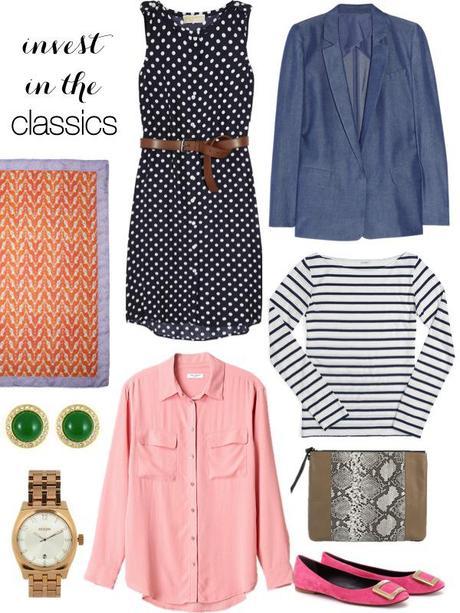 Ralph Lauren Silk Scarf //  Michael Michael Kors Polka Dot Dress //  ACNE Chambray Blazer //  Chanco Co. Stripe Tee //  Newbark Snake Skin Clutch //  Roger Vivier Belle Ballerinas //  Equipment Signature Silk Blouse //  Nixon Monopoly Watch //  Loren Hope Leslie Earrings
Invest in the classics. A wardrobe is built on timeless pieces and accented by trends. Adding a few pieces that act as a base to an outfit will make it easy to build a closet that you can grow instead of a closet that is constantly changing.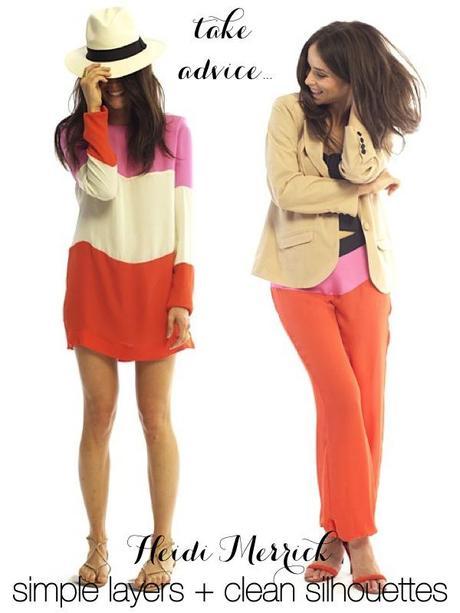 Take advice from designers who do it well. Heidi Merrick and Tibi are two designers that I can usually relate my style to and their looks help me to expand on my wardrobe and outfit choices.
ASOS Leather Sequin Clutch //  Bauble Bar Tassel Necklace //  J.Crew Cashmere Sweater //  Repetto Ballet Flats //  Illesteva Mademoiselle Sunglasses //  Etro Colorblock Bangles //  Old Navy Floral Tank //  Tibi Essential Pant //  J.Crew Patent Bow Belt
Accent your wardrobe with pattern and color. I know that this is a trend now, but I think that this idea has always applied. Trends change for the most part by silhouette, texture, and design. Color and pattern are constant, it's just finding what colors and patterns work best for you. If you tend to wear neutrals, I suggest dabbling in color and pattern through accessories, but a great pair of pink pants will always make a statement.
A huge thank you to Erika for letting me share some advice here today! If you are interested in my services, please visit Elizabeth Schneider Style. I am available for e-consulting and am always willing to help!