Please welcome Gabrielle of Savvy Home!
Savvy Home is a new found treasure of mine (thanks Victoria!). Gabrielle has stunning taste, and her Gab Loves posts blow me away, every stinkin' time…I have even printed a few of them out! She has amazing style, finds incredible images, check her out — you'll be hooked too!

Hello Shop Talkers! Gabrielle from Savvy Home here. I am thrilled to be guest posting on Erika's fabulous blog today! I'm a big fan of Erika's style and impeccable taste, and I'm honored to have her as a blog-buddy.
When Erika asked me to guest post on her blog I instantly knew I had to do a product roundup. I know she's a fan of my weekly Gab Loves series (she's posted about it before) but this roundup had to be a little different. It had to reflect Erika's style.
I follow Shop Talk religiously and I've definitely noticed a few recurring themes along the way. So let's hope I get this right! Without further adieu, I present to you: Erika Loves!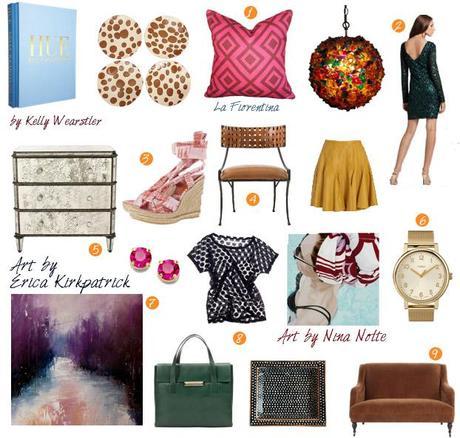 1. Pink -  La Fiorentina Pillow 2. Sequins and sparkles – Long-Sleeve Sequin Dress 3. Wedges (and sandals, and booties, shoes basically!) – Printed Espadrille Sandals 4. Leather and hide – Helena Chair 5. Feminine accents – Antique Mirrored Dresser 6. Splashes of gold – Mesh Bracelet Watch 7. Art - Landscape by Erica Kirkpatrick 8. Polka Dots (or stripes) – Sheer Shapes Tee 9. Forest and Emerald Green - City Bag with Metallic Clasp 10. Tan and Camel Tones – Odette Sofette
Also Featured: Hue by Kelly Wearstler – Polka Dot Plates – Confetti Style Ball Pendant – Halcyon Leather Flip Skirt – Kate Spade Sparkle Stud Earrings – Pool Painting by Nina Nolte -  Spotted Porcelain Tray
Thank you so much for inviting me Erika, I hope you enjoy your board! X
Ummm, Gabrielle….I'd say you've got me pegged!