I love a girl with a rockin' sense of humor. Jordan is not only one of those gals I heart, but also the type that totally knows herself, and OWNS it! She has great style, and one of these days when my life crazy crammed, I will definitely have the pleasure of meeting her highness in person…and maybe sneaking into her way fun inner circle. Until then, I'll get my kicks visiting the Queen of LA!
Hi everyone! I'm Jordan from Queen of LA and I'm so excited to be guest posting for Erika today. Small Shop Studio is one of my favorite blogs and I love getting my daily dose of inspiration from all the gorgeous images and collages she posts every day.
Today I want to share some fun home décor ideas with you. I announced some exciting news on my own blog just a few days ago – my boyfriend and I are moving in together! We have been together for a year and a half and we are so excited for this next big step. Last week we signed our lease for a two bedroom, two bathroom condo in Los Angeles and obviously I've thought of nothing else but how to decorate it ever since!
Here's something you should know about me – I LOVE color and pattern. I wish I was one of those gals who could do her whole place up in beautiful greys and beiges and whites, but I'm not – I need me some color! Which is why I'm ever-so-slightly nervous about our decision to go with all-white bedding (well, that, and my boyfriend's love for eating soup in the bedroom… we'll be having a discussion about that soon)!
In the end, I think I'll be okay with the all-white bedding…. Because the best way to funk it up will be with PILLOWS! The brighter the better, in my opinion. Here are some that I'm considering: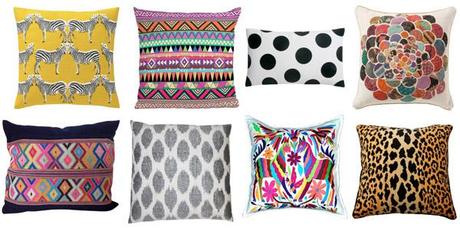 Top row, left to right:
Dwell Studio / Bianca Green / Blissliving Home / Anthropologie (have this one and love it!)
Bottom row, left to right:
Amber Lewis / Fabricadabra / Tlalli Designs (obsessed with otomi print!) / Furbish
 /
What do you think? See some you like? Which do you think go well together? The fate of my bed depends on it!

Thank you so much to Erika for having me today – it's a honor!