Please welcome Neda of Peony Park today!
I love discovering a blogger all new and shiny to the blog world! Neda has been knocking it out of the virtual park with her blog, Peony Park. She has that coveted eye for high style, and has introduced me to new spaces and places and products, oh my! And what better way to kick of the month of December (can you believe it?) then with a holiday gift guide, Italian style!

Hello, small shop readers! This is Neda from Peony Park, and I'm thrilled to be guest posting for beautiful Erika! I'm extremely honored to be here because Erika's blog is such an inspiration to me, and everything she touches is effortlessly chic and stylish.
A little background…I'm a finance lawyer by trade, and I love writing about style, travel and fashion, among other things. When it comes to the holidays, there is nothing more rewarding for me than finding that perfect gift, one that is both a beautiful and practical. For this post, I wanted to combine the art of gift giving with my passion for travel…
Whenever I travel to Italy, I try to bring back the essence of Italian culture so that I can capture the tastes, the smells, the feelings and the mood of my trip in my own home. Italy is one of those countries that has so much to offer and so much that really adds to la dolce vita. So, I've created a list of my favorite holiday gifts inspired by my travels to Italy for your enjoyment…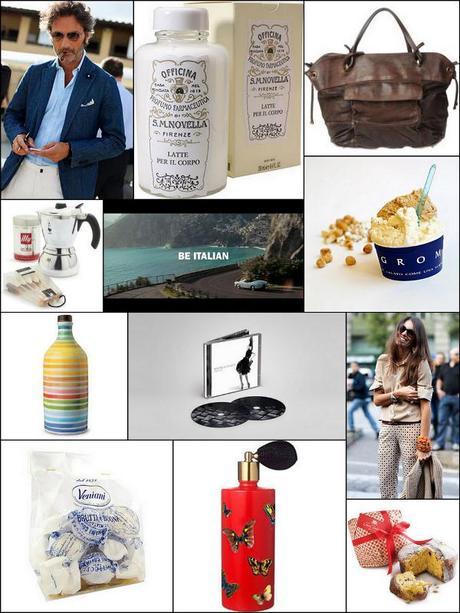 Santa Maria Novella~ SMN products are elegantly packaged and timeless in quality.

Good Leather Handbags~ speak for themselves…this one, by Brunello Cucinelli, is the ultimate display of Italian craftsmanship.

Moka~ my Italian friends call the espresso from their Moka pots "liquid gold" … they make wonderful gifts for coffee lovers.

Grom gift card~ if your gift recipient lives in LA, NY, Osaka, Paris or Tokyo, I highly recommend getting them a gift card to Grom: by far, my favorite gelateria in the U.S.!

Olive Oil~ high quality oil in a traditional Puglian ceramic jar that you can display prominently on the kitchen counter…the perfect hostess gift.

Bottega Veneta Compilation CD~ even the hippest music connoisseur will find new music on this compilation CD.

Italian cookies~ they make wonderful holiday gifts because they are not too sweet and go well with afternoon tea, coffee or crumbled in a variety of desserts.
Fornasetti~ this unique spray bottle captures the Fornasetti aesthetic and gives any beauty counter a touch of vibrant color.
Cherry Panettone~ the sweet bread enjoyed during Christmas and New Years is a lovely gift…this cherry version takes it to a whole new level.
Thank you again, Erika! It was an absolute pleasure visiting. xx