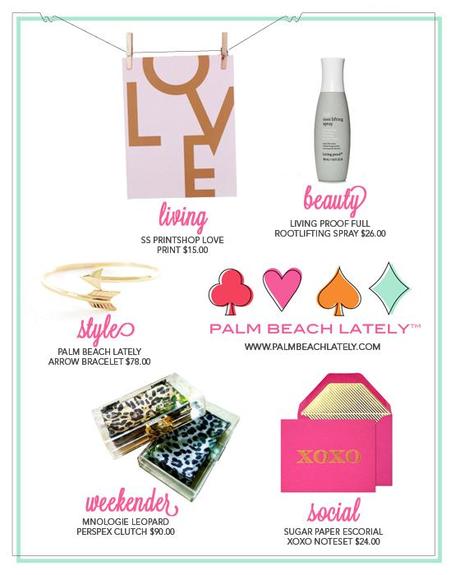 Valentine's Gift List')">
Please welcome Beth and Danielle of Palm Beach Lately!
I asked the talented ladies of Palm Beach Lately to fill in for me while I'm in their neck of the woods! Stylish sisters Beth Beattie of Beth Beattie Branding, PR and Events and Danielle Norcross of Concierge Couture are behind this beach chic lifestyle guide, and now, SHOP!  They've always got something going on out there, and I so enjoy following their work and play adventures. Let's just say, I want their life! ;o)
First, we would like to say how much we adore Erika Brechtel and Small Shop; we could gush about both all day long!  But what we especially love about Erika is her effortless edginess, savvy business skills and ability to juggle it ALL while raising an adorable daughter!  She just gets better and more beautiful, and we are so thrilled she is having us as her guest blogger today!
The Palm Beach Lately woman strives for inside-out beauty and lives her life with vibrancy and passion; she's socially graceful, style savvy and a weekend woman about town.  We are always on the hunt for fresh ways to keep her inspired and have collected a few of our favorite bits and pieces that are sure to bring out the Palm Beach Lately woman in you this Valentine's Day!
B E A U T Y
Full Root Lifting Spray by Living Proof – Nothing says 'hot date' like full, sexy hair, and we love the way this product gives height and hold without compromising natural, touchable bounce.  From cascading curls to sleek and straight, this is one volumizing product that does not disappoint.
 L I V I N G
'Love' Print by SS Printshop  - If you are searching for a piece that is sure to add character to your home, you can't go wrong with the message of LOVE.  In ballet blush and gold, this wall print is a classic piece that adds style to any space.
S O C I A L 
Escorial XOXO Noteset by Sugar Paper – Every Palm Beach Lately woman knows the importance of a handwritten note. With a pop of fuchsia and embossed gold lettering, this playful and affectionate message is a great way to keep in touch with style. Or, give it as a gift and show your nearest and dearest how much you would love to hear from them.
S T Y L E 
Friendship Arrow Bracelet by Palm Beach Lately – Created by our very own Beth Beattie and Danielle Norcross, this Native American inspired gold band is a symbol of friendship and loyalty. It is delicate, yet daring enough to make a statement all on its own; or add it to a mix of bracelets and let the arm party begin!
W E E K E N D E R
Personalized Leopard Perspex Clutch by Mnologie – We just love how this fabulous date accessory demands your attention with its unique exterior and eye catching metallic pouch.  BONUS – It is an Etsy find, which means you are contributing to a small business, and you don't have to worry about showing up to a party with the same accessory as someone else because it is practically one of a kind!
So whether you are sending a fun, flirty invitation to your upcoming brunch, sharing a friendship bracelet with your bestie or grabbing your new favorite clutch to head out for a Valentine's Day cocktail, be sure to do it with fresh personality and fabulous style!
Thanks so much to Small Shop for having us, what a pleasure! And for more modern ideas from all of Palm Beach's best, don't forget to visit us at PalmBeachLately.com.
Back to Blog