Please welcome Miranda of One Stylish Day at a Time!
By now you know I LOVE finding new blogs and introducing them to you! Miranda is a stylish newbie that recently found her way here*. Once I peeped her blog One Stylish Day at a Time, I was smitten. This chic's got style, especially so that she works in finance by day!
First of all, I wanted to thank Erika for having me today! This is actually my first guest post, new to the blogging world you see, and appreciate her taking a chance on me. Without further ado, the post:
Every year about this time, I get in a style rut. Frustrated about having to adapt to the fickle weather and confused whether to turn to my arsenal of thick sweaters or mix in my summer basics, spring is not any easy time for me to dress for. Yes, I just said spring and yes, I know it's early January still. But you see, that is what makes it even more confusing for me. I live in the Pacific Northwest and it is still winter up here but that doesn't stop the department stores from moving in the spring, if not summer clothes. Is it warm outside? Cold? Oh my goodness, what to wear!
So what is a girl to do in this situation? Adapt. Transition. Layer. Add a few sheer pieces to your wardrobe. Play with pops of color. Mix whimsical spring clothing with heavy, often somber winter clothing. Most of all, have fun with it! Oh, and don't forget an umbrella!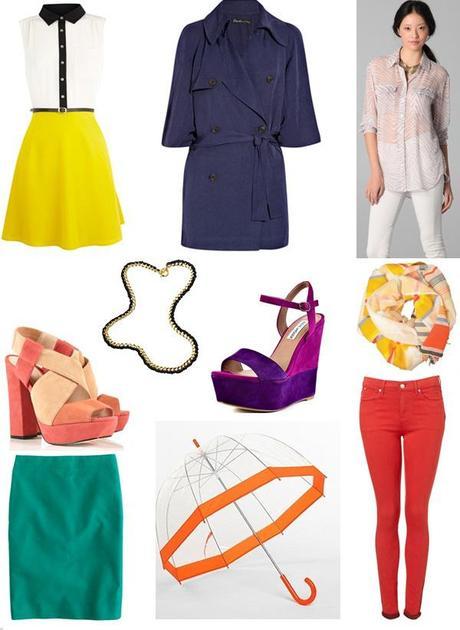 Oasis Shirt Dress, Elizabeth and James Trench Coat, Equipment Blouse, Topshop Heels, Max and Chloe Necklace, Steve Madden Platforms, Lila Scarf, J.Crew Pencil Skirt, Urban Outfitters Umbrella, Topshop Jeans
Thank you Miranda for this burst of color to soothe our winter doldrums!
*And I just wanted to quickly note how much I have really appreciated all the love, especially lately with what seems to be a whole new crop of blogger readers. Welcome! I may not be able to visit you daily, but when I do, I am just FLOORED by the mass amounts of creativity, energy and support out there. It's an amazing community, and I'm so honored to be a part of it. I couldn't do this without you. xoxo