Please welcome Emily Mughannam of E.M. Interiors!
Many moons ago I had the opportunity to meet Emily when she worked with a client of mine. I knew even then she was talented, so I'm thrilled that she has just started her own blog, Lucite + Lavender!

I was super thrilled when Erika asked me to guest blog on her site.  I have been a huge fan of her blog for awhile now.  She was a huge inspiration to me as I recently began mine.  She is such a go-getter -girl with her business(es) brand styling studio and her stationery company!  Impressive!  I'm happy to share some of my favorite things that put a smile on my face!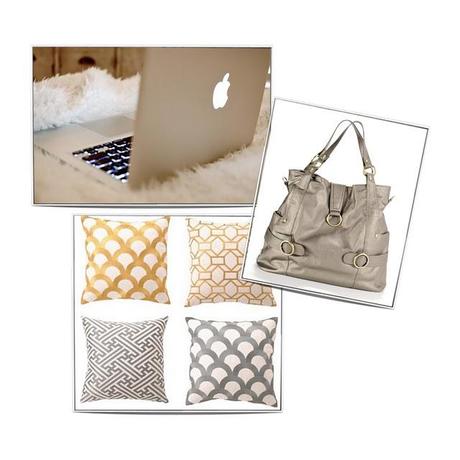 1.   Macbook! I can't seem let this thing leave my side.  Especially since I began blogging recently.  I am constantly searching for new ideas, updating client inspiration boards, chatting with friends and designing!  How did I survive without a laptop before this!
2.   Timi + Leslie bag. I recently discovered this while on the hunt for the perfect diaper bag.  I wanted something that wasn't too dorky and that could also double as a work bag carrying my laptop.  It's my favorite color; metallic pewter, full of individual pockets, contraptions, bottle holders, key holders (not sure about you, but I'm always hunting the depths of my purse for those things) and room for all my other stuff!
3.   Pillows! This set came from Belle Maison's Modern Chic Home, I fell in love with the combo of silver and gold. When I'm unable to redesign my living room (which I itch to do more often than I should) I just get new pillows!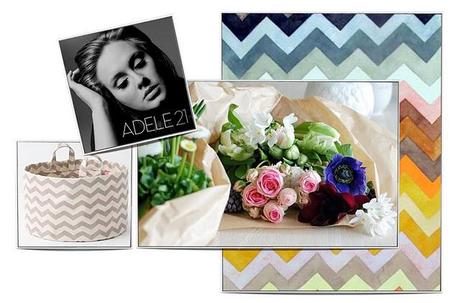 4.   Chevron Toy Storage Bag – I am a mother of 2 little ones, so having toys scattered all around the house is a part of life.  To help me stay sane, I love designer storage bags!  I'm goo goo for Chevron so these were a score from Anthropologie.
5   Adele's new CD! I'm hooked on her newer release 21 and have it blasting while I'm designing or driving in my car.  Makes me smile.
6.   Fresh Flowers. A must have in my home at all times!  I also think an amazing arrangement completes the accessorizing phase of a completed design project.  I love to catch an early morning bargain from the Flower Mart.  Sometimes they'll cut you a great deal!
7.   Chevron Chevron Chevron. Yes it's everywhere, but I love it.  I really enjoy colors of Joanna Goss's watercolor painting, Fix your Changes.  I want it!