Guys and gals, we are in for a treat today. I am sure you know the incomparable Paloma Contreras right? She is only one of the biggest interior design bloggers around…a true vet. Definitely one of my first and my fave reads. I'm so honored to have her here today!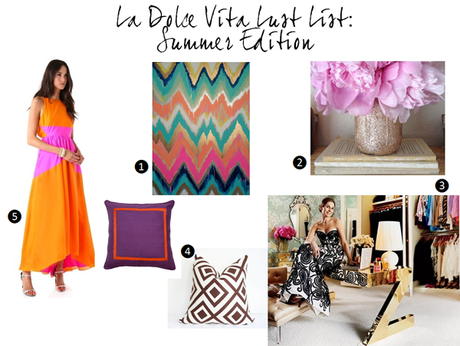 Hello, Small Shop readers! I am thrilled to be guest posting here today. Erika has become a good blogging friend over the past couple of years and since last fall, she has become a regular contributor on my blog, La Dolce Vita, with her inspiring and informative series, "Design Under the Influence", through which I always learn something new and fascinating.
Now that summer is in full swing, I have a few things that I am majorly lusting after. Some are pretty attainable, while others, like the amazing Gabriella Crespi desk Aerin Lauder is perched on in the image above, are a little more difficult to come by. From major statement pieces like the fabulous desk and a stylish designer dress, to work by an emerging artist and a fun DIY project, these are the things I am currently lusting after this season.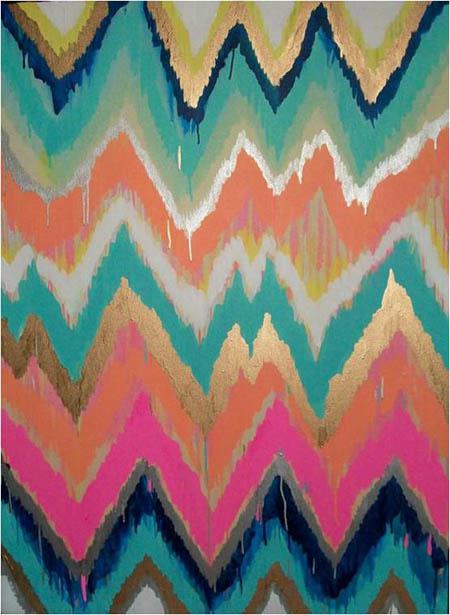 1. Gorgeous Ikat Chevron Painting by Artist Jennifer Moreman: I love the vibrant colors she used in this painting. I recently found out about this etsy artist. Who are some of your favorites?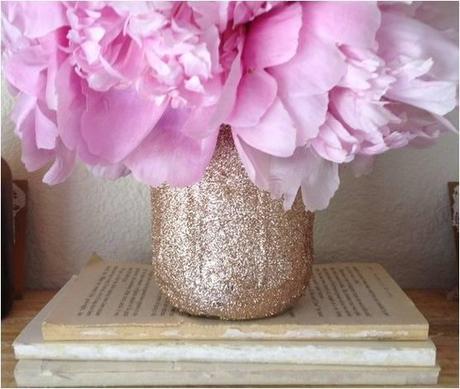 2. Glitter Vase: It seems glitter is having a big moment as of late. I've been dying to try my own DIY version since spotting this on Pinterest the other day. The gold glitter looks fabulous paired with the beautiful pink peonies. I would start by finding a vase, spraying it with 3M Super 77 Multipurpose Adhesive Spray. Next, I'd sprinkle the glitter all over it and finally, spray it with clear lacquer and let it cure so that the glitter is sealed in. If you know of a better way to achieve this look, I'd love to hear it.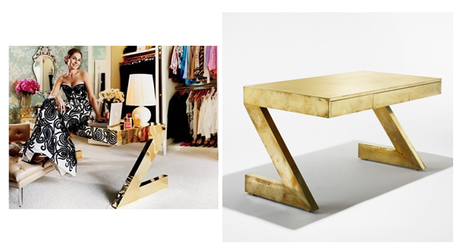 3. An Ultra-Glamorous and Chic Gold Z Desk by Gabriella Crespi: How amazing is this desk by iconic Italian designer, Gabriella Crespi? I'd be more than happy with the brass version Aerin Lauder has or the gilded wood version. They are both gorgeous, but unfortunately, they're not easy to come by and are far from inexpensive. A girl can dream!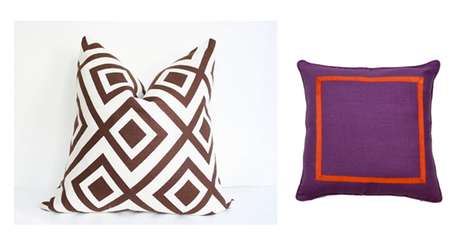 4. New Pillows: I want to get all new linens for our bed and am considering pairing a couple of pillows by Arianna Belle in David Hicks' classic La Fiorentina (a personal all-time favorite fabric) and this bright little purple and orange number from Furbish Studio. What do you think?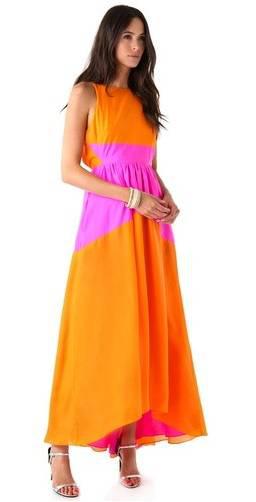 5. Fabulous Silk Color-Blocked Dress by Tibi: This dress is calling my name! It's designed in two of my favorite colors and is perfect for a night out with the girls or a garden wedding.