Please welcome Colleen from Inspired to Share today!
Another newfound blogger love o' mine, Colleen is adorable and her taste the same. After seeing her crazy graphic skills, I was won over to get a tablet too (to create those cool handwriting effects she has mastered!). Believe me, you will heart this talented lady too — go check her out!

Hi Shop Talk readers! I'm honored to be guest posting for Erika today as I adore her style, not to mention her fabulous home. Thank you for having me, Erika!
Can you believe it's the week of Thanksgiving? I don't know where the time went but I sure do love Thanksgiving. It's a day to kick back, give thanks, and enjoy delicious food with family. Even though we're just two days away, it's not too late to pull together the right outfit for a chic yet comfortable look! Here's what I'm envisioning…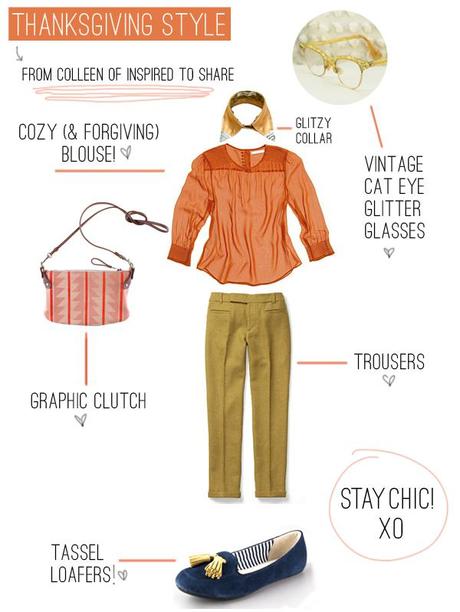 [ glasses, top, collar, pants, purse, loafers ]
What will you be wearing for Thanksgiving? I'd love to hear and I do hope you'll come visit me sometime soon! Have a wonderful holiday! xoxo
Dying over that collar, Colleen – so chic! Thank you for being inspired to share here!