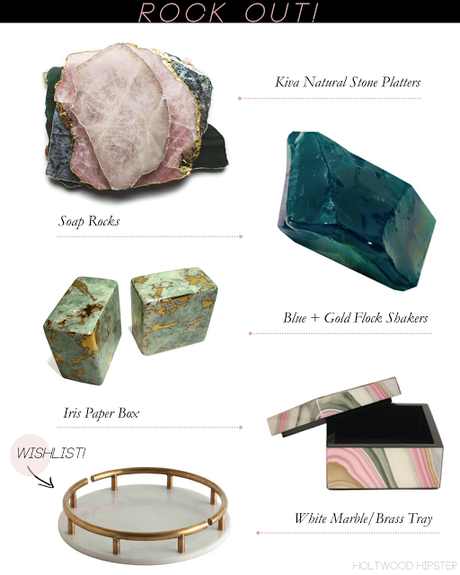 Decorating with Stone')">
Please welcome Erin of Holtwood Hipster!
So excited to welcome a true renovator today! Erin has a casually chic California style that I just adore! Follow along her remodeling adventures on her blog, and like me, you'll find new products, gorgeous photos, and eye-candy roundups that keep me longing for the day I have my very own mid-century modern fixer. Until then, I'll style vicariously through her…
Hello Shop Talk readers! My name is Erin and I blog over at Holtwood Hipster. I'm so thrilled to be guest posting today for Erika on one of my favorite daily reads. I never miss a Shop Talk post and I can't tell you how much I've learned from her Design Under the Influence column- truly high style design sense to aspire to.
We've recently completed more than two years of renovations on our 1960′s rancher and at long last, we're settling into the good part- the decorating. Throughout the renovation process, I've been inspired by all of the different natural stone finishes that have become so widely available to us now. From quartz to limestone and marble; whether it be on the floor, wall or countertop, there are so many sophisticated options being used in fresh and innovative ways. Collectively, you could say we really are celebrating a Stone Age revival of sorts.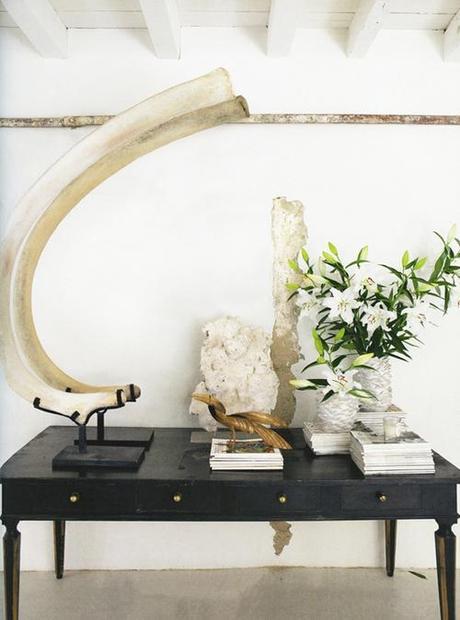 Decorating with Stone')">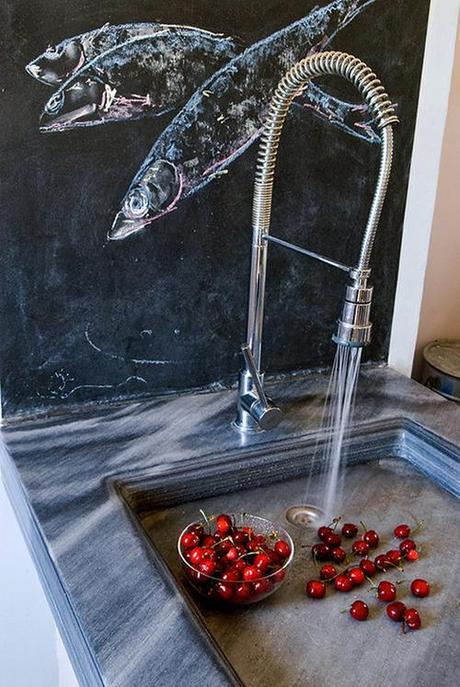 Decorating with Stone')">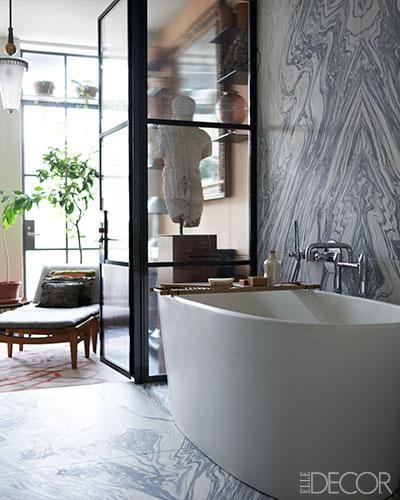 Decorating with Stone')">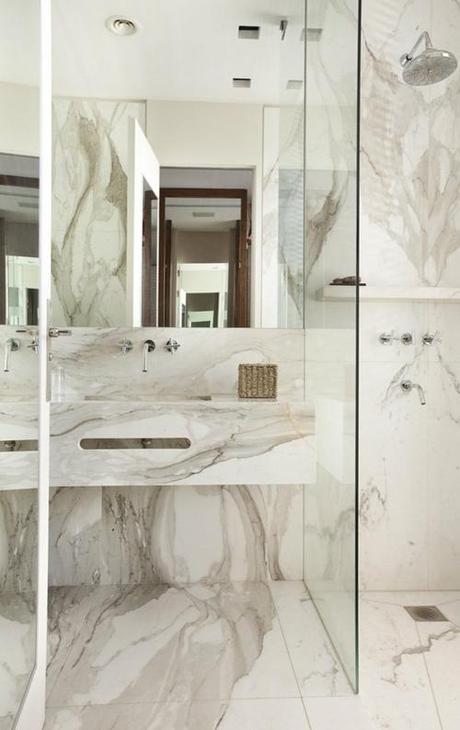 Decorating with Stone')">

While the Carrera waterfall island of my dreams still awaits (someday), I can always satisfy my stone fix with rocks, minerals and geodes used as accessories throughout our home.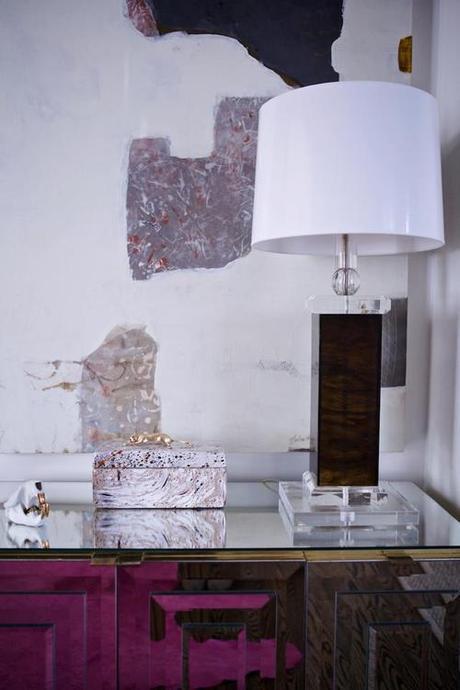 Decorating with Stone')">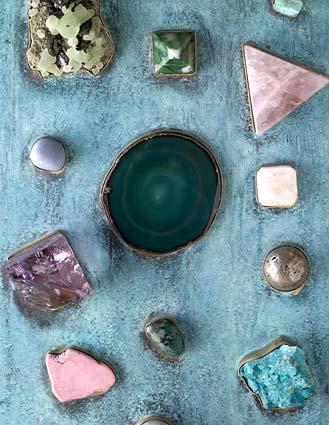 Decorating with Stone')">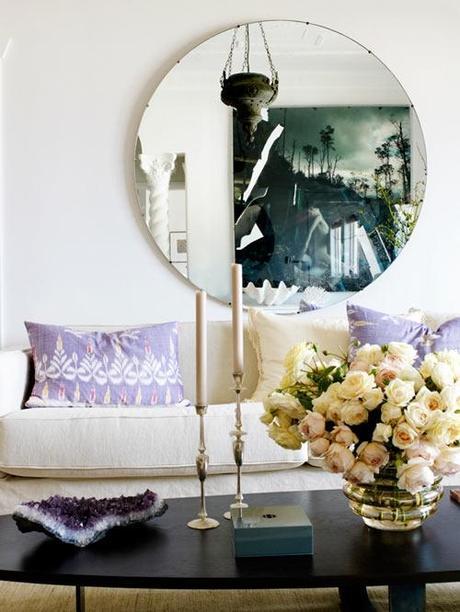 Decorating with Stone')">

'd argue that they'll add more than just visual interest-  though they are often very pretty. Rocks and minerals infuse a sense of permanence to a living space – which as a new homeowner looking to lay down roots, really resonates with me. While we initially become captivated with their candy colored hues and crystalline bellies, I think our real curiosity with them lies in the fact that they've been here long before you or I ever existed.  Somehow knowing that they came to be here through a miracle made up of time and space makes these semi-precious wonders all the more… precious, doesn't it?

Below are more picks to make your own interior stylings rock solid.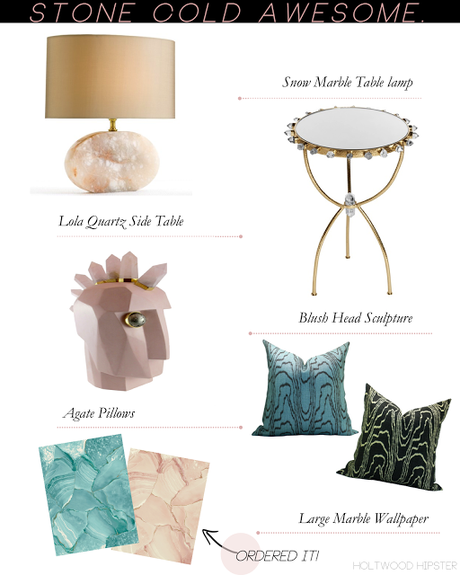 Decorating with Stone')">

A big thank you to Erika for having me in to talk shop with you all today. I'll be sure to share how I'm incorporating some of these gems into my own home over at my own little corner of the blogosphere.

Become Inspired // 
1 . 2 . 3 . 4 . 5 . 6 . 7

Bring it home //
kiva natural stone platters // soap rocks // blue + gold flocked shakers // iris paper box // white marble/brass tray // snow marble table lamp // lola quartz side table // blush head sculpture // agate pillows // large marble wallpaper

Back to Blog