Please welcome Lily of Gold & Gray!
I introduced you to Lily over at Gold & Gray a few weeks ago (you can thank me later), but I wanted to be sure to treat you all to her fantastic taste. She is a rising style star, in my humble opinion! Case in point…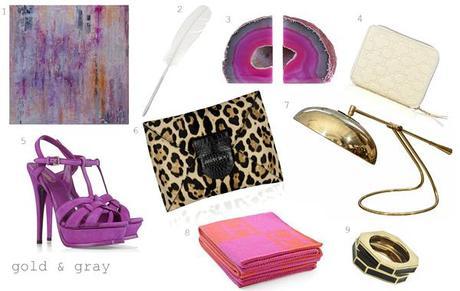 1.Art  2.Feather Pen  3.Geode Bookends  4.Wallet  5.Shoes  6.Clutch  7.Lamp  8.Throw  9.Rings
When putting together this post to be featured on Small Shop, I knew it had to be extra fabulous since Erika is one of the most fabulous bloggers out there! I was so honored when she asked me to share some of my favorite picks and was inspired by the bright colors mixed with dark & light in the gorgeous painting by Los Angeles artist Lindsay Cowles. How glamorous does all this magenta look with a brass lamp and a Jimmy Choo leopard clutch thrown in? I love how the YSL magenta heels could instantly update a plain outfit the same way the brightly colored DREAM Hermes throw would do for a room! I am all about simple (not boring) outfits and rooms with a few extra glam touches!
Thank you SO much Erika for having me over to share some glamorous picks on your extra fabulous blog! Come visit me on gold & gray if you want to see more and enter a great giveaway starting today!
xxLily
Thank you Lily for this gorgeous contribution!