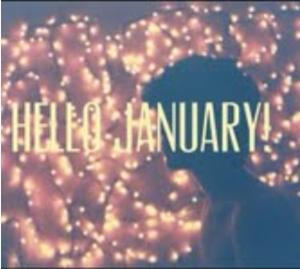 Well hello there, never done this before so this is slightly awkard, but anyway, my name is Imogen and I write over at Eloquence and Flair, which is a brand new fashion and photography blog written by the lovely me, a geeky, weird, fashion obsesed teen. But enough of the free advertising, i'm here to do a little guest post for you lovely people, Bekkii told me to write about anything, just what I write about best, so I thought I'd do a little 'my favorite things in january' post. So here we go….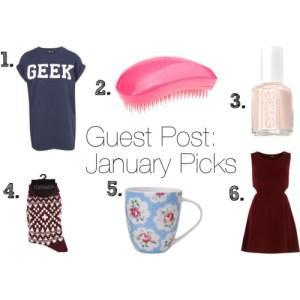 1. Geek Top- Topshop
I feel really bad putting this on here as everybody seems to be wearing them right now, but there's just something about it that I can't help but love. The tops seem to be sold out everywhere but it's only 18 pounds and for Topshop it seems pretty good value. I'd probably prefer the top in burgundy or green but I like this too.
2. Tangle Teezer- Boots
There's been so much hype about this product and during the #bbloggers chat on twitter a lot of lovely people have reccommended it to me so it seems worth it, not sure if I'll actually bite the bullet and buy it, but it seems worth it.
3. Essie South of the Hi'Way- manucure-beaute.com
I love nude colours, not only are they perfect for school but they just look so clean and polished. They look perfect and very matte. Essie is one of my favorite brands so I'll definitely be adding this to my collection.
4. Aztec Burgundy socks- Topshop
The pic says it all, these are just gorge, the color the print, 'nuff said.
5. Floral mug- Cath Kidston
Perfect all year round but definitely for Spring. Love her brand.
6. Burgundy Skater dress- Topshop
I love skater dresses and the other day I was lucky enough to be given a second hand one by one of my dad's friend's daughters. It's gorgeous and can be worn for parties or just dressed down with a cardie.
Thanks for reading,
Imogen