Today we have a fab guest post from Reyna over at Arcadian Home Decor. Arcadian Home Decor is a great source for home decor accessories at discount prices. Founded in 2002, Arcadian Home Decor originally started selling decorative home lighting fixtures and lamps online with its first website Arcadian Lighting, and has become one of the top Internet retailers for home lighting products.  Hope you enjoy the post!
When designers say beauty is in the details, sometimes they are referring to the beautiful details of embroidered
home accessories and décor
. In this collection of homes, you'll see such beautifully embroidered treasures as headboards, pillows, curtains and other textiles. And while the thought of embroidered treasures might bring to mind your grandmother's homemade knit cozies, these items are fresh, modern and sophisticated.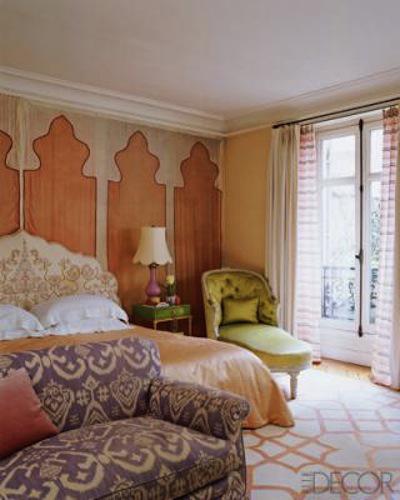 Elle Décor

via
In the exotic bedroom of designer Lisa Fine, is a beautifully hand-embroidered headboard that she designed herself. The gold and lavender thread of this embroidery accents the slightly pale tones of lavender, green and peach.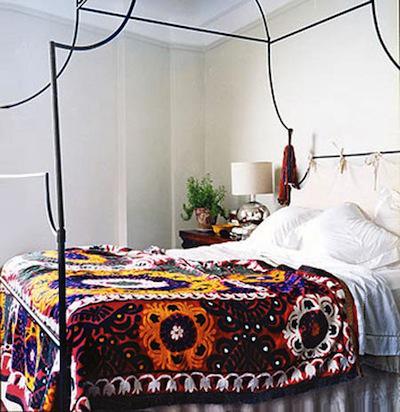 HGTV Blog

via

Domino Magazine
Add a really strong dose of color and pattern into your home décor with an embroidered quilt. In this simple bedroom, a vintage Suzani quilt packs quite the punch in an otherwise Spartan bedroom. The quilt adds just the right amount of color, pattern and global chic.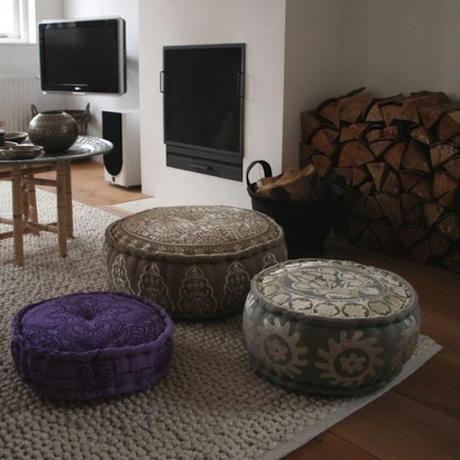 Pink Gray Gold

via
Embroidered Moroccan poufs are a beautiful way to decorate any space. You can use smaller ones as floor pillows in your living room, or use larger poufs as an ottoman. These hand-embroidered poufs from Le Souk are incredibly gorgeous and showcase a real craftsmanship in embroidery.
Camel and Yak

via
Love this idea so much! Several embroidered mats were sewn together and affixed to the staircase to create a colorful runner.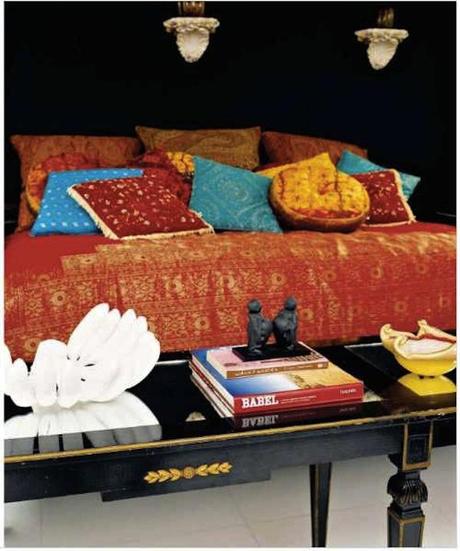 Living in Décor

via

Metropolitan Home
This daybed is exotic and sophisticated. Antique wall sconces add a bit of light to the ambiance of this deeply hued vignette, while piles of embroidered pillows add vibrant colors in blue, yellow and red. Love the simple, yet unique, table decor.
There are many ways to incorporate beautiful embroidered treasures into your home. Accent your space with a few embroidered pillows in your living room or make it the main focus by using a bright embroidered quilt to add color and vibrancy to your bedroom.
Content provided by Arcadian Home Decor, a site that specializes in top quality
home accessories
at extremely affordable prices. Come visit us today!