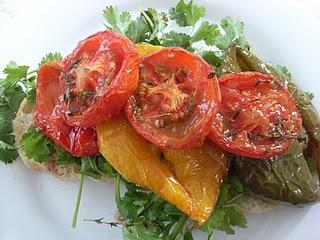 slow roasted tomato and pepper tricolor ciabatta
Today's guest post comes from Danny Vice-Holt, a trained vegan chef whose creations (and photos here) you can find at thecapertree.com. 
I live in a beautiful city in the UK called Brighton, situated on the south coast. In addition to its miles of beaches, historic streets called the 'Laines' and a giant palace built by The Prince Regent that looks like the Taj Mahal, Brighton caters for almost any dietary requirement you may have - wheat free, gluten free, celiac, and most notably vegan. I can think of at least nine restaurants dedicated solely to vegetarians and vegans, including an amazing top-end raw food vegan restaurant. But, if you drive ten minutes outside of Brighton, the word 'vegan' is rarely uttered. Request a meal containing no meat, fish, eggs, or dairy, and don't be surprised if you're presented with salad and fries - or possibly, the door! I feel very lucky to live where I do and if I didn't live here, I probably wouldn't be writing this now.


crisp roast potatoes and gravy

I became vegetarian ten years ago for animal welfare reasons, and shortly thereafter trained as a vegetarian and vegan chef. I have worked in many cafes and restaurants over the years and acquired some invaluable skills; how to cook tofu properly being one of them! Even though I learned how to cook beautiful vegan food, for a while I still couldn't make the leap to veganism myself for one reason: cheese. Lovely cheese. Lovely soft, creamy, smelly, melty, eat-it-with-anything, cheese! I couldn't get enough of it and my waistline knew it. Regardless of my need for elasticated trousers, I devoured the many different types of cheesy goodness on the market; Brie, Stilton, Cheddar, Buffalo Mozzarella, Emmental, Dolcelatte.
What was bothering me though was the ever-spreading eczema on my hands and legs and the increasing severity of my asthma attacks. I finally made the connection that they both became considerably worse after a heavy cheese-based meal. In fact, it became so bad I once couldn't breathe properly for four days. I eventually said enough was enough two years ago and became a fully-fledged vegan. Almost immediately, my asthma attacks decreased, my eczema cleared up and I lost weight. It's odd, I thought I would crave cheese every day. But after looking into the animal welfare standards of dairy farming, it strengthened my conviction and I don't miss it at all. (Well sometimes I do – I'm only human!)
Last year I had a rather nasty accident, breaking my right wrist in five places. I had an operation and now have five metal plates holding my bones together, which means that though I can cook and create at home, I am unable to work in a commercial kitchen. This prompted me to write my own food blog (www.thecapertree.com), sharing recipes I've created over the years as well as new ones. My blog is a reflection of how I view vegan food: if a meal is created with thought, care is well balanced and delicious, even the most hardened carnivore won't miss the meat. I also feel there is a lack of understanding surrounding veganism and vegan food especially within the non-vegan community. Vegan food is food pure and simple. It's no different to any other food; it feeds us, nourishes us, pleases us and comforts us when we are sad. It does everything good food should do! The difference is that it is much better for you, and no animal has to suffer or die in the process. Once others make that connection, I think a lot more people will be open to switching to a plant based diet.
Thanks Danny for sharing your story and inspiration. Be sure to check out Danny's site to check out what he's cooking for Valentine's Night!