Anya Sarre is one of Hollywood's most influential trendsetters. A nationally recognized celebrity stylist

,

Sarre is known for her impeccable eye and ability to tie any look together with the perfect accessory. Named "Best Television Fashion Stylist" for her appearances on Entertainment Tonight, The Insider and countless other media outlets, Sarre is the go

-

to fashion expert for Hollywood's biggest celebrities.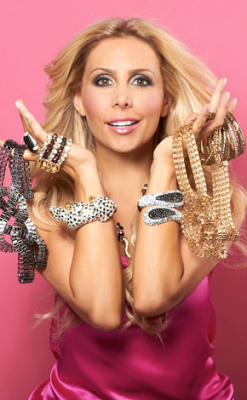 Easy Festive Fashions for the Holidays
As the holidays approach and temperatures drop, women across the Northern Hemisphere are reassessing their wardrobes and adding fashionable items to keep them warm and chic. Comfortable clothing that looks great certainly boosts a woman's confidence and polishes her inner beauty to a high sheen. In fact, it is a well-known trick in Hollywood to make sure stars feel comfortable in an outfit before they walk down the red carpet.
You may not be walking any red carpets this holiday season, but chances are you will be invited to more than one holiday gathering, either casual or black tie. Make sure you look your best by selecting chic outfits that fit well and fabrics that feel great against your skin.
Luxurious winter fashions this year include layers of texture and patterns. Rustic sweaters paired with patterned skirts in similar color schemes combine comfort with a trendy elegance. Dress up this combo for the holidays with silver jewelry such as a metalwork cuff or trendy fork bracelets and matching earrings.
Pile on the layers with a loose knit sweater over a mock turtleneck or fashionable scoop-neck top. Add a pair of skinny jeans or a short skirt and opaque tights. Accessorize with jewelry such as a stack of colorful enamel bracelets and long, dangly earrings. Finish the look with popular platform
women's shoes
or stacked heels.
For formal gatherings, the little black dress always works. Accessorize for the holidays with lots of bling. Add a gold or silver cropped jacket to a black maxi dress. Low necklines demand a little extra shimmer, so pick a metalwork necklace to match and stick to small earrings for a polished look. You can use one or more of those enamel bracelets here as well to add a touch of color to the outfit, and of course you'll want to finish the look with a pair of metallic pumps to match the jacket.
The  key to holiday fashion is adding a little shimmer to popular winter wear. Find a comfortable style, and then pair it with accessories that you love. You'll be sure to turn heads and bring in the compliments at each holiday gathering you attend.