I'm in AWE of Anna! Her blog is beautiful and her taste is just what the style doctor ordered. And to top it all off, I can't get over what she created for us today! Is she not fabulous??
Hi! I'm Anna from A Newfound Treasure, a blog covering predominantly fashion and interior decorating. I was so honored when Erika asked me to guest post. She is seriously one of my very favorites, EVER. I love everything about her and her blog, and once I saw her beautiful home tour a few months back, my girl crush was confirmed. SO needless to say, I am ecstatic to have this opportunity.
Today, I am sharing a couple of (what I find to be) necessities for every home. No matter what your style may be, I believe that these elements aid in creating a well-balanced home: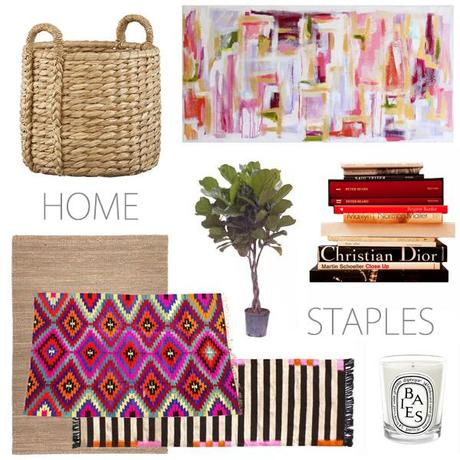 1. Plants.
Bring the outdoors into your home with a beautiful live plant. Now, I have what I would consider to be the black thumb of death, but I am currently in want of a giant fig tree for my living room. I just think they are so beautiful. How hard can it be to keep those things alive? If a tree seems intimidating, snip some fresh blooms from your yard and throw them in a vase. It's amazing how much some "life" can change a space.
2. Art. I love abstract art and believe that every home needs at least 1 large canvas of original artwork on display. A plain canvas can be found at a very reasonable price and is a great DIY opportunity. After all, if it's abstract art you're doing, can you really mess up? I recently painted a canvas inspired by a Cocoa & Hearts piece, and I think it turned out great!
3. Rugs. They change everything! Having at least 1 incredible rug is an essential item in every home, in my opinion. Simply layering rugs can be a total game changer in a room. I'm currently swooning over the colorful rugs in Amber's Shoppe.
4. Books. You can never have too many design focused coffee table books. Having a few stacks on tables throughout your home is a must! There is something so inviting about having a few books out… they're sure to inspire and make your guests feel at home. My favorites are Domino, Design*Sponge at Home, and Black & White.
5. Candles. They can set the mood and make a home smell incredible — what's not to love? Plus, they are a wonderful gift idea for hosts, so if you don't already do so, buy 2: keep 1, give 1.
6. Storage. Baskets have been key in creating additional storage in well-lived in spaces throughout our home. Whether filled with firewood, blankets, or toys, a basket can be the perfect remedy to a storage issue without being a total eyesore….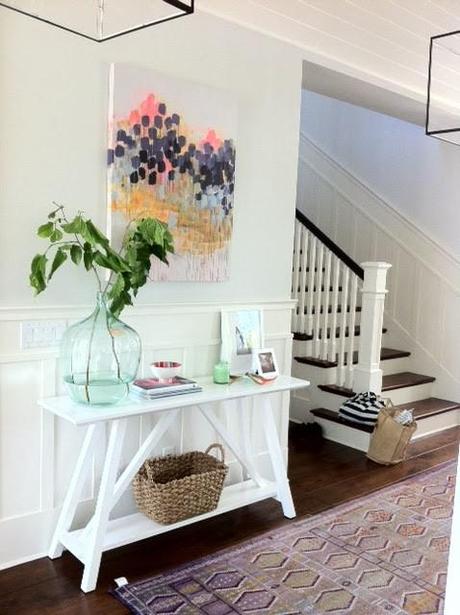 Anna, you're adorable — girl crush is mutual!