Please welcome Rebecca of A Daily Something!
I'm so pleased that Rebecca came over today to share another one of her amazing and beautiful D.I.Y. tips. She is crazy creative, original, and always takes the best photos! For more daily lovely, please do check out the pretty she puts together (seemingly effortlessly) on A Daily Something!
Hi, it's Rebecca from A Daily Something.  I'm so very honored to be on Small Shop today, talking Valentine's Day!!
This February, surprise your loved one with a manly breakfast in bed.  Sneak out of bed, get the food prepared, style the tray, and hurry back before he checks up on you in the kitchen.  All you need are a few rustic elements to bring this cozy idea to life.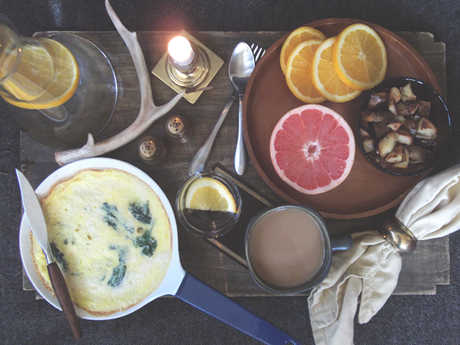 You can recreate this (or a similar) look very easily.  Everything used in this shoot (besides the bottom tray and the food) was found at thrift stores.  You don't have to use thrifted finds – use whatever you may have around the house – but just make sure you're pulling together masculine elements.
My inspiration for this breakfast in bed idea was the cast iron, enamel-coated frying pan.  It was the perfect size for a personal (manly) helping of frittata or omelet.  I then added gold/brass accents – a candlestick burning a well-used candle, a leather & gold coaster, napkin ring, and salt and pepper shakers.  Different wooden textures add a manly flair, so I used a wooden board as the tray and a smaller round wooden platter for the side dishes.  And my favorite addition to this rustic breakfast in bed?  The antler shed!  If you don't have an antler laying around, a piece of driftwood would work well.  The tray needed some height, and the wine decanter filled with orange-infused water, water glass, and coffee mug all did the trick.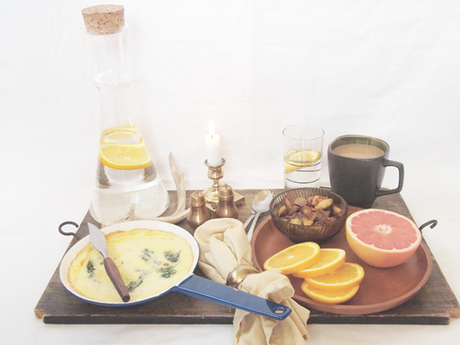 I hope you are all inspired to make your loved one's Valentine's Day extra cozy this year.
Thanks for having me today, Erika!
Rebecca