I'm so thrilled today to welcome a guest blogger, Mari, from Arcadian Home. She's here to show you how color can make such a difference to your kitchen.
Hello, all! I'm so happy to be here with you at the lovely Simone Design Blog today with a guest post from Arcadian Home blog. It's a fantastic place to find interior design inspiration including great decorating ideas for everything from tabletop accessories to beautiful mini pendant lights for the kitchen.
Today, we're going to take a little tour of kitchens—colorful kitchens that is. We hope these eight images in an array of design styles will inspire you to explore the idea of adding color to your kitchen in small doses or large splashes. Please enjoy!
Thanks for letting me stop by for a visit.
~ Mari
I've fallen for this beautiful kitchen that Simone featured in her post about architectural detailing. First of all the light flowing into the space is amazing. Wood paneling painted blue is the perfect way to bring color into this design. A blue and white rug and decorative accessories, along with fresh yellow flowers complete the color picture.
For those with a bold and adventurous love of color, this sunny yellow kitchen will set their hearts aflutter. There are lots of interesting details here–from the lovely and unexpected ceiling to the brass-trimmed range hood. And, look closely at the glass pendant light and you'll see it's a bit different with an interesting lamp visible inside.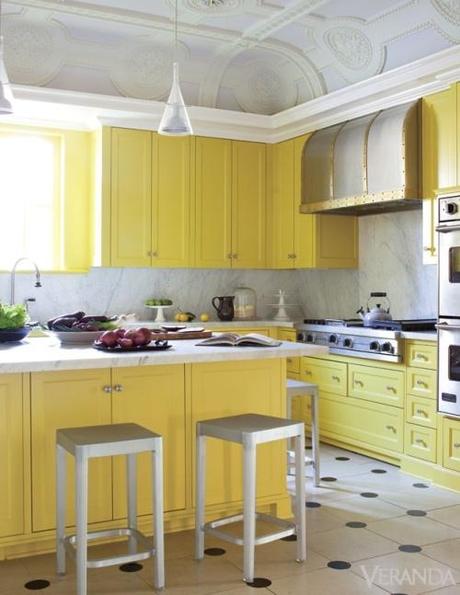 Another way to add yellow to the kitchen is with a photographic wall filled with oversized images of pears. How creative and cool is that?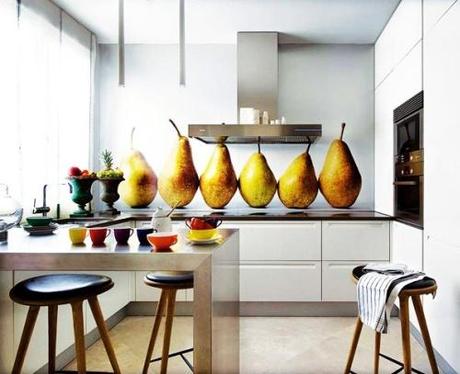 A kitchen with black and white checkerboard floor goes emerald green with base cabinets and built-ins. Don't black and white floors make colors pop beautifully?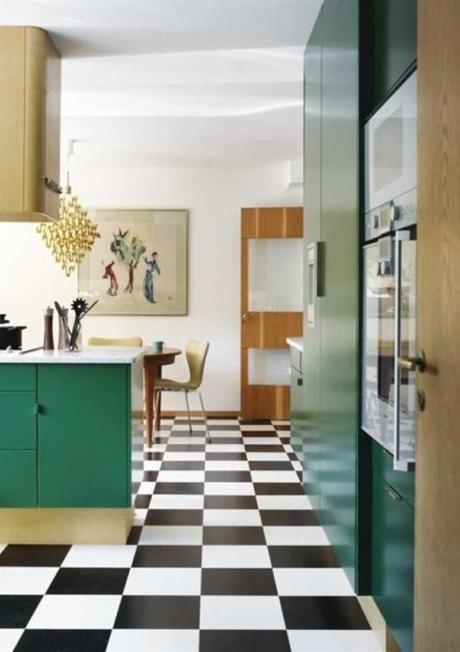 A bit more sedate, but no less appealing, is this small breakfast bar painted in lovely lavender. Mid-Century bar stools in white look so pretty with that great color.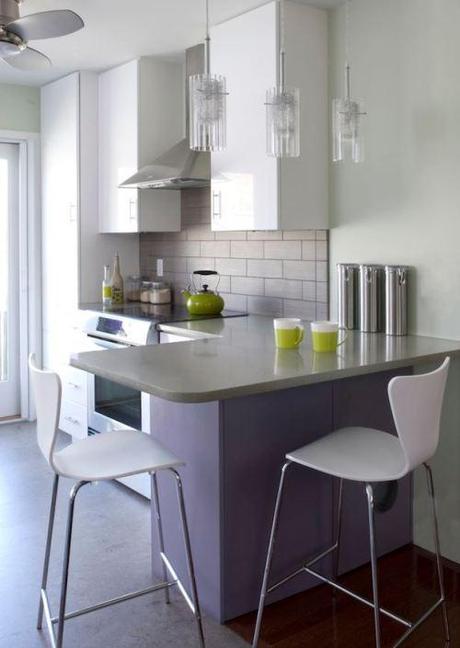 Or perhaps a wall in pink is just enough color. Here, the vibrant wall separates the dining room from the nearby step-up kitchen. For those who want to explore color in the kitchen, but are not ready to commit to more permanent elements like cabinets and flooring, a painted wall can be changed until the color is just right.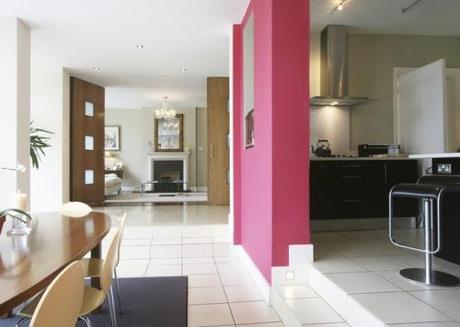 The homeowners definitely took the color plunge in this beautiful and very berry kitchen. By adding a paler hue to the mix with a glass tile backsplash, this bold color is softened and looks stunning not overdone.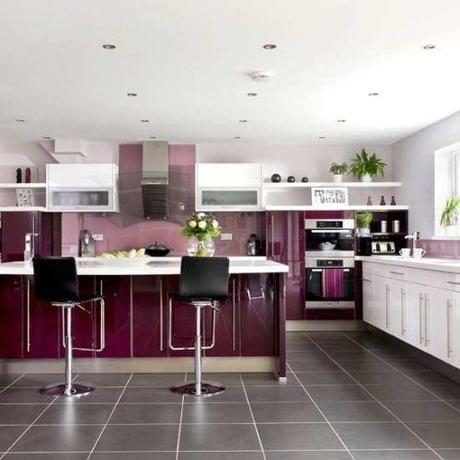 We leave you with this image of a lovely eclectic kitchen with lots of colorful elements, including a dark green backsplash, sunny yellow modern pendant light and blue French bistro chairs in blue with red and white accents. Bold art and colorful decorative accessories add even more kitchen color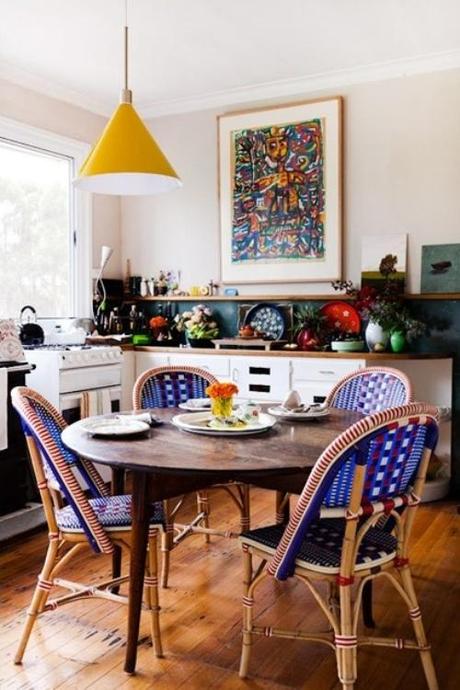 What do you think of these colorful kitchens? Leave us your comments below and stop by our website for more home accessories, lighting, and interior inspirations!
Mari
Images 1 | 2 | 3 | 4 | 5 | 6 | 7 | 8
Wow, Mari, thank you! Each kitchen was fabulous. I'd love to know what you think of her design tips.
Simone