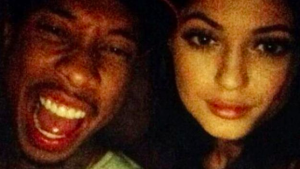 Tyga And Kylie Have Been All Over The Tabloids Lately With Their 'Are They Or Aren't They Relationship' . The Couple Cant Technically Be Together In The US Because Tyga Is 24 And Kylie Is Only 17 With The Age Of Consent In The US Being 18 Its Very Illegal . Europe Is A Whole Different Story , The Age Of Consent Is Only 15 . So Its Possible The Two Fled The Country To Further Their Relationship Away From The Paparazzi And The Public Eye .
Tyga And Kylie Were Spotted At Englands Gatwick Airport Then , Bordeux, France ,Geneva , Switzerland And Then Flew To Athens Greece For His Sunday Concert . Hard To Pinpoint If These Two Are Just Friends Traveling Together Or If This Was A Couples Getaway But This Is An Awful Lot Of Time To Be Spending With Your Friend .
Kylie Seemingly Isn't The Only Woman Vying For Tygas Attention . Earlier This Week Tyga's Baby Mom Blac Chyna Tweeted A Photo Of Them At Their Son King Cairo's Despicable Me Birthday Party Captioning It "My Family" , Which Leads People To Believe The Doting Parents Are Back On .
Hard To Tell With This Love Triangle But We'll Be Watching .